MOONTON Games and Philippine DOT Partner to Co-Host M5 World Championship
MOONTON Games and Philippine DOT Partner to Co-Host M5 World Championship
MOONTON Games, the international gaming developer and publisher of Mobile Legends: Bang Bang (MLBB), has signed a memorandum of agreement (MoA) with the Philippines Department of Tourism (DOT) to co-host the M5 World Championship. The tournament will be held in three venues across Manila and Malaysia, and will feature 15 regions and 69 countries from five continents.
Early Bird Ticket Sales and Prices Announced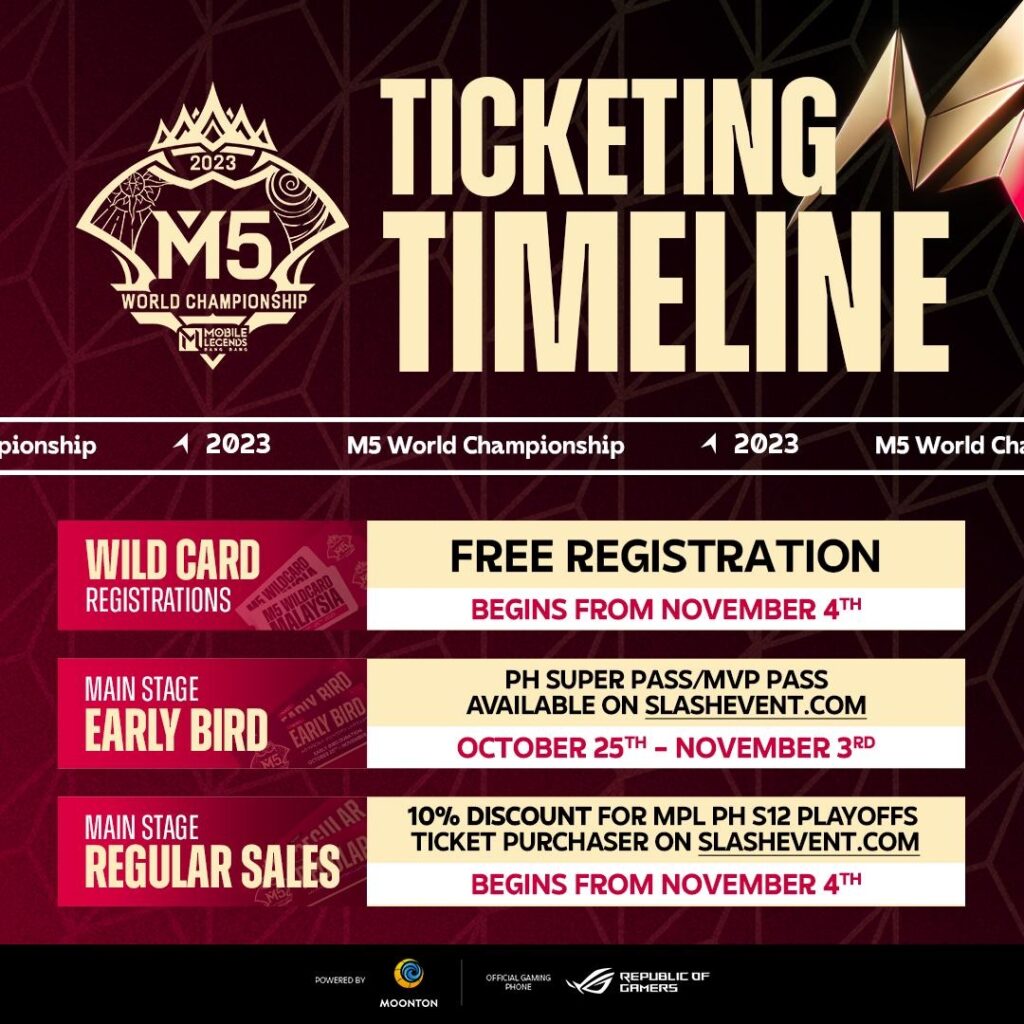 Early bird ticket sales for the Group, Knockout, and Grand Finals Stages are now available at https://slashevent.com/e/m5-world-championship. The following ticket bundles are available:
PH Super Pass: ₱2,899.00 (USD 51.70) – Offers access to all matches that feature either of the qualifying Filipino teams (MPL PH representatives). Pass holders will be allocated seats at the Legend area in the Group Stage, and Mythic area in the Grand Finals, respectively. Comes with a limited edition M5 World Championship hoodie.
MVP Pass: Varies depending on the format – Offers fans exclusive access to front row seats and priority access, alongside express access for team meet-and-greet sessions.
MPL PH Ticket Holders Receive Discount
All MPL PH S12 ticket holders will be entitled to a 10% discount code for M5 regular tickets, which will be on sale starting November 4, 2023, via SLASH.
Wild Card Format Introduced
This year, the M5 World Championship makes history as it introduces the Wild Card format that will take place in Malaysia from November 23-26, 2023. The top two teams proceed to the main stage, making this iteration the most extensive and diversified Mobile Legends: Bang Bang international tournament.
Fan Conference and Watch Parties
To celebrate, a fan conference will be held in the Philippines to commemorate the MPL PH representatives with their families and fans ahead of the Group Stage. Watch parties will also be hosted across the globe, featuring popular MLBB talents. More details on offline activations will be shared at a later date.
Tournament Venues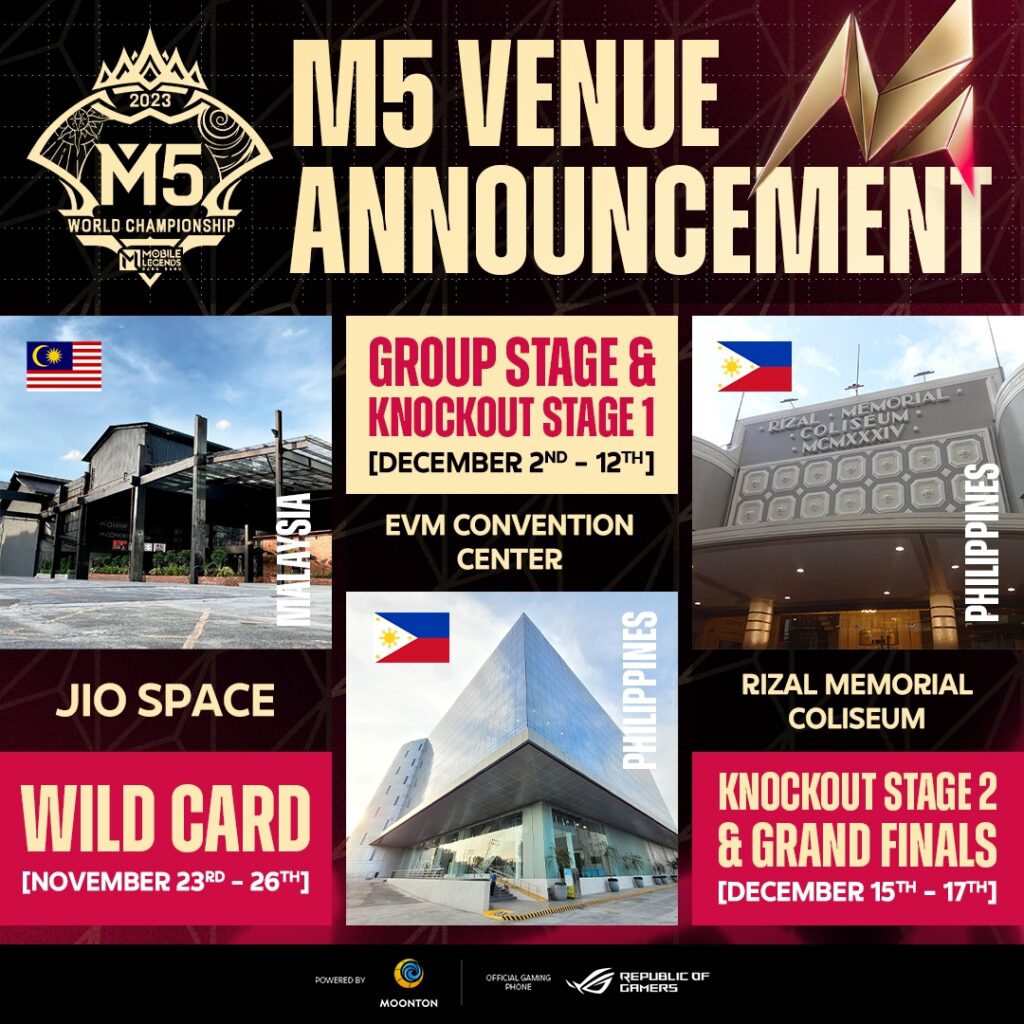 The tournament will be held in the following venues:
Wild Card (Malaysia)

Jio Space, Lot 1, Jalan 19/1b, Seksyen 19, 46300 Petaling Jaya, Selangor, Malaysia
Dates: November 23 – 26, 2023

Group Stage & Knockout Stage Phase I

EVM Convention Center, 37 Central Ave, Quezon City, Philippines
Dates: December 2 – 12, 2023

Knockout Stage Phase II and Grand Finals

Rizal Memorial Coliseum, Ocampo St., Malate, Manila, Philippines
Dates: December 15 – 17, 2023
The M5 World Championship is the biggest MLBB esports event of the year MOONTON Games and Philippine DOT will make sure that fans all over the world experience the Philippines, and it is sure to be an exciting tournament for fans all over the world. Be sure to purchase your tickets early to secure your seat!