HONOR Drops Huge Announcements at MWC 2023
HONOR Drops Huge Announcements at MWC 2023
Bringing its latest flagships to the global market, HONOR empowers smartphone users with human-centric innovations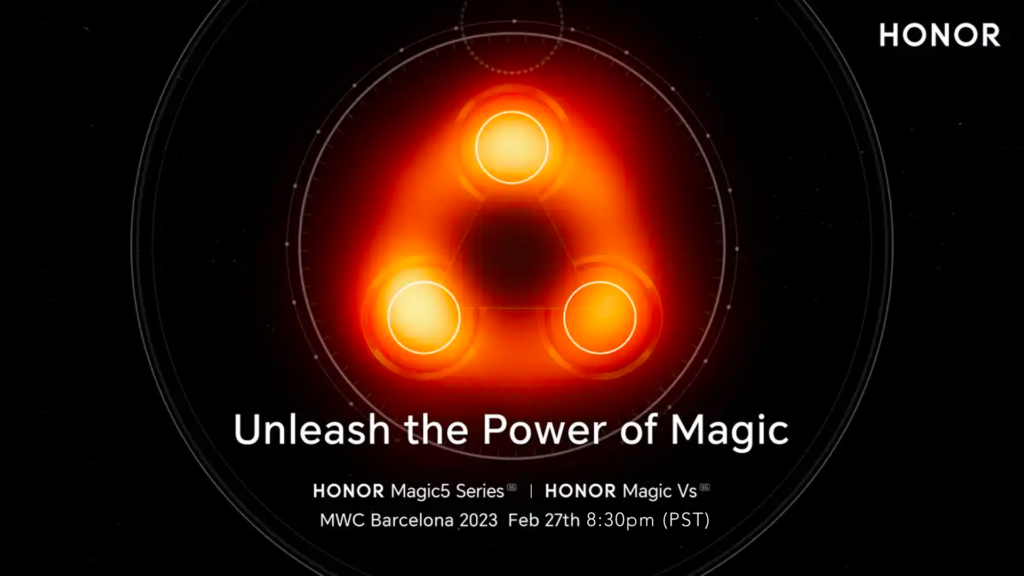 During Mobile World Congress 2023, leading global technology brand HONOR today introduced "Tech to Inspire," its brand-new human-centric philosophy on technology. The HONOR Magic5 Series and the HONOR Magic Vs, the most recent additions to the popular HONOR Magic Series line-up, were also announced to be available globally during the event. These devices are all set to provide users with a true flagship smartphone experience. HONOR also announced the global availability of its dual-flagship strategy during the event.
"Committed to addressing the real needs of customers, HONOR adopts a human-centric approach to product innovation, offering intuitive technology solutions to improve the daily lives of everyone," said George Zhao, CEO of HONOR Device Co, Ltd. "The HONOR Magic5 Pro, our latest flagship all-rounder, and the HONOR Magic Vs, our first foldable flagship to be launched in the global market, push industry benchmarks in every aspect of smartphone user experience, in line with our vision to enable a smarter life for everyone."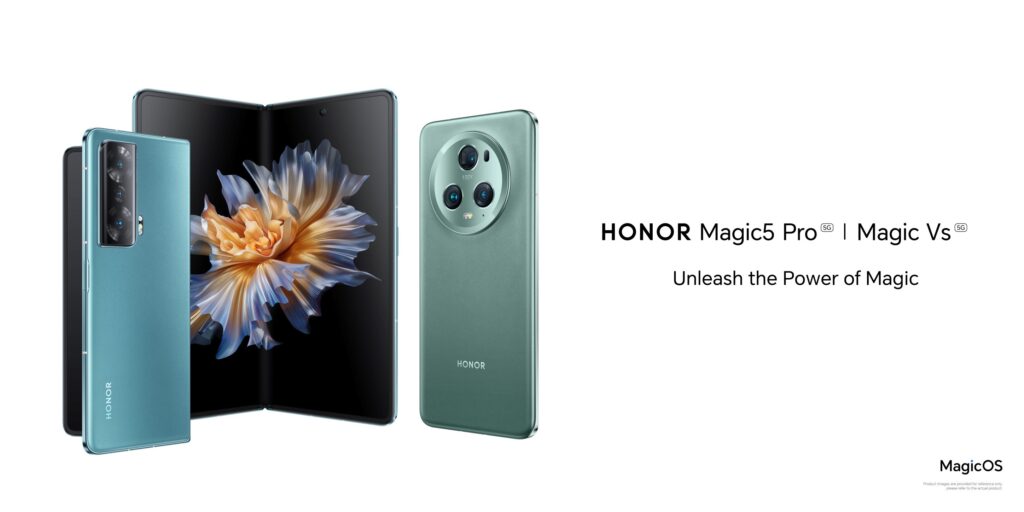 Introducing the All-New HONOR Magic5 Pro
The all-around flagship HONOR Magic5 Pro, which is jam-packed with a ton of important changes, offers outstanding advancements in design, display, photography, and performance, surpassing several industry benchmarks to provide a best-in-class user experience.
The Brand-new Star Wheel Aesthetics with Gaudi Curve
The HONOR Magic5 Pro updates the 'Eye of Muse' trademark design by revamping and adding the Star Wheel Triple Camera system. The HONOR Magic5 Pro pays homage to Antoni Gaudi with symmetry dual-curved ultra-narrow bezels on both sides and a Star Wheel Triple Camera Design sitting as the focal point on the back cover. This cutting-edge device's design incorporates the lovely curves found in modern architecture and natural landscapes, demonstrating the seamless fusion of art and technology.
A Premium Display Debuts at Top of DXOMARK Rankings
The HONOR Magic5 Pro has a 6.81-inch LTPO Display with a distinctive Quad-Curved Floating Screen, ensuring an immersive viewing experience whether users are browsing, playing a game, or reading. With a peak HDR brightness of 1800 nits and Innovative Display Luminance Improvement Technology, the HONOR Magic5 Series ensures crisp pictures even in direct sunlight. The HONOR Magic5 Pro has the best display color accuracy in the industry thanks to its Dual-Luminance Calibration for normal indoor brightness of 120 nits and outdoor brightness of 800 nits.
A Discrete Display Chipset is also included in the HONOR Magic5 Pro to enhance the visual appeal of moving pictures. The chipset delivers a greater frame rate with less power consumption for a smoother, longer gaming experience while providing an always-on high dynamic range (HDR) effect to improve video quality. Users of the HONOR Magic5 Pro can watch films and movies with enhanced picture quality because it is certified with HDR10+ and IMAX Enhanced.
The HONOR Magic5 Pro has reduced blue light emission, which has been approved by TÜV Rheinland, and Dynamic Dimming, which mimics natural light to lessen eye strain. Circadian Night Display, which promotes better sleep, and an industry-first LTPO display with 2160Hz Pulse Width Modulation (PWM) Dimming technology, which reduces screen flickering and is ideal for people who spend a lot of time using smartphones, are two more cutting-edge eye comfort features.
With a high score of 151, the HONOR Magic5 Pro earned the top spot in the DXOMARK smartphone display rating for its outstanding all-around display performance.
An Unrivaled Camera System Crowned 1st Place in DXOMARK
The highest smartphone camera score to date was achieved by the HONOR Magic5 Pro, which also won the top spot in the DXOMARK global camera ranking with a score of 152. A 50MP wide camera, a 50MP ultra wide camera, and a 50MP telephoto camera make up the HONOR Magic5 Pro's potent Triple Main Camera combination. No of the lighting situation, the camera system consistently takes photographs with fine clarity thanks to an enlarged sensor size for better light sensing performance. Ultra Fusion Computational Optics, a computational optical method complimenting the camera system, greatly improves image clarity at 3.5x-100x zoom, putting the device apart from other smartphones on the market.
Enabling budding creators to produce cinematic-level footage, the HONOR Magic5 Pro features IMAX Enhanced Movie Master, empowering users to shoot and edit stunning videos, all on their smartphone
Enhanced Privacy and Security for All-round Protection
The Dual-TEE Security System on the HONOR Magic5 Pro was created in collaboration with Qualcomm® and provides hardware-level security for user data. The HONOR Magic5 Pro has a Discrete Security Chipset, which offers the highest level of protection for passwords and biometrics like face and fingerprint identification.
The HONOR Magic5 Pro includes an industry-first Sound Energy Spatial Control Technology, which generates opposing sound waves to prevent sound leakage for private phone calls. This technology brings significant updates to AI Privacy Call 2.0, HONOR's ground-breaking solution to sound-leaking. With a 100% increase in call loudness for a clearer conversation experience, AI Privacy Call 2.0 makes sure that the caller's voice is not audibly audible to anybody nearby, even if the user is in a noisy but crowded setting like an elevator.
Flagship Performance Enabled by Cutting-edge Technology
The HONOR Magic5 Pro boasts an unmatched flagship performance powered by Qualcomm's newest Snapdragon® 8 Gen 2 Mobile Platform, providing increased productivity and entertainment at all times. The HONOR Magic5 Pro offers users the utmost flexibility and mobility for work and play with the industry's first Wi-Fi and Bluetooth standalone antenna architecture, which increases Wi-Fi performance by 200% and reduces Wi-Fi latency by 30% compared to the traditional antenna design in the industry.
The HONOR Magic5 Pro has a huge 5100mAh battery that can support 66W Wired and 50W Wireless HONOR SuperCharge and provide a full day of nonstop use.
The HONOR Magic5 Pro, which runs the most recent version of MagicOS 7.1 based on Android 13, offers a number of sophisticated features, like MagicRing for cross-device collaboration and Magic Text for intelligent text recognition, to assist users further increase their productivity.
Bringing the HONOR Magic Vs Foldable Phone to the Global Market
As HONOR's very first foldable flagship to debut outside of China, the HONOR Magic Vs boasts exceptional design, display, and performance upgrades, taking the foldable smartphone experience to the next level. The perfect companion for jet-setting entrepreneurs as well as those who put mobile entertainment above all else, the device offers the ultimate blend of style and substance.
Robust Meets Portable: Introducing A Groundbreaking Hinge Design
The HONOR Magic Vs is exceptionally slim and lightweight, measuring just 12.9mm thin when folded and 267g in weight. Despite its compact form factor, the HONOR Magic Vs features a 5000mAh battery, the largest battery capacity among foldable smartphones under 270g that are available today.
Contributing to the light weight of the HONOR Magic Vs is a revolutionary Super-light Gearless Hinge that has been carefully crafted using single-piece casting technology, reducing the number of structural components from 92 in the previous generation down to just 4. Boasting exceptional durability, the hinge can withstand up to 400,000 folds as tested by TÜV Rheinland, which is equivalent to more than ten years of use based on 100 folds per day, setting a new benchmark for foldable smartphone design.
Thanks to the sophisticated structure of the hinge, the HONOR Magic Vs folds tightly without a gap and has an almost fully flat screen when unfolded, a feature that competing foldable devices on the market do not offer.
Dual Display Delivers an Exceptional Viewing Experience
To help boost productivity to the max, the HONOR Magic Vs features a user-friendly 6.45-inch external display with a 21:9 aspect ratio and a 90% screen-to-body ratio. When unfolded, the HONOR Magic Vs delivers a tablet-like experience with an extra-wide 7.9-inch internal display, enabling users to multi-task and view content with remarkable ease.
Packed with professional eye comfort solutions, the HONOR Magic Vs features Dynamic Dimming, Circadian Night Display, and 1920Hz Pulse Width Modulation (PWM) Dimming, the highest frequency ever achieved in the current foldable smartphones markets, to effectively reduce the effects of digital eye strain and fatigue.
Superior Configurations for a Powerful User Experience
The HONOR Magic Vs is equipped with an impressive rear triple camera system comprising a 54MP IMX800 Main Camera, a 50MP Ultra-Wide & Macro Main Camera and an 8MP 3X Optical Zoom Camera, delivering an exceptional photography experience, no matter the shooting scenario.
Powered by the Snapdragon® 8+ Gen 1 Mobile Platform from Qualcomm, the HONOR Magic Vs delivers enhanced performance with higher power efficiency for a faster and smoother user experience. With HONOR's Turbo X engines, it strives to bring you longer battery life and a smoother experience.
The HONOR Magic Vs runs the latest HONOR MagicOS 7.1 based on Android 13. In addition to MagicRing for multi-device collaboration and Magic Text for intelligent text recognition, the foldable flagship features Smart Multi-window and APP Extender to support multi-tasking across applications and within the same application, respectively, helping users save time and achieve more in life.
Color and Availability
Designed for adventurous spirits, the HONOR Magic5 Pro is available in Black and Meadow Green while the HONOR Magic5 is available in Black and Blue, all inspired by the wonder of nature.
The HONOR Magic Vs will be available in two stunning colorways, Cyan and Black. For more information and announcements, you may visit HONOR's website www.hihonor.com or social media platforms: Facebook (Facebook.com/HonorPhilippines), Instagram (Instagram.com/honorphilippines/) and TikTok: (Tiktok.com/@honorphilippines).