Lenovo ThinkSeries Laptops Inspires a New Generation
Lenovo ThinkSeries Laptops Inspires a New Generation
With the ThinkSeries, LenovoTM introduces brand-new desktop and laptop models to meet the demands of the next Small and Medium Businesses (SMBs). In a new era of linked hybrid workspaces, the brand provides expanding enterprises with a greater selection of customizable, high-performance fixed computing solutions.
SMBs are perhaps the ones who have been struck the most by the pandemic in terms of business continuity. Many people still struggle to adopt hybrid working arrangements and keep up with the speed of digital revolution. For long-term value, SMBs must adopt digital-first company strategies. We firmly think that SMBs will drive the global recovery by utilizing cutting-edge technology, improving collaboration, and reaching higher efficiencies through sustainability. Lenovo is gathering feedback from consumers and examining data to create a foundational line of products that will support users' and organizations' intelligent transformation.
Desktop computers are frequently more appropriate for particular professional positions or business tasks. Productivity can be increased, especially when working with huge datasets or intensive graphics programs, while form factor options allow for relaxing working settings. Due to its more cost initial purchase and simpler maintenance and management, desktop computers can be a wiser investment choice from a financial standpoint.
"We understand the pain points experienced by businesses and their employees, especially considering COVID-19 and the transition to hybrid lifestyle and remote working. New products designed for the SMB employee experience will pave the way for more fluid and flexible working environments," says Edward Hizon, Lead for Mid Market and SMB. "Delivering unique innovative products like ThinkCentre neo and ThinkPad X1 Carbon will play a pivotal role in driving new ways of working, creating efficiencies and new opportunities, and helping SMBs drive a global recovery," he continued.
The ThinkCentre Neo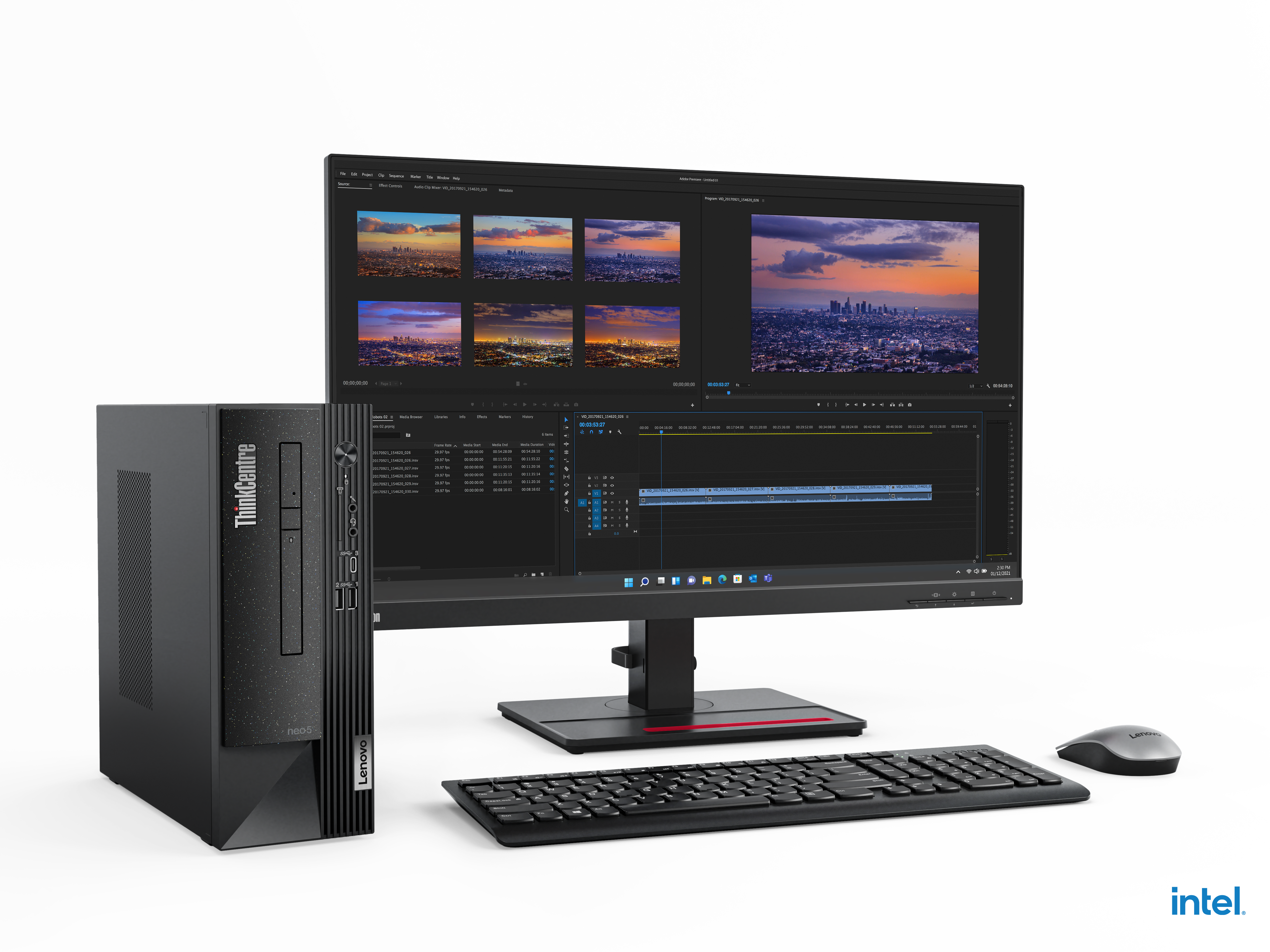 The ThinkCentre Neo features a new terrazzo color and material finish with a beautiful and minimalistic design for a modern appearance. Future-focused collaboration is made possible by connectivity options and smarter online meeting experiences, while ThinkShieldTM compliance improves security. Lenovo's sustainability commitments are furthered by its first-ever use of ocean-bound plastic in packaging and its environmentally friendly designs using post-consumer recycled content and paint-free raw materials. ThinkCentre 50s, ThinkCentre 50t, ThinkCentre Neo 30a 22 and ThinkCentre Neo 30a 24 are the three models from the Neo line that we're announcing today. They are all powered by 12th Gen Intel Core CPUs.
The 7.4-liter ThinkCentre Neo 50s is a tiny form factor desktop that combines performance and space-saving features. The desktop runs with optimal power usage thanks to Intelligent Cooling Engine 5.0, which is EPEAT Gold certified for energy economy. Environmental friendliness and silent operation are promised by TÜV-certified Ultra-Low Noise (ULN) and packaging made of plastic that will eventually end up in the ocean.
The ThinkCentre Neo 50t strikes the perfect balance between efficiency and sustainability. The ThinkCentre Neo 50t tower's clean, modern style and impressive power make it the perfect choice for your expanding organization. With 12th Gen Intel Core CPUs and a wide range of networking choices, this desktop PC is powerful and effectively handles high-performance jobs.
The ThinkCentre neo 30a 22 is a stylish and functional All-in-One, 22″ Display with the power of a desktop and even more desk space to work with. This business PC has 12th Gen Intel Core processing, enabling you to get more done faster. It also has smart, AI-based features to enhance your online meetings, as well as several green, eco-friendly certifications.
A collaborative all-in-one (AIO) desktop, the ThinkCentre neo 30a 24 features a retractable webcam, audio by Harman, and a 23.8-inch FHD 16:9 display. Neo 30a 24 includes AI Meeting Manager that offers Real time Translator, Voice to Text, Subtitles, Meeting Notes Editor, and Amazon® Alexa® Voice Interaction10 for a futuristic collaborative experience. Neo 30a 24 is focused on delivering a highly productive AIO and a smarter conferencing experience. For high-quality video conferencing, Lenovo Smart Appearance enhances face characteristics and blurs the background.
ThinkPad X1 Carbon
The ThinkPad X1 Carbon is designed for hybrid workers who require higher levels of performance, better camera and audio capabilities for more immersive collaboration, and a more secure laptop to guard them from the daily demands of remote work. It is powered by Intel vPro® with 12th Gen Intel® CoreTM processors running Windows 11. The updated communications bar, which includes better FHD webcam options, Privacy Shutter, and 360-degree far field quad-array microphones, is a crucial design element. A camera with a larger sensor than those typically seen on laptops is possible because to the bar design. The 1.4-millimeter sensor improves image quality, particularly in low light.
The most recent ThinkPad X1 models with the new Computer Vision technology use a Neural Processing Unit (NPU) to generate metadata from the integrated camera using known recognition and AI algorithm modeling. In order to add an extra degree of convenience, the technology delivers smarter Human Presence Detection that recognizes persons and their purpose to use the PC, as opposed to a passing coworker in the office or a cat at home. Even when the user is sporting a safety face mask, it still functions.
Customers may use it for up to 15 hours on a single charge, and with RapidCharge technology, they can stay productive no matter where the road takes them. And because it weighs less than 1.13 kg, it is designed to function everywhere. While the Lenovo ThinkPad X1 Carbon may be small and light, it runs powerfully and delivers the kind of performance SMBs need from a workhorse at prices that won't keep them up at night.
ThinkBook 14S Yoga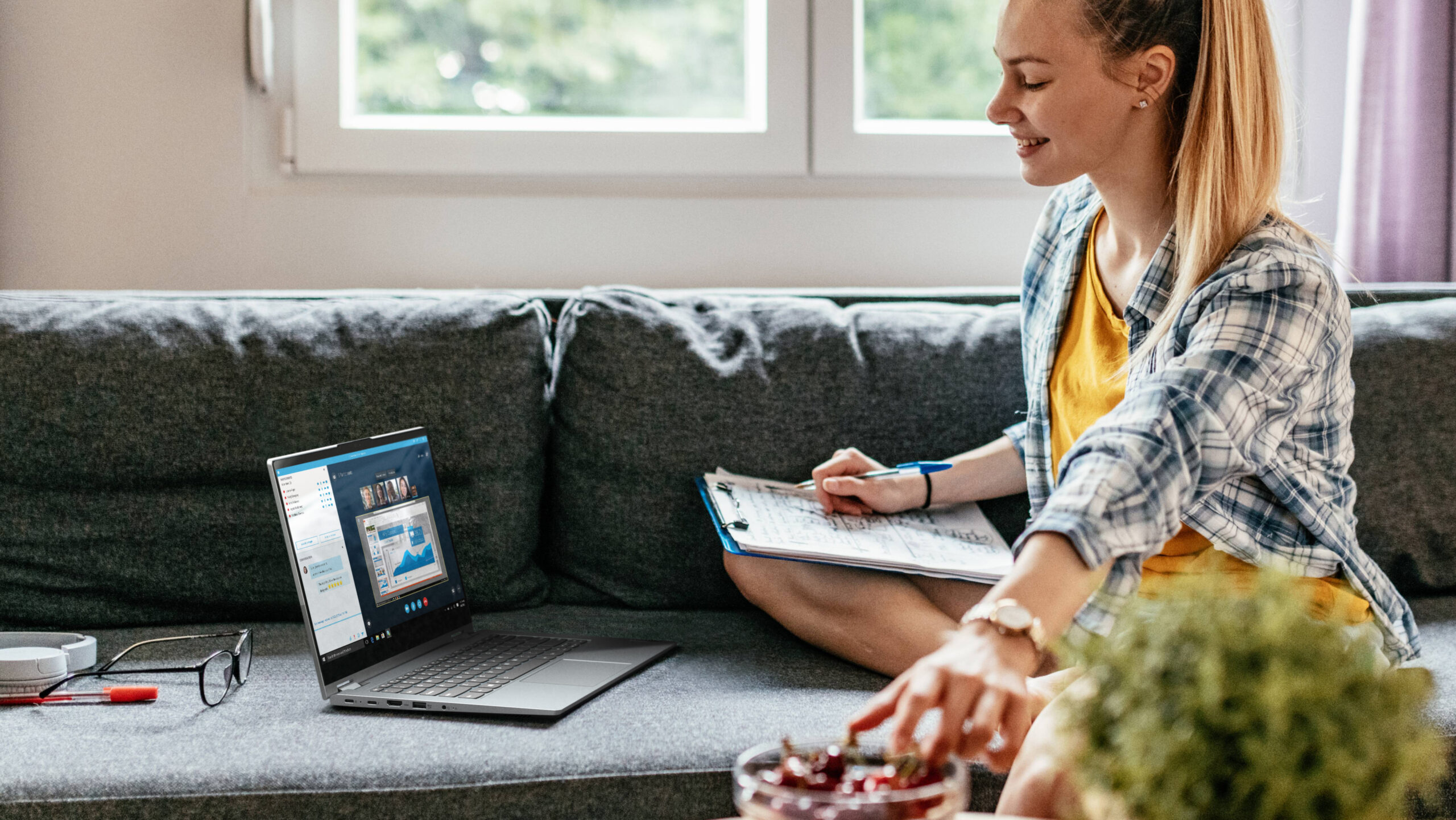 The ThinkBook 14S Yoga maintains the cutting-edge aesthetic that has come to be associated with ThinkBook. It has four slender side bezels and dual tone color highlights that exude class. They provide enhanced user experiences in productivity, collaboration, and security since they are outfitted with smart, cutting-edge technologies and high-performance features. Additionally, it provides a mobile and adaptable laptop that encourages users to thrive in the coming era. The 14s Yoga has a variety of modes that allow it to adapt to user requirements and maximize workflow. Powerful computing choices, vibrant screens, and cutting-edge components drive clever innovations that improve the user experience.
In order to enable customers perform the most demanding workloads locally or in the cloud, the combination of 12th Gen Intel® CoreTM CPUs, up to Windows 11 Pro, fast SSD storage, Intel ThunderboltTM 4, and Intel Wi-Fi 6E connection aims to offer unrivaled efficiencies. Features like Smart Appearance, AI Meeting Manager, and intelligent noise reduction, all aimed at streamlining and improving meetings, further improve intuitive experiences in collaborative work. With Smart Power On, a touch fingerprint reader that is incorporated into the power button and is controlled by the standard hardware discrete Trusted Platform Module 2.0, you can help safeguard data and identity (dTPM).
Pricing and Availability:
ThinkCentre neo 50s is available starting July with a local SRP of P50,999
ThinkCentre neo 50t is available starting July with a local SRP of P46,799
ThinkCentre neo 30a 22 is available starting August with a local SRP of P52,499
ThinkCentre neo 30a 24 is available starting August with a local SRP of P61,699
ThinkPad X1 Carbon Gen10 is available starting August with a local SRP of P128,999
ThinkBook 14S Yoga is available starting August with a local SRP of P40,800
Check out Lenovo's products on their official website, www.lenovo.com/ph.