4 things to expect at the #PMC2MillionStrong celebration
4 things to expect at the #PMC2MillionStrong celebration
Power Mac Center (PMC) has reached another milestone when its Facebook group surpassed two million members. In honor of its consumers and devoted Apple aficionados around the country, the leading Apple partner is hosting a fun shopping weekend.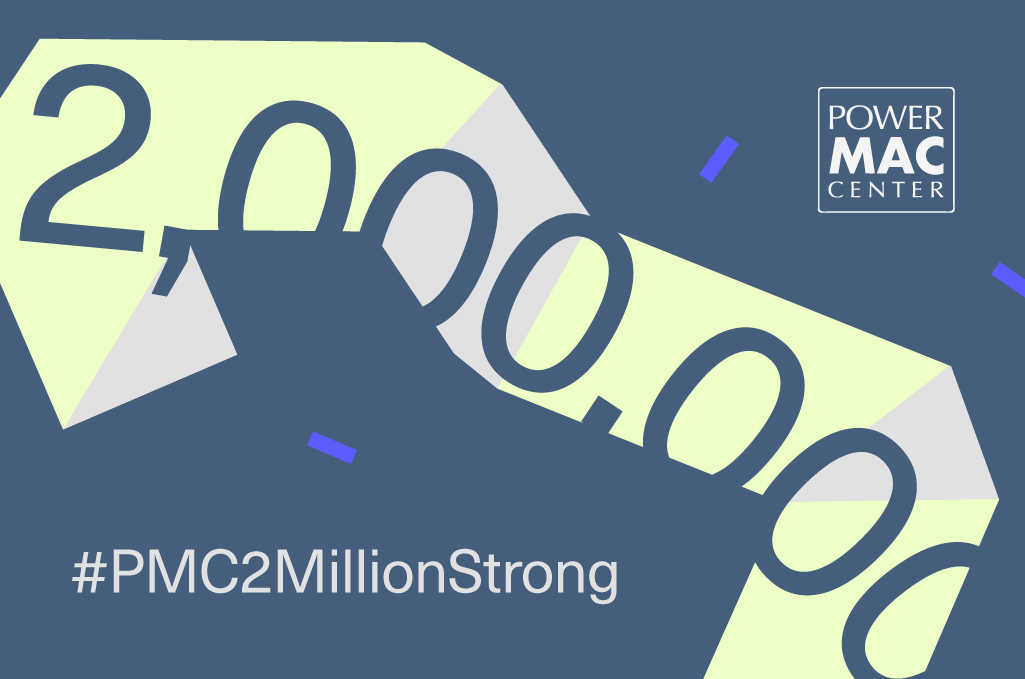 "The community we've built on Facebook has been instrumental in helping Power Mac Center grow into what it is today. With every engagement and interaction that we get on our social media pages, we are inspired to push harder in our mission of bringing world-class technology to Filipinos. This celebration is also our way of letting our patrons know how we're thankful for our online community, as they help us improve how we serve their Apple needs. We look forward to more years of touching lives, sharing joy, and connecting with more people through technology and innovation," said Joey Alvarez, PMC Director of Product Management, Marketing, and Space Planning.
PMC's Facebook network was created to encourage Apple users to express their creativity, have fun, and collaborate for good causes. PMC created special treats for customers and lucky fans to commemorate its monumental expansion.
…but first, a trip down memory lane
PMC joined Facebook on January 4, 2009. Back then, it was cool to "poke" your friends and status updates can only begin with "is."

Over the years, it has built a lot of moments that led to the 2-million-strong PMC online community today. Among the most notable memories are the 20th anniversary celebration, which also coincided with the launch of 1 Infinite Access (then 1 Infinite Card) – PMC's loyalty program; the successful blasting off into cyberspace of the Power Mac Center Web Store in 2019; and the much-anticipated annual launch of the latest iPhone series, particularly the "Journey to iPhone 13" livestream last year – PMC's first-ever full online iPhone launch event. In all of these initiatives, fans generously shared their thoughts and their time to connect with fellow Apple lovers.

See some of PMC's monumental Facebook memories at Power Mac Center's official Facebook page.

Let's take 5 (percent off)
This is the exciting part! From May 27 to 29, 2022, all devices and accessories can be purchased at any Power Mac Center store nationwide for 5% off as a simple treat to all customers and Facebook followers. Take home the latest iPhone 13 in 256GB for at P56,990.50, down from P59,990, or save up to P10,000 on the Apple M1 max chip 1TB Space Gray 16-inch MacBook Pro.
Cash and straight credit card, debit card, bank transfer, check, HomeCredit, GCash, GrabPay, WeChat, AliPay, PayMaya, Hello Money, UnionPay, BDO Pay, ShopeePay, QRPH, Power Mac Center gift certificate, and trade-in value are all eligible for the deal. Other than a vaccination card and a single Infinite Access membership, there are no requirements.
That shipping has sailed
Should you prefer to do your shopping online, PMC is also offering FREE shipping nationwide for a minimum purchase worth P2,500 on its official Web Store and Viber Store from May 27 to 29, 2022. Choose from a wide variety of devices and accessories, including iPhone, iPad, Watch, and Mac in a few clicks or taps on your device.
Join the fun online!
Stay updated on the latest announcements on deals, discounts, promos, and keep on visiting Power Mac Center's Facebook page for more surprises in the coming weeks! Invite your family and friends to also like and follow PMC on Facebook so they can join the #PMC2MillionStrong celebration.
PMC was founded in 1994 at a period when many individuals did not believe it was sensible to invest in the Apple company. PMC's founders adopted Steve Jobs' "Think Different" philosophy and created the Philippines' largest network of Apple authorized retail stores, repair and service centers, and education resellers. Its stores sell the whole Apple line as well as a choice of high-end products from partner brands.
Even better, PMC allows payments via installments with zero interest and no down payment to partner major banks and non-credit card installment options such as Home Credit to cater to all customers and enable them to invest in the quality of Apple devices that are easy on the pocket.
Join the growing community and be updated on the latest announcements, deals, and discounts! Follow Power Mac Center on Facebook, Instagram, Twitter, and TikTok.
DTI Fair Trade Permit No. FTEB-143655 Series of 2022