Samsung's TV & Soundbar bundles make family time twice as fun
Samsung's TV & Soundbar bundles make family time twice as fun
Movie nights and video games made better with Samsung's Better in Pairs promo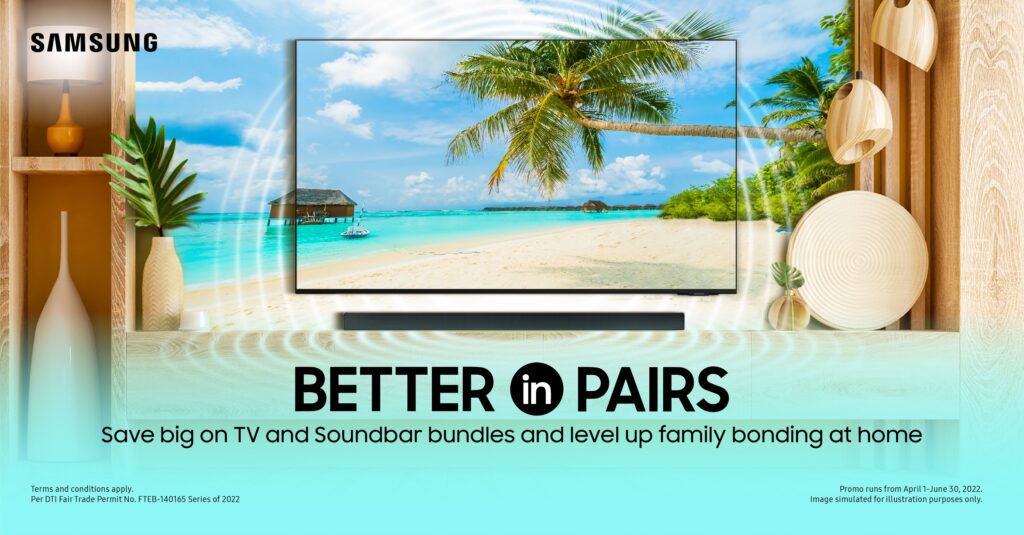 Watching TV and playing video games with the family is unquestionably more enjoyable. It's always a treat to hear dad yell for his favorite sports team, compete with siblings on the gaming console, and listen to mom's amusing side comments during shows.
It's easy to miss the continual family time at home as more people return to the office and face-to-face classes. This summer, upgrade your entertainment system with Samsung's Better in Pairs TV & Soundbar bundle campaign to keep bonding times at home alive.
Internal speakers have shrunk in size as televisions have become sleeker over time. That's why, in order to get the most out of your home cinema system, you'll need a soundbar. Samsung's premium 4K QLED and Crystal UHD TVs are paired with their suggested Soundbar for enhanced sound quality in this promotion. Until June 30, 2022, purchase selected packages and save up to P24,999!
Even while people are spending more time outside, nothing beats coming home to movie and game nights with the family – which will soon be even better thanks to Samsung's Better in Pairs TV and Soundbar packages.
This summer, don't miss out on fantastic home entertainment at a lower cost for more family connection! To get your next home theater upgrade, go to Samsung.com/ph or any authorized dealer nationwide.
For more information, visit https://www.samsung.com/ph/offer/offline/2022/summer-bundles/