StackLeague Season 2 Returns with 10M Cash Prizes
StackLeague Season 2 Returns with 10M Cash Prizes, 10k+ Contestants, and 30+ Tech Sessions.
With over 10,000 contestants, a Php 10 million cash prize pool, free training, and opportunities to network with the country's greatest developers, StackLeague is the Philippines' largest year-round online programming league.
Microsoft, Amazon Web Services (AWS), Accenture, Jobstreet, and over 20 tech communities all supported the first season of the StackLeague. Season 2 promises to be even larger and better, with over 30 tech events for gamers to engage in throughout the year. StackLeague is available to all levels of developers.
10M Cash Prizes
Season 2 of StackLeague began on February 22, 2022, with the opening of the virtual coding arena to begin the league's official scoring. Players must complete tasks in order to gain points and be eligible to win weekly cash prizes and tens of thousands of giveaways.
Nationwide Recognition
Top players will also be recognized as StackLeague Featured Programmers and will be featured in news releases distributed around the country. The ideal location to show off your skills to the tech community and corporations is on StackLeague.
Upskilling Opportunities
StackLeague arranges tech and career sessions throughout the year in collaboration with the industry's finest resource speakers, with the purpose of helping programmers better their abilities and advance their careers. These webinars are completely free. For attending and completing each session, participants will get a certificate.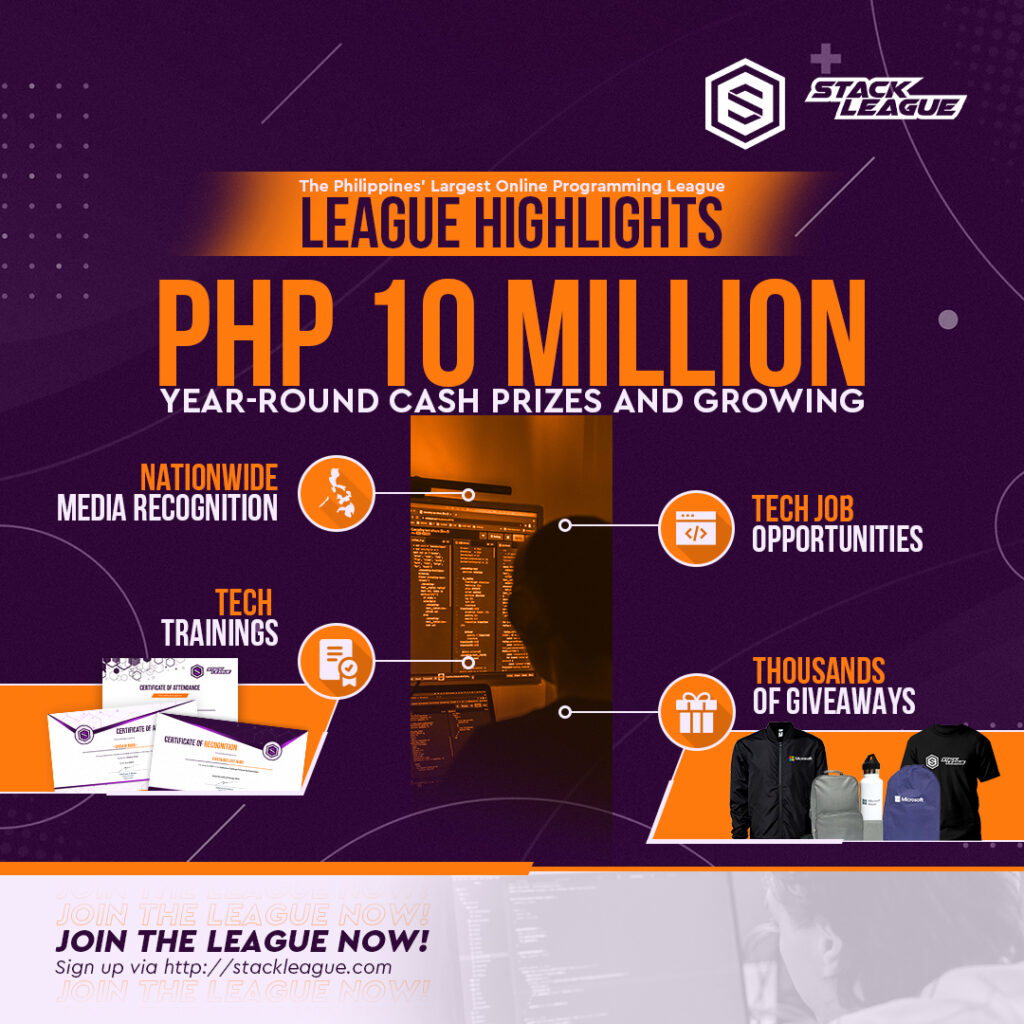 Inspiring the Nation into Coding
As StackLeague Ambassadors, participants can encourage the rest of the country to learn to code. Ambassadors gain points by asking new players to join the league and by blogging about their competitive experiences. Ambassadors of the Month will receive Php 3,000 and a StackLeague shirt, while Ambassadors of the Year will receive Php 20,000 and a StackLeague jacket.
Scaling Up the Competition
With the help of new industry partners like Deltek, Coding Chiefs, Recruit Day, Apper.ph, and others, StackLeague is bringing more chances to participants this year.
Media partners such as SparkUp, Wazzup Pilipinas, APPSGADGET, Back End News, Blooing, Androidist, Corner Magazine PH, Megabites, and Manila Republic are also collaborating with StackLeague to reach out to more programmers and link them with jobs.
Be a Part of StackLeague 2022
Challenge and level up your skills, get rewarded with cash prizes and giveaways, connect with the nation's best coders, and access to thousands of tech job opportunities. Sign up at
https://stackleague.com/.