#LiveLifeAtFullSpeed With The Latest OPPO A94
#LiveLifeAtFullSpeed With The Latest OPPO A94 Coming To The Philippines On March 26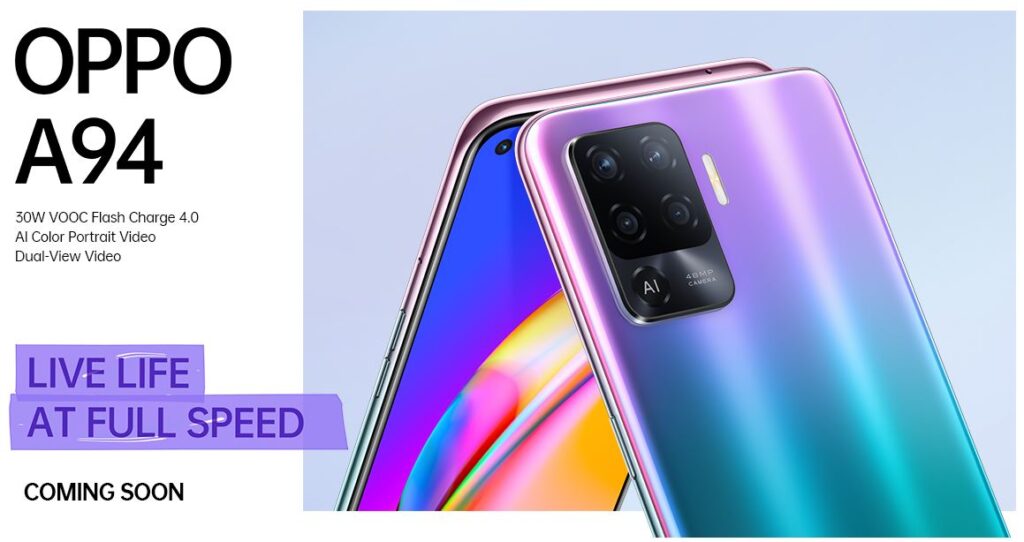 MANILA, PHILIPPINES – MARCH 17, 2021 – Get ready to experience the latest of A Series, as the global smart device brand OPPO officially introduces the all-new A94 to all the Gen Z and Millennial who rave for both mobile gaming and videography. A94 is set to be officially available on March 26 nationwide.
"A Series has always been a popular series of OPPO in the Philippines, especially for the value-seeking digital-savvy Filipino consumers. Now that OPPO is set to introduce the latest A94 in the country, we aim to continue to provide more users what they seek for in a smartphone: value-for-money, immersive mobile gaming experience and excellent videography experience," said OPPO Philippines Marketing Director Raymond Xia.
Live Life at Full Speed With A94
Get the best of both worlds with the smartphone that gives you the best value-for-money features for both gaming and videography. Features that today's trendiest and digital-savvy Filipino smartphone users are looking for to live the life they deserve with non-stop fun and action.
A94 improves every user's gaming experience with no interruptions for pure fun and action. With its ColorOS 11.1 features namely Game Focus Mode, Gaming Shortcut Mode, Game Floating Window, and Bullet Screen Message, users are guaranteed to help you to focus on winning your game as you enter the digital world of adventure.
Game Focus Mode blocks or disables all distractions including notification bars, incoming calls, navigation gestures, alarms, and even on-screen volume prompts, while Gaming Shortcut Mode drastically reduces the load time by reserving virtual memory for frequently played games. This feature supports games that follow OPPO's gaming development guidelines. Game Floating Window lets you squeeze in a game or two as it helps keep the game running in a floating window, even when opening apps like email or a browser. Meanwhile, the Bullet Screen Message lets your important messages scroll across the screen so they don't go unnoticed while minimizing any interruptions during your game.
In the content creation space, A94 boasts a 48MP AI QuadCam setup promising solid phoneography outputs for your social media content needs. AI camera features are made even better as it now lets you freely capture moments without much editing. Creative camera features like Dual-View Video lets you capture subjects through the front and rear cameras all at the same time. While the AI Color Portrait video lets you single out one subject in full color leaving the background in grayscale.
Stay tuned as OPPO reveals more about the newest, trendiest A94 via its official website at www.oppo.com/ph or via its official Facebook page at OPPO Philippines.
Be a member of the Techbeatph community. Like our Facebook page, subscribe to our YouTube Channel; and visit our website to get the latest news on tech, lifestyle and sports.