Fulcrum Esports Catalyst Wins Tournaments
Fulcrum Esports Catalyst Wins Tournaments
The boys team of Fulcrum Esports, the Fulcrum Esports Catalyst wins their first tournament this year. The boys entered the AA Strelizia Valorant tournament which was held from January 21 to January 22, 2021.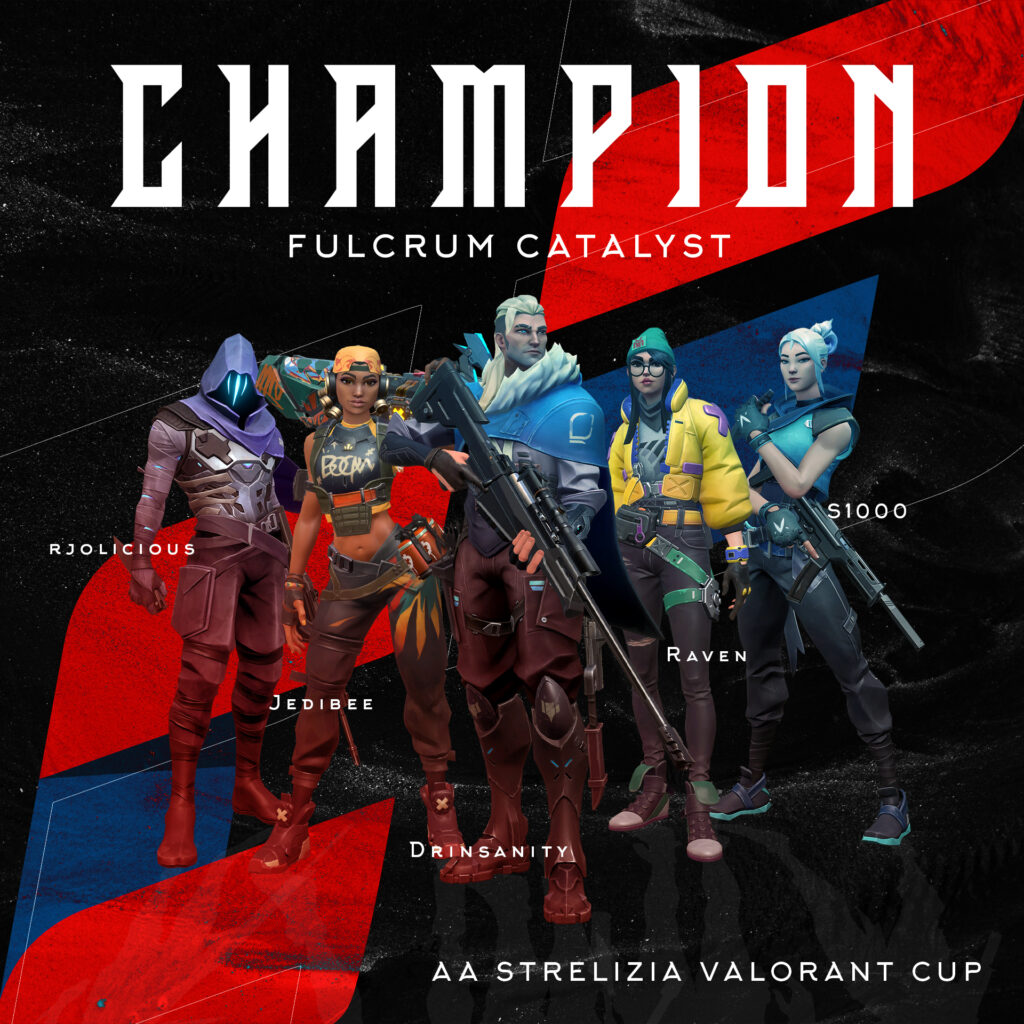 The boys had to overcome a few challenges in their semifinals match Against Cool Kids but managed to pull of the win to advance to the finals. In the finals the team went head to head with team Young Bloods. The match was a best of 3 contest with the Young Bloods winning the coin toss and selecting the Map Bind and were the attacking side. The team managed to pull of a stunning victory which gave them the 1-0 lead in the contest.
The next map up was Haven, which the boys knew like the backs of their hands. The team chose to be the defenders this time. Young Bloods rushed to an early 4-1 lead but the boys stayed calm and were able to string the next 6 game wins to be ahead 7-5 by the half. When the boys became the attackers it was like them bum rushing their opponents. The speed and sheer aggression that the boys showed against their opponents were palpable. Team Young Bloods were always pulling back with a man or two disadvantage. The boys swept the final 6 games of the tournament en route to winning the tournament and their first crown for 2021.
The victory gave Fulcrum Esports Catalyst the confidence boost they need as the 2021 Valorant season sets to begin and tournaments are now lining up and the tier one teams are now getting ready. The tournament also served as the first dry run of their strategies and how do they stack up with the local teams and competition before the start of Riot's Valorant Challengers Cup.
We are expecting great things from Fulcrum Esports Catalyst and this is an amazing start to the year.
Be a member of the Techbeatph community. Like our Facebook page, subscribe to our YouTube Channel; and visit our website to get the latest news on tech, lifestyle and sports.