ASUS Unleashes the ASUS ROG Flow X13″
ASUS Unleashes the ASUS ROG Flow X13″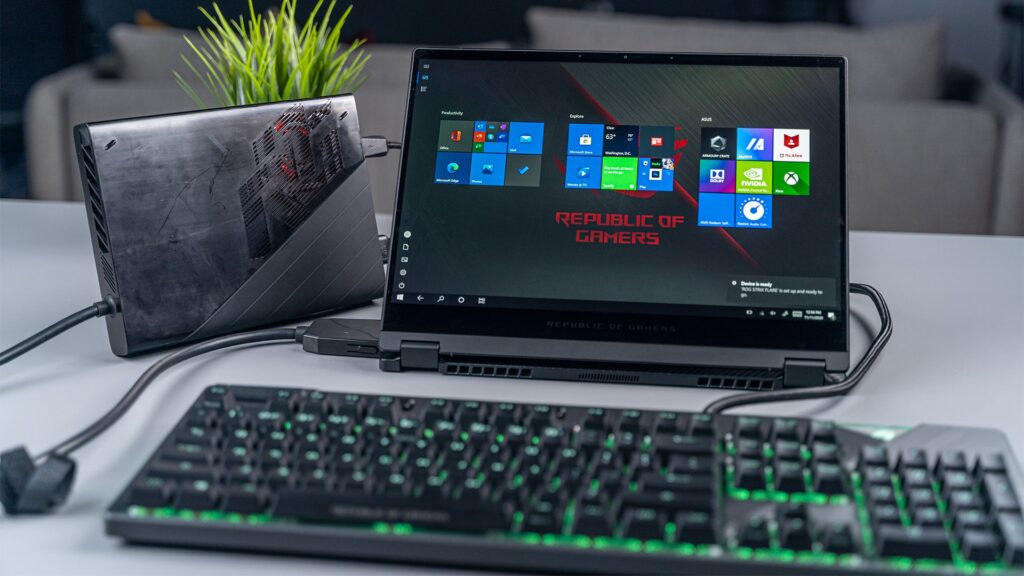 CES is now wrapping up, and during the height of the event ASUS ROG dropped their latest and exciting lineup of gaming weaponry and technologies at the CES 2021 ROG For Those Who Dare virtual launch event. The event marked the debut of the ROG Flow X13 gaming laptop with the XG Mobile external GPU the dual-screen ROG Zephyrus Duo 15 SE gaming laptop, Strix SCAR 17 gaming laptop, the 32-inch ROG Swift PG32UQ 4K 144 Hz gaming monitor with HDMI 2.1 for console and PC gaming, as well as the ROG Claymore II gaming keyboard and the ROG Gladius III Wireless gaming mouse. These latest products and more are available to explore in ROG Citadel XV, a boundary-breaking interactive experience introduced during the ROG For Those Who Dare virtual event livestream and available to download for free on Steam.
Admittedly those are a lot of new gear that we are very excited about. But let's focus on something very interesting that they launched the ASUS ROG Flow X13. ROG Flow X13 is a 13-inch ultraportable gaming laptop powered by up to an AMD Ryzen™ 9 5980HS mobile processor CPU and NVIDIA GeForce GTX 1650 graphics.
Those are pretty standard specs for a gaming laptop you might even sat that they are on the low end side. But that is where you are wrong, the ASUS ROG Flow x13 has a lot to offer that might surprise you.
Flow X13 features a flip design that allows the screen to be flipped 360° for use in various scenarios. The laptop is available with a 120 Hz FHD panel or a high-res 4K panel that's protected by tough Corning® Gorilla® glass and features a narrow-frame design and support for touch and stylus input. Both choices of display have a 16:10 aspect ratio, support Adaptive-Sync and are Pantone® Validated for superb color accuracy.
But wait there's more. The ASUS ROG Flow X13 can be paired with XG Mobile, an external GPU with NVIDIA® GeForce RTX™ 3080 graphics. When connected, XG Mobile gives Flow X13 a graphical prowess that's equivalent to full-sized gaming rigs. A proprietary eGPU connector dedicates 63 Gbps of bandwidth exclusively to graphics, resulting in significantly higher performance than Thunderbolt™ eGPUs. The graphical performance boost from XG Mobile gives Flow X13 the versatility to handle content creation, AAA gaming and work on the go, as well as hardcore gaming at home.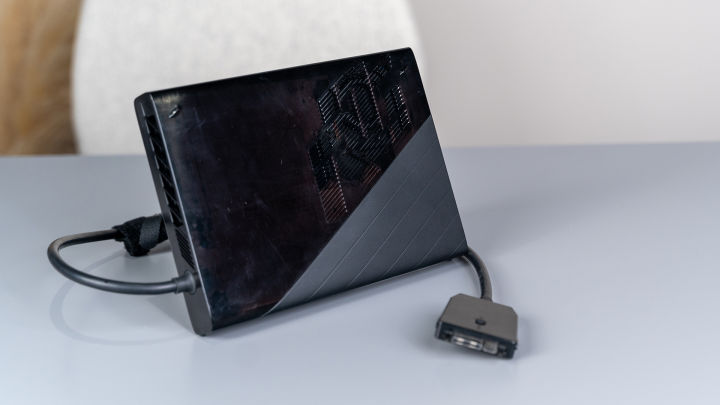 Now this gives the ASUS ROG Flow X13 the power and performance it needs like we said earlier to run the latest AAA titles out there as well as new titles that will be utilizing the hardware's capability. The XG Mobile also includes a dedicated USB 3.2 Gen 2 link, which feeds an I/O hub with extra connectivity, and an integrated 280W AC adapter, which powers both XG Mobile and Flow X13 so that users don't need to carry an additional power brick.
The ASUS ROG Flow X13 in my opinion successful merges work and play in one complete form. The laptop is subtle enough with the right amount of performance that it can be used for productivity. Then upon arriving home or when you deem it needed you can connect it to the XG Mobile to boost the performance and power needed for gaming. The additional ports of the XG Mobile also makes you ASUS ROG Flow X13 a work station by just adding multiple monitors, a keyboard and mouse and you are ready to go.
By the end of January 2021, ASUS ROG Philippines will be announcing its first sets of Cezanne laptop products to hit the market. Stay tuned to the ASUS and ROG pages for more news and updates about the local arrival and availability of these new and exciting products.
We are very excited to hear what's instore for 2021.
Be a member of the Techbeatph community. Like our Facebook page, subscribe to our YouTube Channel; and visit our website to get the latest news on tech, lifestyle and sports.