Meet MSI's New Product Lineup
Meet MSI's New Product Lineup at  MSI Premiere 2021: Tech For The Future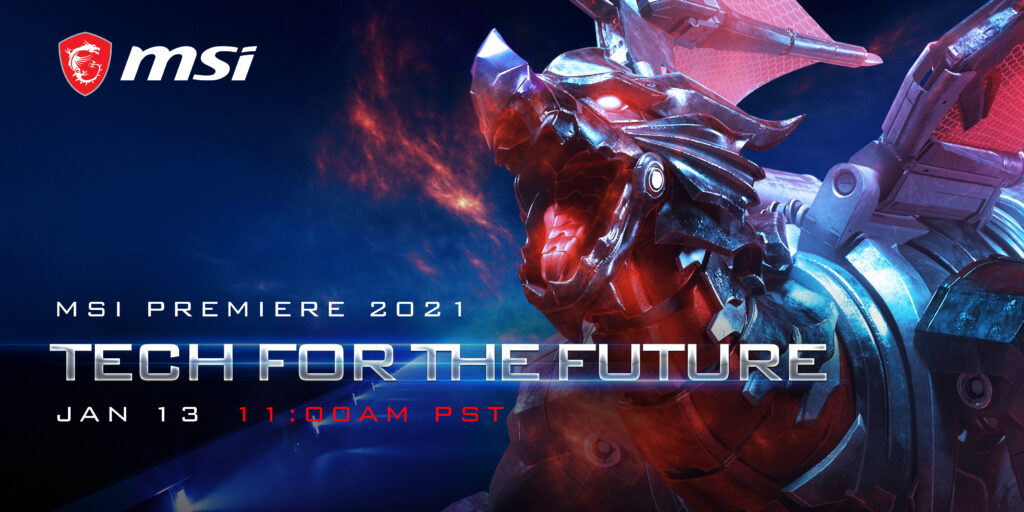 Digital event will showcase MSI's new monitors, desktops, graphics cards, motherboards and more
[Taipei, Taiwan] MSI, a world leader in gaming hardware and innovative business solutions, will host its MSI Premiere 2021: Tech For The Future digital event on January 13 at 11 am PST / 2 pm EST. Open to the media and the public, the event will feature MSI's 2021 lineup including new monitors, desktops, graphics cards and motherboards. MSI will also offer live giveaways throughout the event.
"Delivering innovative technology is the force that continues to drive everything we do at MSI," said Sam Chern, Vice President of Marketing at MSI. "Over the past year, our team has dedicated itself fully to designing and testing our best lineup yet. We're thrilled to unveil our latest innovations and once again show the world why MSI is the leading name in gaming, esports, content creation and business."
More information about MSI Premiere 2021: Tech For The Future is available at https://www.msi.com/landing/msipremiere2021
MSI GAMING:     https://www.msi.com/
MSI Facebook:   https://www.facebook.com/MSIGaming
MSI Instagram:    https://www.instagram.com/msigaming/
MSI YouTube:      https://www.youtube.com/user/MSIGamingGlobal
MSI Twitter:           https://twitter.com/msitweets
Subscribe to MSI RSS Feeds via https://www.msi.com/rss for real-time news and more product info.
Be a member of the Techbeatph community. Like our Facebook page, subscribe to our YouTube Channel; and visit our website to get the latest news on tech, lifestyle and sports.