Anker Celebrates the start of the holidays in joining the 9.9 Shopee Sale
Anker Celebrates the start of the holidays in joining the 9.9 Shopee Sale
The Shopee 9.9 Super Shopping Day is soon upon us and we are thinking of some practical electronics and accessories that is both practical and useful.
Here are some of the Anker products that we see as both practical and useful.
PowerCore Metro Slim 10000
The saying that all power banks are just the same is definitely not true. I have owned and used a lot of power banks since the things were practically invented. It absolutely false to say that. I also have been using Anker power banks for a long time and the quality and reliability are impeccable.
The Ultra slim portable charger with 10000mAh External Battery, High-Speed PowerIQ and VoltageBoost Charging Technology Power Bank for flagship phones currently in the market.,Big Power: One of the slimmest and lightest 10000 mAh portable chargers on the market. Safety is the main concern for portable powerbanks and the Anker Products Certified Safe: MultiProtect is Anker's 11-point safety system, providing superior protection for you and your devices. Quality Throughout: With a sleek fabric and matte exterior and cool-blue LED light to report battery level, PowerCore Slim 10000 is premium both inside and out.
You can get the power bank from Shopee Here
Anker Eufy Cam Kit 1080p Wire-Free Security AI Camera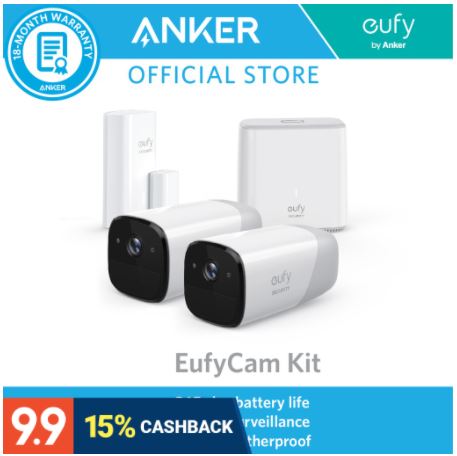 There is no price too high when we are talking about security specially nowadays. Here again we are talking about reliability and safety which there should be no compromises.
The Anker Eufy Cam Kit 1080p Wire-Free Security AI Camera is such a camera. The ability last about 365 days per charge is really the feature to beat, couple with the IP65 waterproof rating makes this truly is a reliable security camera.
Product Specifications:
– 365-DAY BATTERY LIFE: IP65 weatherproof-rated camera runs for 365 days (or 3 years in Standby Mode) per charge indoors and out.
– FULL HD SURVEILLANCE: 1080p resolution, combined with our exceptional night vision technology, ensures video is recorded with crystal-clear quality both day and night.
– NO MONTHLY FEE: eufyCam E doesn't require any monthly fees to use, and comes with a 16GB microSD card that stores up to one-year's worth of recordings.
– EASY INSTALLATION: Just screw the mount onto any flat surface and wireless surveillance with 2-way audio is ready to go
You can get the Anker Eufy Cam Kit 1080p Wire-Free Security AI Camera from Shopee Here
Anker PowerConf Bluetooth Speakerphone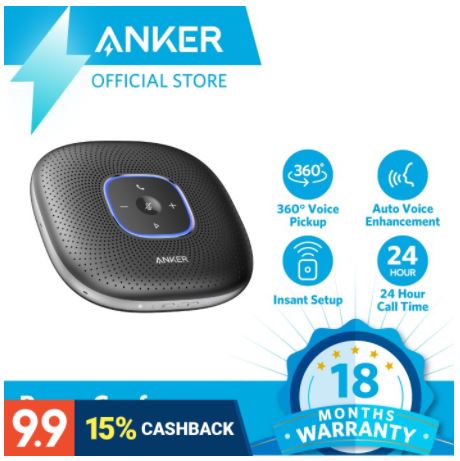 The New normal really drives in the point of the need to set up a small office at home. The work from home has become the reality and will be here for the next couple of months. As you know wearing earphones is some times cumbersome and hot. That is why the Anker PowerConf Bluetooth Speakerphone is the ultimate conference call device.
Omni-Directional Voice Pickup: 6 microphones arranged in a 360° array pick up voices up anywhere in rooms for up to 8 people. Smart Voice Enhancement: A custom DSP algorithm offers real-time echo cancellation up to 70 dB, de-reverberation, and reduces background noise by 20db to ensure your voice is picked-up without distracting noises. Optimized Clarity and Volume: PowerConf Bluetooth speakerphone automatically balances the sound of your voice to make up for differences in volume and distance from the speakerphone.
Instant Setup and Universal Compatibility: Connect to your phone via Bluetooth or to your computer with a USB-C cable with no need to install drivers. PowerConf Bluetooth speakerphone is compatible with all popular online conferencing services. 24 Hours of Call Time: PowerConf Bluetooth speakerphone has a built-in 6,700mAh battery to power days of calls. Integrated Anker PowerIQ technology allows you to charge other devices via PowerConf at optimized speeds.
You can get the Anker PowerConf Bluetooth Speakerphone from Shopee Here
Download the Shopee app for free via the App Store or Google Play.
Be a member of the Techbeatph community. Like our Facebook page, subscribe to our YouTube Channel; and visit our website to get the latest news on tech, lifestyle and sports.