Get the IPason AMD Ryzen 5 2600 Gaming PC with up to 30% off at the Shopee 9.9 Super Shopping Day
Get the IPason AMD Ryzen 5 2600 Gaming PC with up to 30% off at the Shopee 9.9 Super Shopping Day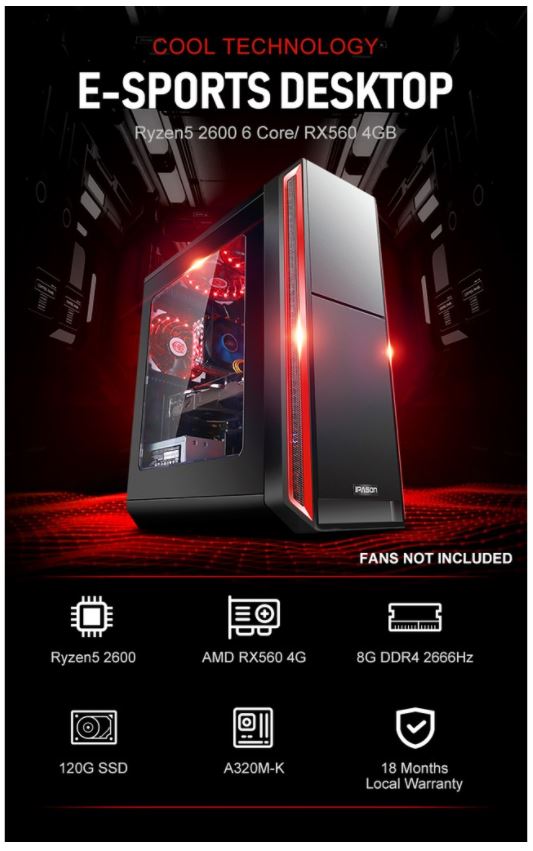 The current pandemic has out almost everything on hold including going to school. The new normal is driving everybody to digital but the cost of buying one desktop PC is skyrocketing, now enter the IPason AMD Ryzen 5 2600 Gaming PC the gaming PC that will not break the bank.
The IPason AMD Ryzen 5 2600 Gaming PC packs enough power to play the latest games with ease games like League of Legends and the latest FPS game Valorant among other title. But that is not the only draw for the computer unit. This can also be a budget starter rig for students and professional on a tight budget. It can definitely run Microsoft Office and other content creation software from the Adobe Suite.
The gaming personal computer is available on Shopee.
Product Description
Specifications:AMD Ryzen 5 2600 6 Core 3.4Ghz CPU
Crucial 1X8GB DDR4 2666Mhz Memory ( Dual Slot for Ram)
Motherboard: A320M
AMD Radeon RX 560D 4G Graphics card
120GB SSD SATA III
400W 100% Foot capacity Power -Greatwall -Home Brand Integrated
Realtek RTL8111H Network Card (NIC)
4x USB 3.0 Ports (2 front, 2 back)
4x USB 2.0 Ports (2 front, 4 back)
1x VGA Video Output
1x HDMI Video OutputIntegrated
Audio (Realtek ALC662 6)Can play online games,. LOL ,DOTA2,PUBG,APEX*
Smooth in office use, Browsing, Photoshop CS6
Brand New With Installed Windows 10 Inactive
Includes: 1 chasis fan. RGB Fans sold separately.
You can check our store for fans (up to 5 extra fans)
For HDD, You can check our store. Not wifi ready. You can check our store for Wifi Receiver. Plug and Play
18 Months Warranty Online Technical Store
IPason AMD Ryzen 5 2600 Gaming PC and get up to 30% off exclusively on Shopee 9.9 Super Shopping Day !  Shopee Store Here.

Download the Shopee app for free via the App Store or Google Play.
Be a member of the Techbeatph community. Like our Facebook page, subscribe to our YouTube Channel; and visit our website to get the latest news on tech, lifestyle and sports.