Digital eSport Platform 'Kalaro' is Taking Off in the Philippines soon!
Digital eSport Platform 'Kalaro' is Taking Off in the Philippines soon!


Manila, Philippines (June 24, 2020) – An exciting and one-of-a-kind digital platform made by Filipinos for Filipinos is set to launch this year. The fully integrated and end-to-end social networking app called 'Kalaro' will have tournament management and corporate brand sponsorship features that will cater to the country's exponentially growing esports industry.
"Our goal is to create a central hub for esports entertainment and at the same time support budding and expert Filipino esports e-athletes to excel through the active support from the esports community and sponsorship from corporate brands," said Jun D. Lasco, Kalaro software architect and Founder of The-AsiaGroup.com Inc. / Pnex Intl Corporation.
Kalaro is a virtual place to hone one's esports competitive skill for both local and international events. The platform aims to serve over 27 million gamers in the Philippines as the esports industry continues to tremendously grow in Southeast Asia.
A team of Filipino tech-experts and business leaders with combined passion has given birth to the app. These computer specialists have more than 30 years of software development experience gained mostly from international tech projects.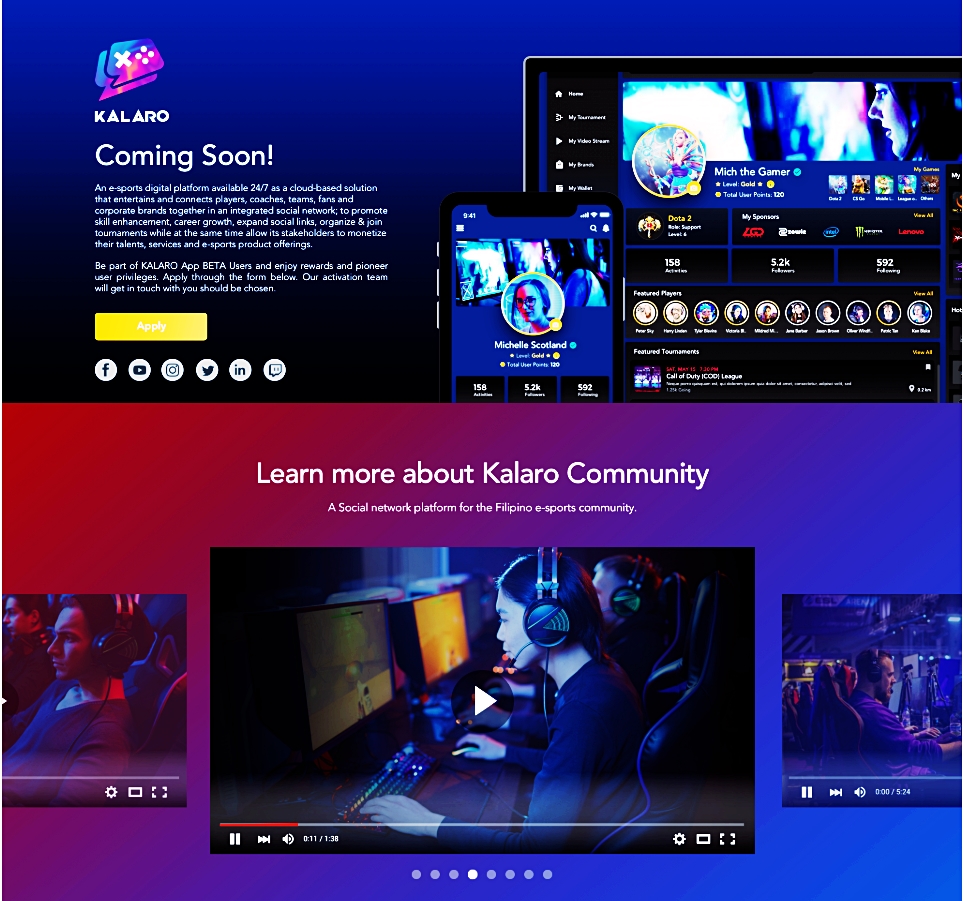 An Online Esports Entertainment Hub for Filipinos
The platform is designed to serve as a virtual community for esports players, coaches, teams, influencers, team owners, leagues, and esports fans. With Kalaro, members will be able to meet other gamers, initiate conversations to discuss the latest trends in gaming, get updates about the upcoming events or tournaments, watch their favorite "shoutcasters" in live streams, and interact with them in real-time.
There are many surprise features especially designed for the Filipino community which will be revealed during the official launch. Kalaro will become a new channel to play with and get connected to the 10+ million Filipinos outside the country.
To set up a new Kalaro account, interested gamers can sign-up using their Facebook, Twitch, Google, mobile number or email address. For those who want to be a Premium member, a small annual fee will be required in order to gain exclusive access to some of the platform's unique features. Users will be given a free Kalaro e-wallet which can be utilized to buy 'Kalaro Gems'. These gems can be used internally to gain access to exclusive events and use some of its unique features to maximize the user's enjoyment.
There will also be "Kalaro Points" which would be given as loyalty incentives for highly active members which can later on be converted to very desirable gaming and esports merchandise items.
A Central Hub for Tournaments
Kalaro will also provide its members a complete facility to launch and manage tournaments inside the app. Integration with various social media accounts outside of Kalaro will be seamless resulting into a fully integrated setup, promotion, publishing of game results and overall management of competitions.
All these directly benefit the various esports stakeholders. Players will hone their skills faster, streamers will gain access to larger audience, influencers will get central access to all esports events and personalities, shoutcasters will be able to entertain more gamers thru their live video streaming/commentaries, leagues will get broader exposure, teams will gain more followers, and brands will be more integrated for sponsorships and advertisements.
A Virtual Shopping Destination for Gamers
Kalaro also created a facility for corporate brands to set up online storefronts. The platform will have a dedicated panel that will allow companies to advertise, sponsor, and sell gaming rigs.
The e-commerce model is specially crafted for esports fans since all branded gadgets are sold at maximum discounts. Additionally, only limited edition esports items can be sold into the marketplace. With this, brands will be closer to this captive market segment.
Lastly, Kalaro guarantees the privacy of information of its users and their activities—a compelling reason why the esports community should use the platform.
Kalaro will have its grand unveiling in October 2020. The launch will be a major milestone for the country's tech & esports industries.
Follow Kalaro on Twitch, Twitter, Facebook, Instagram, and YouTube! To know more information, visit https://kalaro.net/
Be a member of the Techbeatph community. Like our Facebook page, subscribe to our YouTube Channel; and visit our website to get the latest news on tech, lifestyle and sports.