GeForce Community Cup 2020: Call of Duty Modern Warfare
GeForce Community Cup 2020: Call of Duty Modern Warfare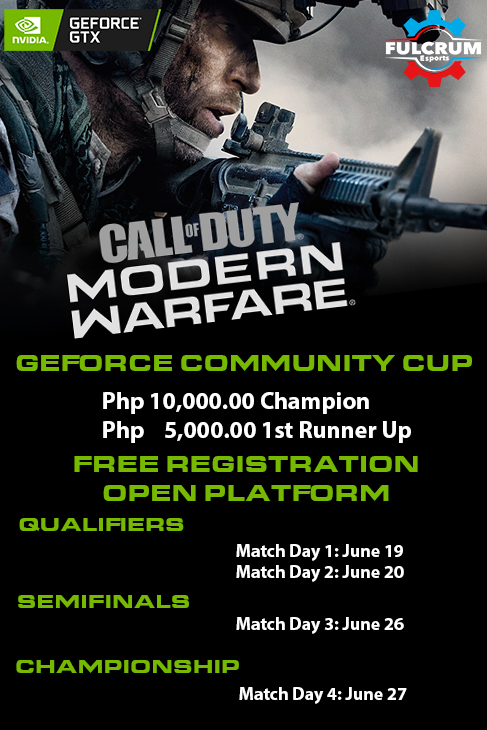 Building on the success of the GeForce Day Call of Duty Modern Warfare, Nvidia GeForce and Fulcrum Esports now brings to us the GeForce Community Cup for Call of Duty: Modern Warfare.
The tournament is designed to engage and develop the Nvidia GeForce and Call of Duty: Modern Warfare communities here in the Philippines. Nvidia is partnering with Fulcrum Esports to handle the online tournament. The tournament is an open platform tournament, PC, Play Station and Xbox gamers are going head to head in the upcoming tournament.
The Tournament is schedule to run this June, there are 4 Match days. Selected matches of each tournament dates will be streamed lived on the different social media platforms of Nvidia and Fulcrum Esports. The tournament format will be a best of three (Bo3) single elimination bracket. The final match will be a Best of Five (Bo5) match.
The GeForce Community Cup 2020 is a free tournament. The tournament prize pool for the tournament is Php 15,000.00. The champion team will be getting Php 10,000.00 and the runner up will be getting Php 5,000.00. This is the one of biggest prize pool for a local Call of Duty: Modern Warfare.
The GeForce Community Cup 2020 is a 5 versus 5 team fight limited to 16 teams. The teams are as follows:
1. ANBU
2. Flexibility Gang
3. Reflex1ty Gaming
4. H4WAL
5. SmPH Clan
6. HDSD+
7. Kuwago Gaming
8. Men of the Watch
9. Orayt Gaming
10. Neutral
11. Gulag
12. Dynasty
13. UTEIN
14. 34TER
15. Tondo Tamaraw
16. Wicked
The champions of the GeForce Day Call of Duty: Modern Warfare tournament champion Reflex1ty Gaming joins the tournament. Will they be able to defend their championship or a new team will come up and take their crown?
For the Complete Rules of the tournament click here
Be a member of the Techbeatph community. Like our Facebook page, subscribe to our YouTube Channel; and visit our website to get the latest news on tech, lifestyle and sports.