This Metal Fabrication Company is offering their help for no profit
This Metal Fabrication Company is offering their help for no profit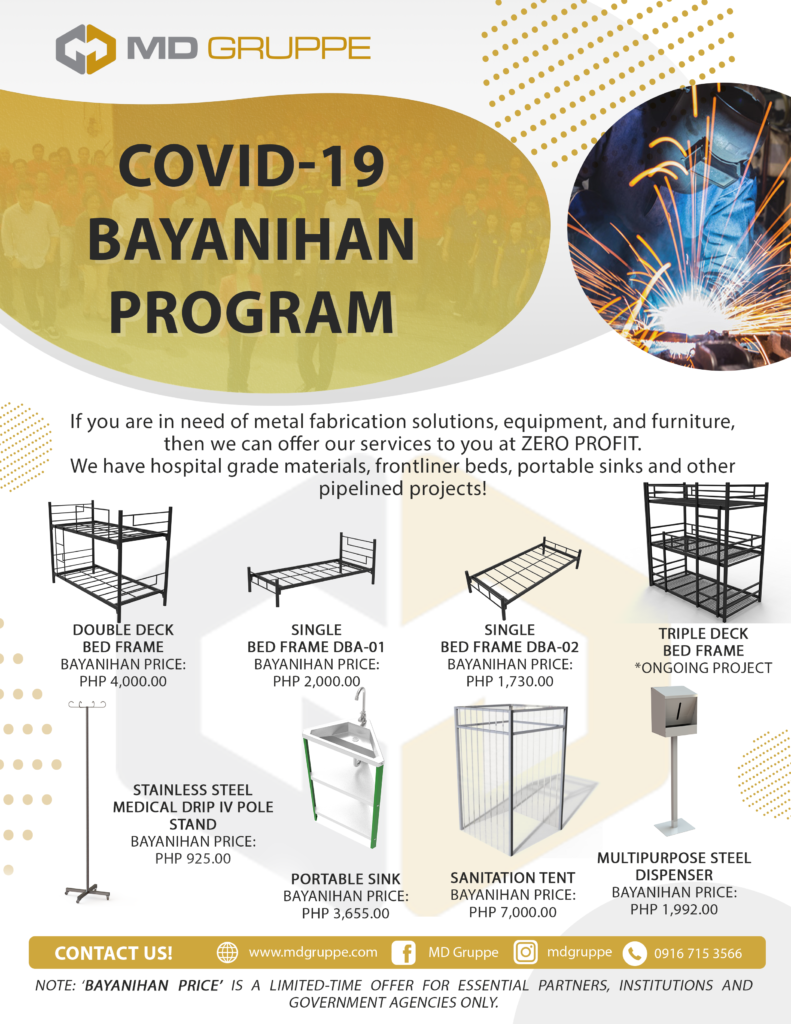 MD Gruppe, a metal fabrication company with known expertise on aircraft parts and industrial storage manufacturing is offering services to all facilities and institutions that may need their help. Their recently launched Bayanihan Program aims to produce and supply metal-made products at material cost only. The said program was initiated in response to the scarcity of facilities and equipment for COVID-19 Patients and Frontliners.
Their background in various metal fabrication technologies can help in the production of much needed relief and medical equipment. Their Bayanihan line-up includes Bunk Beds, Single beds for non-medical and medical frontliners, portable sinks, storage solutions, IV poles, hospital carts etc.
All these are being offered to COVID-19 responders and operations at zero profit; this modality brings their product SRPs as low as 1,700 pesos (for the single beds), only covering expenses used for the materials. You may download their product catalog here:
Items that address disinfection and sanitation are pipelined for development. Currently, they are working on a cost-effective version of UP's SaniTent design.
Game Changing technologies
A call for technology and innovation was sounded by MD Gruppe. Projects needing metal fabrication and processes may contact the Company directly for inquiries and help. Services that can be accommodated by their machines shall be given special considerations during the span of the COVID-19 pandemic.
"We ought to offer what we can" CEO, Melvin Dy said.
You may contact them through their Facebook page MDGruppe or through the following Phone number: 0916 715 3566
Be a member of the Techbeatph tribe. Like our Facebook page, subscribe to our YouTube Channel and visit our website to get the latest news on tech, lifestyle and sports.