Asus' ROG Zephyrus Duo 15 the new Yardstick?
Asus' ROG Zephyrus Duo 15 the new Yardstick?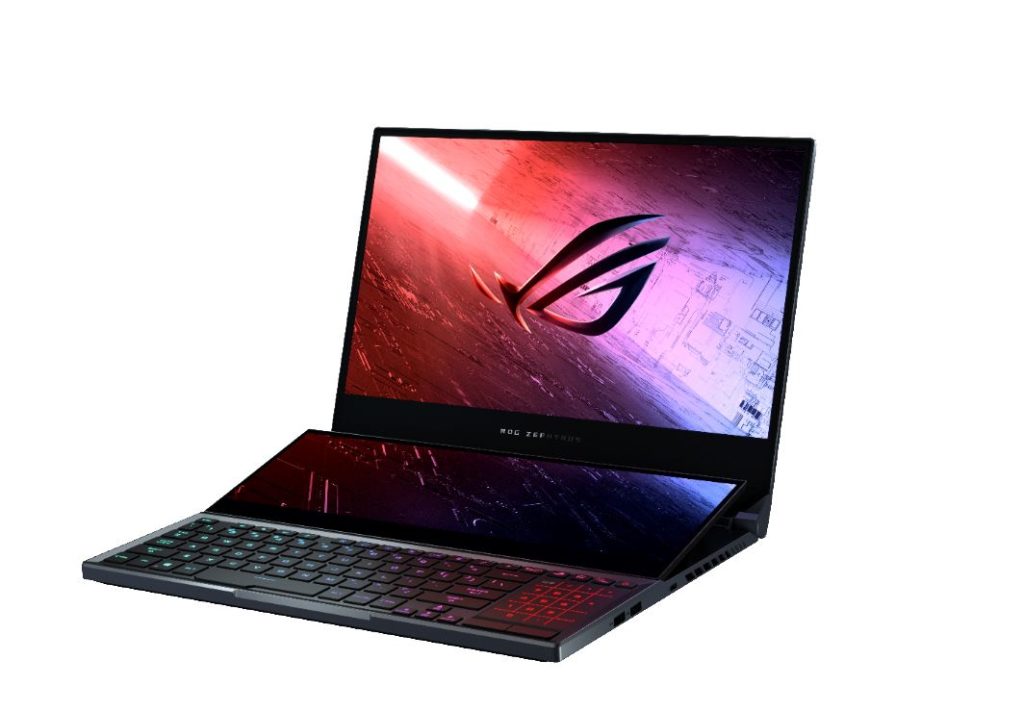 Asus ROG recently launched the first ROG gaming laptop the ASUS ROG Zephyrus Duo 15. The Ultraslim gaming laptop features integrated secondary 14.1″ full-width touchscreen for accelerated multitasking, gaming, content creation, and more much much more.This latest iteration of the vaunted Zephyrus line up packs a lot of power in such as slim form factor. That includes a second display.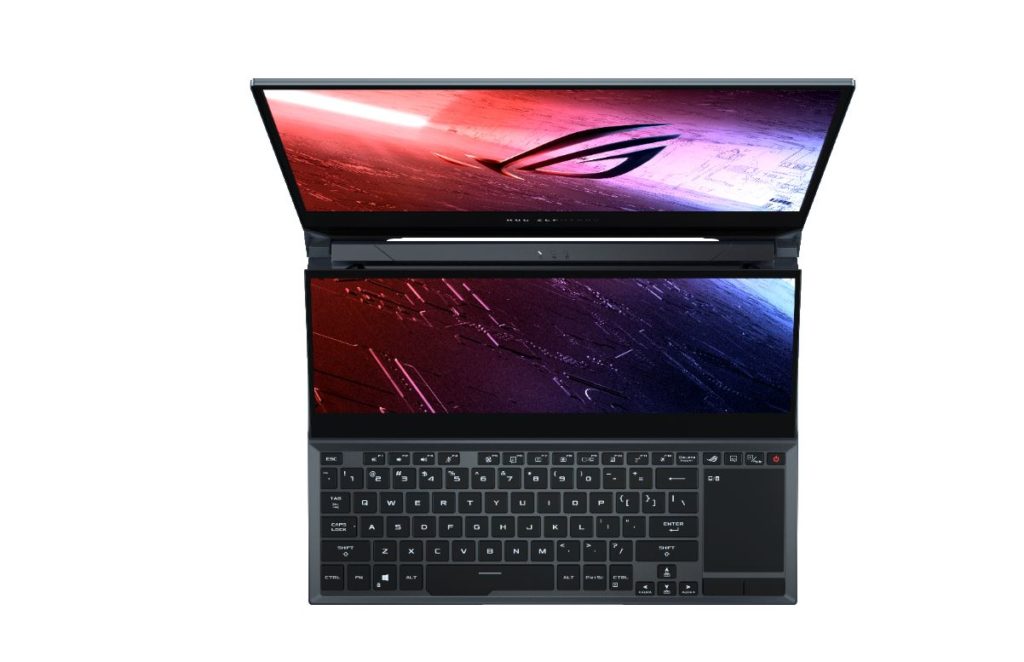 The Display/s
This is not the first time Asus has put a primary and secondary screen the Zenbook Pro Duo and Zenbook Duo were geared more toward productivity and content creation but were also competent gaming machines. The ROG Zephyrus Duo 15 packs a 15.6" PANTONE® Validated, supports Microsoft Hybrid Graphics / G-SYNC switching FHD IPS 300 Hz sRGB 100% 3 ms, non-touchscreen. The second display is a ScreenPad Plus: 14.09" UHD (3840 x 1100) IPS 60 Hz NTSC 72%, touchscreen. This set-up is awesome for gamers onn the go who stream their games. As the laptop is opened, ROG ScreenPad Plus tilts up at a 13° angle for comfortable viewing and touchscreen interaction. This fluid motion is carefully choreographed by a custom hinge that staggers the rise of the displays to prevent damage.
What's Under the hood?
Up to an 8-core 10th Generation Intel® Core™ i9 CPU hits speeds as high as 5.3 GHz on a single core, and can engage up to 16 parallel threads with Hyper-Threading technology to power through heavy duty tasks.
With up to 48 GB of combined onboard and SO-DIMM memory, Zephyrus Duo 15 is ready for multitasking mastery across multiple displays. Its DDR4-3200 RAM outpaces the old 2666 MHz standard, improving system speed and responsiveness.
Two nimble NVM Express® PCIe® x4 SSDs run in RAID 0 to provide plenty of high-speed storage. The dual-drive array makes the whole system feel more responsive, with lightning load times and quick access to data. With up to 2 TB of capacity, gamers and creators can take their entire game library and professional portfolio wherever they go.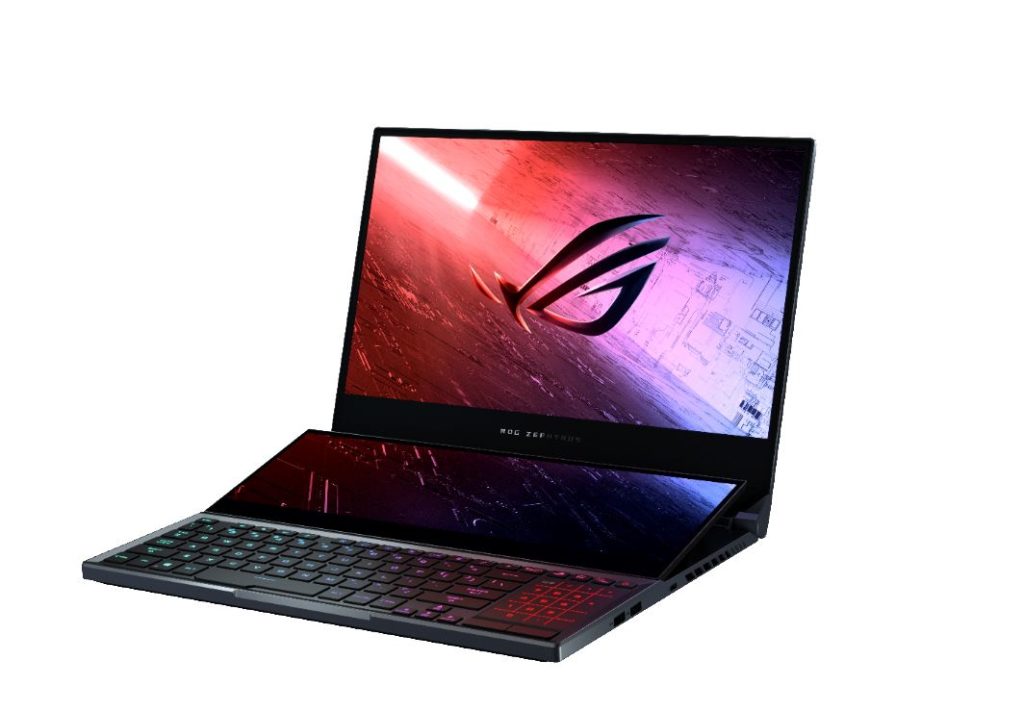 The Graphics Card Power
A top-tier display requires a top-tier GPU to keep up. The new NVIDIA® GeForce® RTX 2080 SUPER™ makes everything fast and fluid. Thanks to advanced cooling and ROG Boost, the GPU can hit peak clock speeds as high as 1330 MHz in Turbo mode.
The revolutionary Turing™ architecture behind the GeForce RTX series enables incredible visual realism. Lifelike lighting, shadows, and reflections render with speed across upgraded CUDA cores for programmable shading, RT cores for real-time ray tracing, and Tensor cores for AI processing. These versatile cores can also accelerate workloads like image processing, 3D modeling, and deep learning.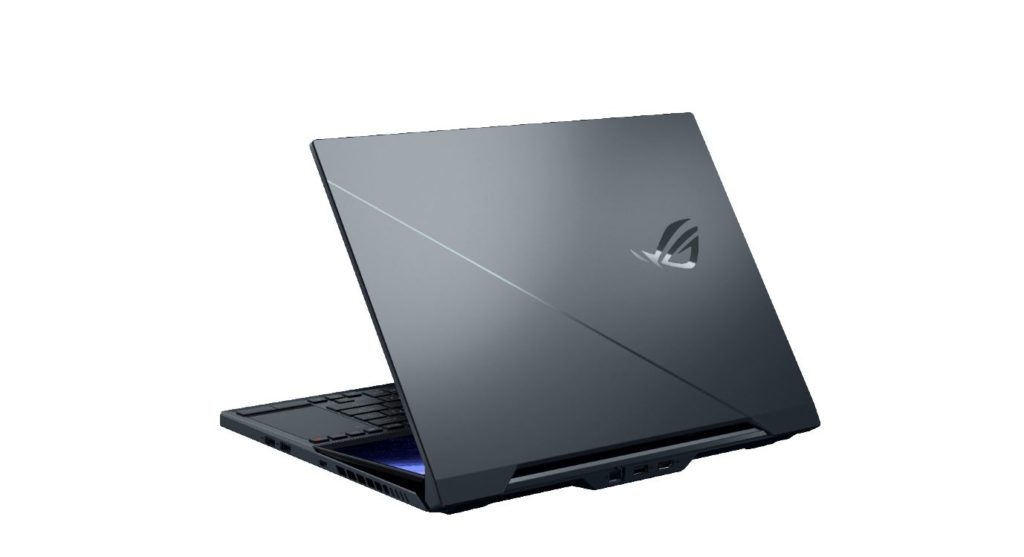 The Subtle Aesthetics
Empowering gamers who also create with flexible designs that streamline their work is a passion at ROG. Multi-monitor arrangements enable gamers, creators, and power users to work more effectively on their desktops. Laptop users are also commonly seen using their phones as a second screen. To make that level of productivity portable, the Zephyrus Duo 15 doubles down on displays with an elegant Active Aerodynamic System (AAS) Plus design that makes the full-width ROG ScreenPad.
Plus touchscreen an integral part of the cooling system. As the AAS Plus system tilts the laptop up, the second display also rises for comfortable viewing, while revealing a large air intake for deep airflow. The sophisticated cooling design gives Zephyrus Duo 15 ample thermal headroom to fit powerful flagship processors in a groundbreaking multi-screen gaming laptop.
Here is alist of the specs for the Asus ROG Zephyrus Duo 15
Now that is truly one amazing gaming laptop. We will be trying to get and actual unit from ASUS Philippines that we can do a video review. for the mean time here is their promotional video link.
Be a member of the Techbeatph tribe. Like our Facebook page, subscribe to our YouTube Channel and visit our website to get the latest news on tech, lifestyle and sports.