Realme 5 and 5 Pro Set to Launch tonight
Realme 5 and 5 Pro Set to Launch tonight.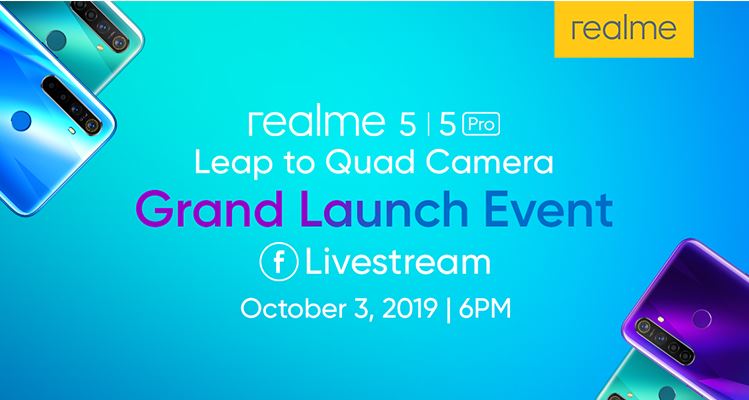 Realme is set to launch their latest smartphone tonight October 3, 2019 at 6 pm. The Realme 5 comes in 2 variants the realme 5 and realme 5 pro. Both smart phones comes with oe of the first rear facing quad cameras in the local market. Realme is coming off success after success since being launched in the Philippines with its compelling price point. Realme has positioned themselves as the entry-level king but believe me, the upcoming phones are not entry-level phones. We have already had our hands on the realme 5. It is not an entry-level phone, the innovation it packs and the Quad camera is more akin to a flagship phone. You can watch our unboxing video
here
. Realme's Marketing Director Austine Huang is looking to once again to reshape the local Filipino Smartphone scene.
Realme Philippines, together with the entire Filipino realme community, is excited for the launch of these products that are currently enjoyed by different customers globally. We are happy that we can offer such beautifully crafted phones that also boast impressive performance at price points achievable for many Filipinos, especially the youth.
To put extra joy in tonight's launch realme will be giving away a realme 5 Pro and realme 5 to lucky viewers of their live stream broadcast. You can catch the show on their
Facebook Page
and their
YouTube Channel
. The show will start at 6 PM so tune in and get the chance to win. For more Tech Lifestyle News and Features Visit us at
Techbeatph.com
, and visit and subscribe to our
YouTube Channel.
Share and Enjoy