ADMU students to represent at the Go Green in the City 2019 Global Finals in Barcelona
ADMU students to represent at the Go Green in the City 2019 Global Finals in Barcelona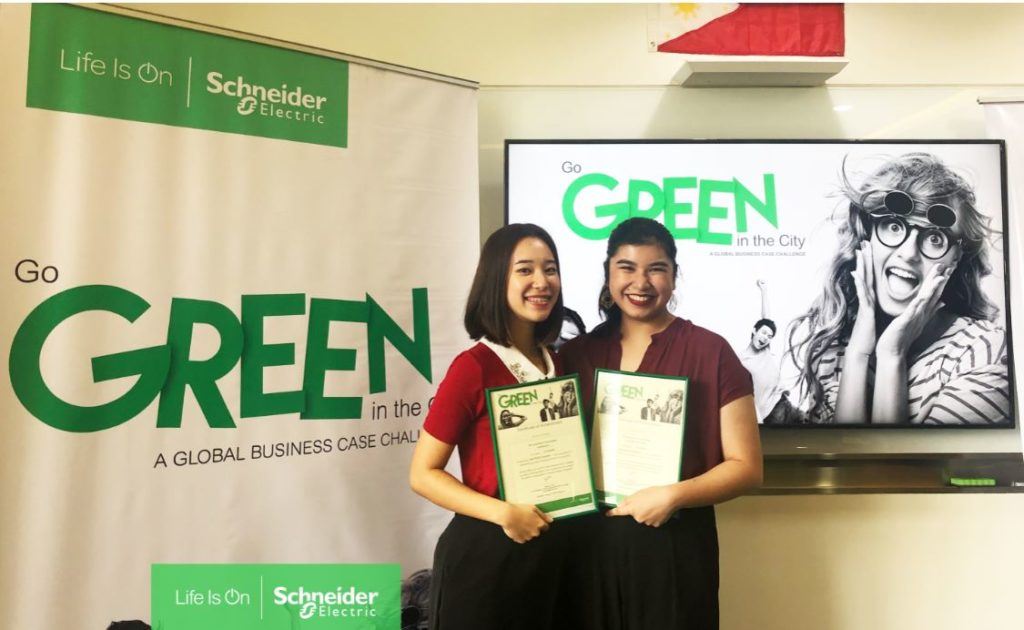 Manila (Philippines) — Schneider Electric, the global leader in the digital transformation of energy management and automation, held the Asia-Pacific Regional Finals of the Go Green in the City 2019 last August 22, 2019, naming Philippines representative Team Chinquapin as the Asia Pacific winners of the competition, and will advance to the Global Finals in an all-expense-paid trip to Barcelona, Spain.
Composed of Ateneo de Manila University students Yumi Briones and Gabby Ozaeta, Team Chinquapin presented their Rainshine project which is a renewable energy device that generates clean energy, both in the sun and in the rain. It is composed of two parts: polycrystalline silicon solar cells and a reduced graphene oxide thin film on a polylactic acid plastic substrate. As the solar cell generates electricity from sunlight, the graphene layer generates energy from raindrops by utilizing the Hydrovoltaic effect. Rainshine panels are made of low-cost but highly efficient materials, making its price competitive with those of regular solar panels in the market at a higher energy output. Rainshine is their bold idea for a greener future.
Previously, the Philippines has had its share of the global spotlight. In 2013, fellow Ateneans Alyssa Vintola and Enzo Payonga represented the country and the region in the global leg of the competition and took home the global championship for their Oscillohump project. In 2015, John Paul Santos and Christian Sta. Romana from the Polytechnic University of the Philippines grabbed the third prize of the global competition with their Electrifilter project.
This 2019, Briones and Ozaeta will be facing off with the respective winners from Europe, Greater China, Greater India, Middle East and Africa, North America, and South America, and the recipient of the Women in Energy Award. The top teams will be heading to the Schneider Electric Innovation Summit to be held in Barcelona, Spain in October 2019. Each team will have the chance to pitch their business idea in a 15-minute presentation followed by a five-minute Q&A with the jury composed of Schneider Electric's senior management. The winning project will be selected based on the following criteria: understanding user needs, solution innovation, feasibility/financial business case, and green impact and recruitment.
The global champions will be receiving all-expense-paid trips to any two cities around the world where there are Schneider Electric offices and employment opportunities at Schneider Electric.
For more Tech Lifestyle News and Features Visit us at Techbeatph.com, and visit and subscribe to our YouTube Channel.