Elementary students become junior coders
Elementary students become junior coders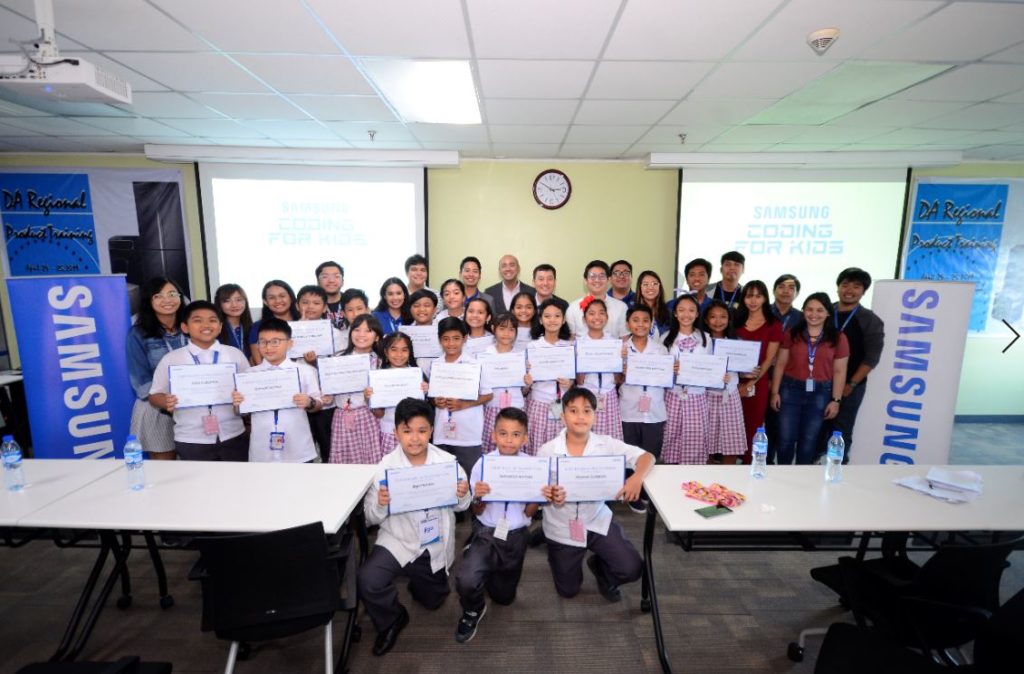 Manila, Philippines – Grade 5 students of EM's Signal Village Elementary School (ESVES) showcased their programming skills at the Coding for Kids recognition day.
By combining different coding principles, the kids were able to manipulate colors, shapes, and movement of characters. Musically inclined students created short music videos of dancing animals on changing backgrounds while the artistically oriented ones made clips of moving art.
Launched last October 2018, Coding for Kids is a pioneer program of Samsung Electronics Philippines Corporation (SEPCO) in cooperation with the Department of Education (DepEd) Taguig-Pateros Division. It is an off-shoot initiative from the Samsung Smart Classroom project that aims to make ICT-based education more accessible to the Filipino youth.
"We are proud of our first batch of junior coders. After seeing the students' outputs that make use of advanced coding principles, it is difficult to imagine that they had zero knowledge on programming and coding just six months ago," shares Samsung CSV and Government Relations Head Nico Garcia. "We hope that they continue building on this foundation and pursue growth in the field of technology."
After 11 workshop sessions, the students learned basic and advanced coding concepts such as algorithms, debugging, variables, loops, conditionals, and animation. The volunteer instructors from Samsung Research Philippines (SRPH) made use of open source website Code.org in teaching the kids.
Certificates were handed out after the six-month program, presented by SEPCO CSV Lead Nico Garcia, SRPH Managing Director Yongduk Hwang, DepEd Taguig-Pateros Division IT Officer Jose Abisado, Jr., and ESVES Principal Josefina Granada.
"Our school is grateful for this partnership with SEPCO. The program not only widened the minds of our students but gave them an enjoyable sense of learning," says Coding for Kids adviser and ESVES faculty Melanie Gatanela. "We are positive that the skills they gained here will bring them far in their personal pursuit of excellence."
For more Tech Lifestyle News and Features Visit us at Techbeatph.com and Visit and Subscribe to our Youtube Channel here.
.