Recruitday mobile scout app lets you earn extra cash
Recruitday mobile scout app lets you earn extra cash by referring your friends to great jobs
Recruitday, creators of the referral and recruitment platform which taps popular social networking has launched the Recruitday mobile app to simplify the registration and referral process for the company's "scouts."
Scouts can be anyone who refers friends, relatives, colleagues or any of their contacts to Recruitday job openings. They may be doing this full-time or part-time; they may even be students, retirees or stay at home moms or dads. To become a scout, all one has to do is register with Recruitday either through the website or through the mobile app.
"The Recruitday Scout App now makes it easier for our social recruiters or Scouts as we call them, to engage their friends and followers with a compelling job and career opportunities," said Joel Garcia, founder, and chief executive officer of Recruitday.
With the Recruitday Scout App, scouts can filter listings based on the most recent openings, job titles or even reward amount. The app will also make it easier to track their rewards. And they can even set-up notifications so they don't miss out on possible referrals and reward opportunities.
"We have basically made referring someone as simple as sharing a video online with friends on social media," added Garcia.
Headhunting possible candidates over Recruitday entails Scouts sharing their own unique referral link of the job opening via social media or direct message. As candidates apply using the link, they become part of each Scout's referrals. The scouts are then eligible to receive cash rewards ranging from P5,000 to P20,000 with each successful, or hired, referral.
Php 5 Million Reward Kitty
Garcia revealed that less than one year into the launch of the Scout program, Recruitday now has Five Million Pesos (Php5,000,000.00) available in rewards for successful "scout" referrals.
"Recruitday is committed to growing and developing our army of Scouts, given exciting campaigns, promotions, and programs in the pipeline exclusively for them," said Garcia.
Through partnerships with companies looking for new talent, Recruitday makes cash rewards available for different points in the hiring process. This serves as a lucrative incentive for Scouts to scour their contacts and refer them to Recruitday's job listings.
The current network of Recruitday Scouts come from different industries and occupations, including freelancers, freelance recruiters, call center agents, accountants, HR personnel, talent acquisition specialists, developers and programmers, sales representatives, and office admin staff. There are even lawyers, chefs, domestic helpers, and many more. Even housewives and teachers have signed up. With such a varied profile of scouts, virtually anyone, with access to a computer or a mobile phone, can become a Scout.
Recruitday's Scouts come from all over the Philippines, from as far north as Ilocos and as far south as Davao. Their referrals are mainly in the following industries: Computer and IT, Accounting and Finance, Clerical and Administrative, Customer Service and Human Resources.
Matching friends with career opportunities: the new headhunters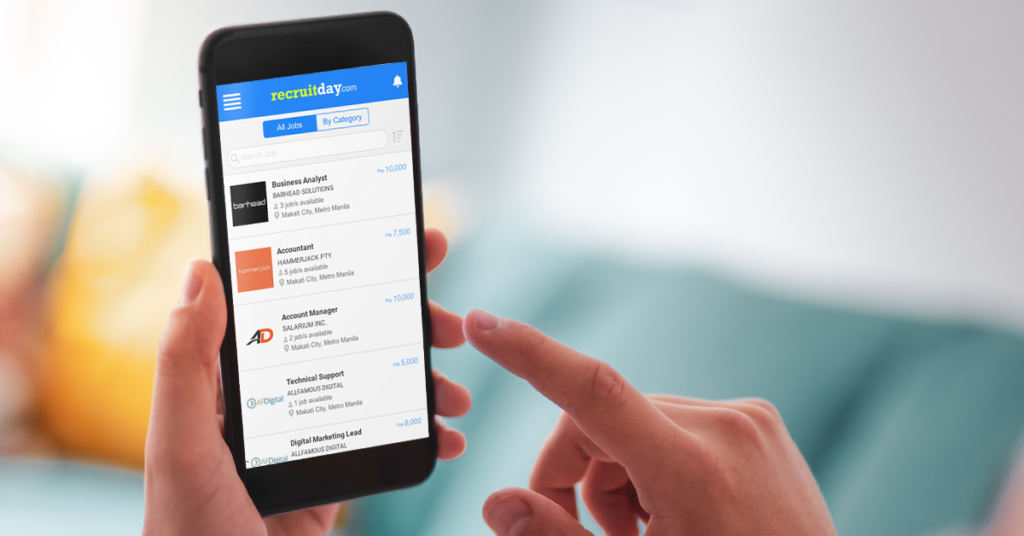 "We have a very diverse profile of Scouts in our network, including people who simply and sincerely want to open great possibilities for their friends and pick up a little extra income along the way. And now with all the current openings via Recruitday, Scouts have even more opportunities for successful referrals and rewards leveraging off their network of friends" added Garcia
"They are the new headhunters of our age. And today we're giving them a mobile app."
Currently, there are job openings in a wide range of industries including Building and Construction, Architecture and Engineering, Computer & IT, Accounting and Finance, Clerical and Administrative, Sales and Marketing, Customer Service, Management and Operations, Production and Quality and many, many more.
Recruitday began operations in late 2017 and has already transformed recruiting for employers, recruiters and job seekers. Through its web-based portal, the company has created a new category: social + referral recruiting with its Scout program. The Scout program capitalizes on the Filipino's addiction to social media and encourages people to sign up as a scout and refer their social media contacts to job openings that fit their experience, skills, and personality.
As of December 2018, the Philippines has over 60 Million Facebook users, with the average Filipino having almost 1,000 friends on the network.
For more Tech Lifestyle News and Features Visit us at Techbeatph.com and Visit and Subscribe to our Youtube Channel here.
.