Samsung Galaxy A80: Built for the Era of Live
Samsung Galaxy A80: Built for the Era of Live
Designed for digital natives who want to interact, play and share in the moment
THAILAND, April 10, 2019 – Samsung Electronics Co., Ltd. reveals the new Galaxy A80 – a smartphone created for the way people are engaging in the Era of Live. People are increasingly using their smartphones to share live interactions – capturing spontaneous photos, streaming live video and connecting over shared experiences that are happening right now. We are moving from the 'era of the selfie' to the 'era of live', where people are fostering more genuine and meaningful connections. Built to drive this evolution, the Galaxy A80 offers compelling innovations: a captivating, full-screen display, Samsung's first revolutionary rotating camera and an intelligent battery.
"Consumers are at the center of everything we do and they search for devices personalized to their specific lifestyle. Armed with our expertise, global capabilities and rich consumer insights, Samsung is uniquely positioned to provide innovations for everyone," said DJ Koh, President and CEO of IT & Mobile Communications Division at Samsung Electronics. "The Galaxy A Series provides a range of models so everyone can choose a device that fits their unique needs and enables them to pursue their passions. The Galaxy A80 offers premium features for digital natives who want to fully engage in the Era of Live."
Our First Impression is in our video Below.
https://youtu.be/vyTKApt9zKw
Samsung Galaxy A80 Specifications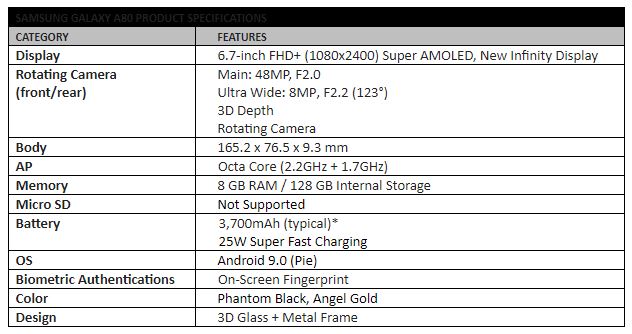 For more Tech Lifestyle News and Features Visit us at Techbeatph.com and Visit and Subscribe to our Youtube Channel here.
.