Hotel Sogo Introduces its New Colors
Hotel Sogo Introduces its New Colors
The future looks red and white!
To convey its slogan of "So Clean So Good" Hotel Sogo unveils its latest color theme for its iconic structures. The previously red and yellow landmarks in your respective neighborhoods will now become predominantly white and red with a highlight of yellow in their facades. The new designs show Hotel Sogo's commitment to service quality, cleanliness, and innovation. For over a quarter of a century now, Hotel Sogo continues to provide excellent service, top-notch rooms and first-class amenities with affordable prices. There's no wonder why they are now the largest hotel chain in the country.
The Sogo Experience
True to their commitment to bringing a memorable hotel experience to their guests, Hotel Sogo continues to listen to their loyal patrons on how to continuously improve. They take complaints seriously, all the members of the senior management staff attend to them personally, including the CEO and COO.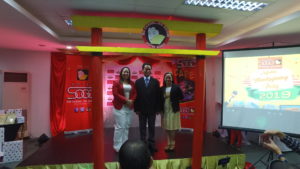 Furthermore, don't be surprised to see waiters on skateboards though, this is one of the innovative ideas that Sogo Hotel incorporates in their service. To ensure fast and reliable delivery of your orders, put them on wheels, genius right? That's the essence of the Hotel Sogo experience, an innovative approach to an otherwise very traditional industry. Hotel Sogo continuous to introduce new amenities and ways to improve their service, the welfare and happiness of their guest are their number one priority. In addition, guests who have had the pleasure of the Hotel Sogo experience in the past will appreciate the new colors of their new branches.
The Future of Hotel Sogo
From its humble beginnings in 1992 they opened their first hotel in Monumento Caloocan (near the LRT Station) in 1993, Hotel Sogo has now grown to 40 branches nationwide with plans to build more and expand to other neighboring countries in the near future. So watch out for the new and improved Sogo Hotel near you.
For more Tech Lifestyle News and Features Visit us at Techbeatph.com and Visit and Subscribe to our Youtube Channel here.