Philippines Air Force close in on Rafael Sypder GBADS
Philippines Air Force close in on Rafael Sypder GBADS
Inserting a bit of military tech news. Recently the Philippine Air Force Ground Based Air Defense System (GBADS) of the 960th GBADG (Ground Based Air Defense Group) recently announced that the RAFAEL IAI SPYDER (Surface-to-air PYthon and DERby) Air Defense System.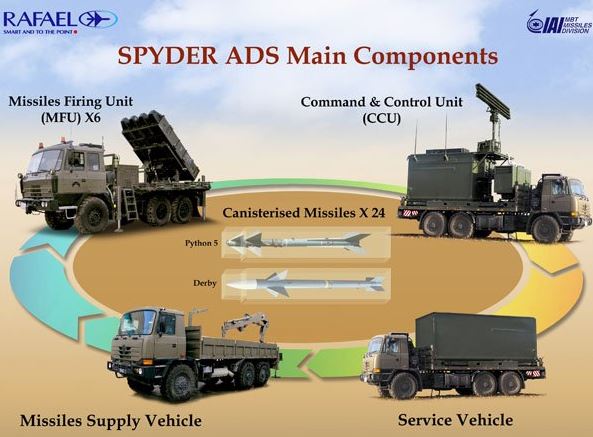 Citing the report from MaxDefense Philippines Defense Page the the PAF TWG has already come up with the decision that is favorable to IAI.
The Rafael SPYDER is said to be the PAF's favorite to win the selection process, as Rafael was among the first to offer a GBAD system even before they started the actual pre-procurement process. The SPYDER is a low-level, quick-reaction surface-to-air missile system capable of engaging aircraft, helicopters, unmanned air vehicles, drones, and precision-guided munitions. It provides air defense for fixed assets and for point and area defense for mobile forces in combat areas. The SPYDER launcher is designed to fire Python-5 and Derby surface-to-air missiles which share full commonality with the air-to-air missiles. There are two variants of the SPYDER: the SPYDER-SR (short range) and the SPYDER-MR (medium range). Both systems are a quick reaction, all weather, network-centric, multi-launchers, and self-propelled. A typical battery consists one central command and control unit, six missile firing units, and a resupply vehicle. The SPYDER-SR uses the EL/M-2106 ATAR radar while the SPYDER-MR incorporates the EL/M-2084 MMR radar.
The SPYDER was said to be competing with several other weapon systems from other countries, including Diehl Defense's IRIS-T SL from Germany, LIGNex1 KM-SAM from South Korea, the Bharat Dynamics Akash from India, among others.
This is a strong indication of the focus of the modernization of the Philippine Military to address the threats both foreign and domestic as seen during the last siege of Marawi City the new assets such as the LIFT FA-50 which dropped precision-guided munitions on target.
For more Tech Lifestyle News and Features Visit us at Techbeatph.com and Visit and Subsribe our Youtube Channel here.