Go Beyond Customer Service
Go Beyond Customer Service:
LG Philippines celebrates its own brand of service
Aside from its top-of-the-line and innovative technologies that foster one high-tech breakthrough after another, LG invested in something equally important: Its customers. That's why LG's Authorized Service Centers around the world go beyond standard customer service. Each member of the LG global family is equipped and encouraged to go the extra mile when it comes to addressing customer concerns.
Before the year ends, LG Philippines gathered its best team players to strengthen its commitment to stellar service.
Dedication to Service
On November 22, team members from 28 LG Authorized Service Centers around the Philippines flew to Manila for a whole-day conference with the theme "In LG, Customer Service is Not a Department, it's a Commitment". The gathering aims to improve the company's customer service practices and nurture a relationship between the service centers and the national headquarters in Metro Manila.
The event was attended by 48 of the most productive members of key authorized service centers around the country. They were welcome by Mr. Marco Kim, LG Philippines' Task Leader for Process Improvement.
Mr. Kim encouraged the attendees to continue to strive for excellence and going the extra mile for every customer as proud representatives of LG.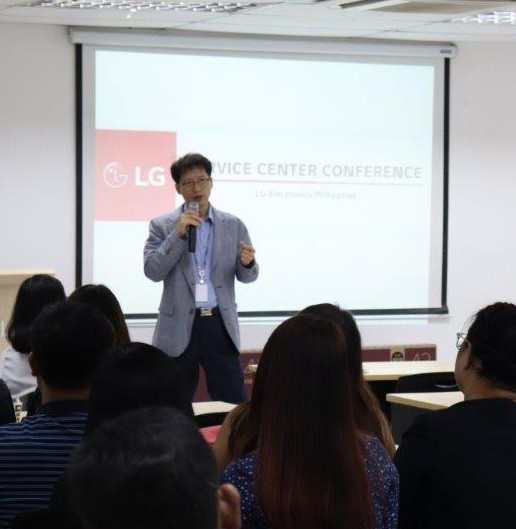 "Always remember that you are the living and breathing representation of LG in the eyes of our customers," Mr. Kim said. "Their trust in the LG brand relies on your expertise and service. We are proud to call you our representatives because we know you will do your best to resolve any problem and to bring a smile to every customer's face."
LG Philippines' Managing Director Mr. Inkwun Heo also graced the event and shared his wisdom with the team.
"Together we will build the LG brand and strengthen the loyalty of our customers. And we can achieve this by working closely as partners, learning from each other and supporting each other's needs… LG's success is also your success, because you are an essential part of our business," shared Mr. Heo. "At LG, our vision is 'Creating a Better Life with Our Customers' and we believe that with your help we can make this vision a reality."
Service as LG's Beating Heart
If electronics and technology are the brains of the company, then customer service is the beating heart of LG. It is the lifeblood of any good and long-lasting company. Without proper customer service, it is impossible to deliver the products to the buyers.
At the annual conference, the attendees were given a refresher course on KPI and a performance review. LG team members were also given a chance to hear the "Voice of Customers" through survey forms collected from authorized service centers. With this activity, the staff and crew found out customers' most common concerns and complaints about service. Resolutions were also discussed in an open session where members are allowed to ask questions on addressing customer issues and concerns.
A thorough support and guidelines presentation by key trainers from LG were discussed, which involved Parts, Customer Information Center, Technical, Network, Accounting and Management.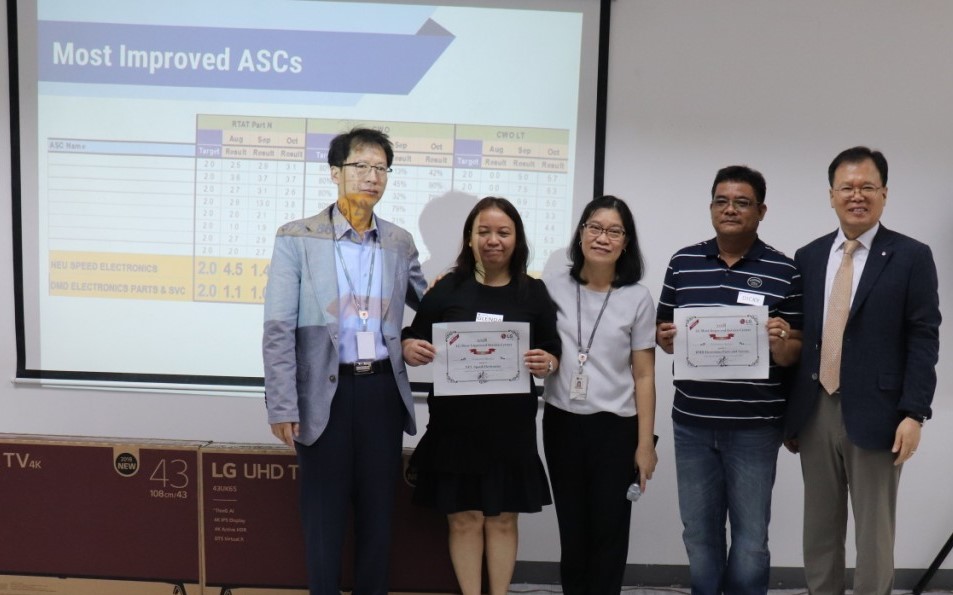 Rewarding and Fostering Excellence
One cannot emphasize the importance of customer service without first honoring its service providers.
On the same day, LG Philippines awarded two of the Most Improved Authorized Service Centers from around the country. This was based on its average repair turnaround time and parts ordering lead time, which is ideally within two days.
NEU Speed Electronics Service Center in the Visayas and DMD Electronics in Mindanao took home the prestige of being the two best performing service centers. Aside from having the opportunity to share the secret to their success with their colleagues. Each service center won a 43-inch LG UHD TV.
Go Beyond a Brighter Future
Upon learning how to be better service providers, the attendees were given a glimpse of what's in store for 2019, which experts project to be a paradigm shift to delivering prompt and efficient customer service requirements, like a shorter lead time.
The staff and crew were also encouraged to learn together to foster mutual growth and develop partnerships to drive customer satisfaction. It is important to find the perfect balance of professional and personalized service, so customers always feel appreciated and welcome the moment they step inside an LG authorized service center.