Meralco K-Ligtas Awards 2018
Meralco K-Ligtas Awards 2018 ecognizes new batch of electrical safety heroes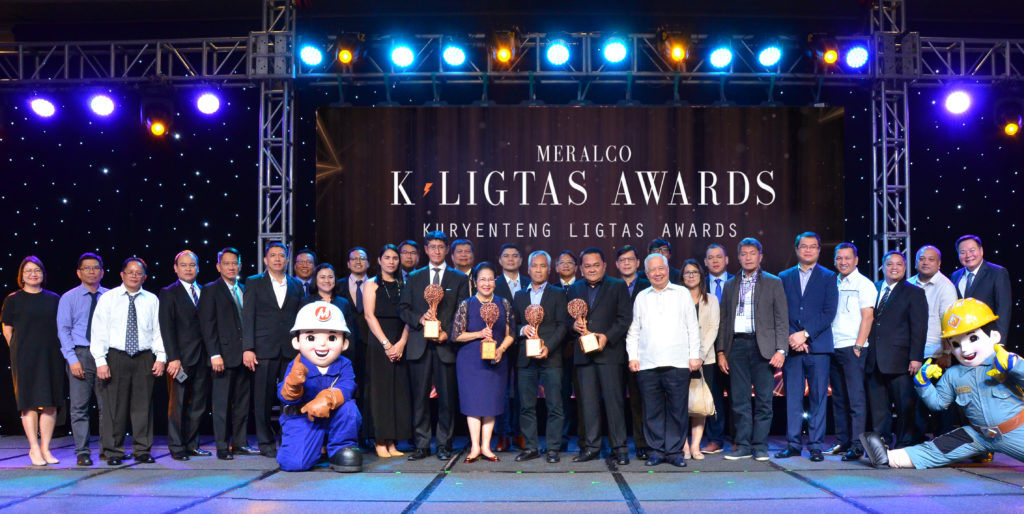 Now in its third year, the Meralco K-Ligtas (Kuryenteng Ligtas) Awards once more celebrated the unsung heroes of electrical safety with the recent awarding of a new batch of K-Ligtas honorees. Attended by key stakeholders in electrical safety, the awards ceremony was held at the SMX Convention Center, Pasay City, in conjunction with the 43rd National Annual Convention of the Institute of Integrated Electrical Engineers (IIEE).
This year's winners include manufacturing companies Samsung Electromechanics Phils. Corp. (SEMPHIL) and Yumex Philippines Corporation, and the city governments of San Juan and Caloocan. As K-Ligtas winners, they have been proven to observe excellent practices in electrical safety as well as demonstrated invaluable heroism in promoting safety in the workplace.
"The K-Ligtas Awards program was initiated to promote awareness and practice of electrical safety compliance through the recognition of best practices of exemplary organizations. On its third year, the program continues to deliver mutual learning for both the working committee and participating institutions, which will help effectively address both the basic, as well as evolving electrical safety needs," said Engr. Antonio M. Abuel, Jr., chairman of the 2018 K-Ligtas Awards.
The country's first and only industry recognition program for electrical safety best practices, K-Ligtas Awards is an advocacy program of Meralco through the Meralco Power Academy (MPA), in collaboration with the Philippines' premier institutions in electrical systems, labor management and public safety.
"K-Ligtas is now on year three, and I am truly proud of all those who partnered with us on this journey. Meralco is all about giving everyone a brighter future, and safety will always be at the heart of that," said MPA President Ramon B. Segismundo.
K-Ligtas 2018 industrial business category winner SEMPHIL operates a semiconductors plant in Calamba, Laguna. Its safety best practices include regular electrical safety inspection by its in-house engineers, as well as by expert authorities like Korea Electrical Safety Service and Phil. Export Zone Authority.
K-Ligtas small industrial category winner Yumex Philippines Corporation's plant in Dasmarinas, Cavite manufactures wiring harness, insulator, backlight and printed circuit assembly. It earned the coveted award for its strong leadership and management commitment to safety and health programs, efficient lock out/tag out system, as well as energy efficiency and conservation practices.
Meanwhile, San Juan City was given the K-Ligtas LGU City Award for its city resolutions and ordinances that institutionalize programs on renewable energy, energy conservation, and streetlight upgrade and rehabilitation. The city also conducts infrastructure audit for schools and other government establishments, including electrical assessment of voting centers.
Another K-Ligtas LGU City Awardee is Caloocan City, which has ensured the professionalization of its electrical practitioners, conducts seminars for electrical contractors, and implements an upgrade of electrical facilities of barangay halls, public schools, and government buildings.
For more Tech Lifestyle News and Features Visit us at Techbeatph.com and Visit our Youtube Channel here.