#PayMayaPaMore gives you the chance to win 10M
#PayMayaPaMore gives you the chance to win 10M
Just in time for the holiday season, PayMaya gives you more opportunities to win as much as 10 million pesos jus by using your PayMaya Account. Starting November 8 to December 31 PayMaya users can now earn raffle entries for a chance to win 10Million pesos
Account Upgrade [10 raffle entries]
Users can earn entries by upgrading their PayMaya account and complete the Know-Your-Customer (KYC) process, which includes a face-to-face validation via video call with a PayMaya Agent or by PayMaya in Messenger. Only successfully upgraded accounts are entitled to earn ten raffle entries. For more details on how to upgrade your account, visit https://paymaya.com/upgrade.
Send money [1 raffle entry per day]
Users can earn an entry by sending money to other PayMaya users via the PayMaya app or PayMaya in Messenger. A minimum send money amount of P10 is required to earn one raffle entry. Only the first send money transaction for each day will be rewarded with one raffle entry.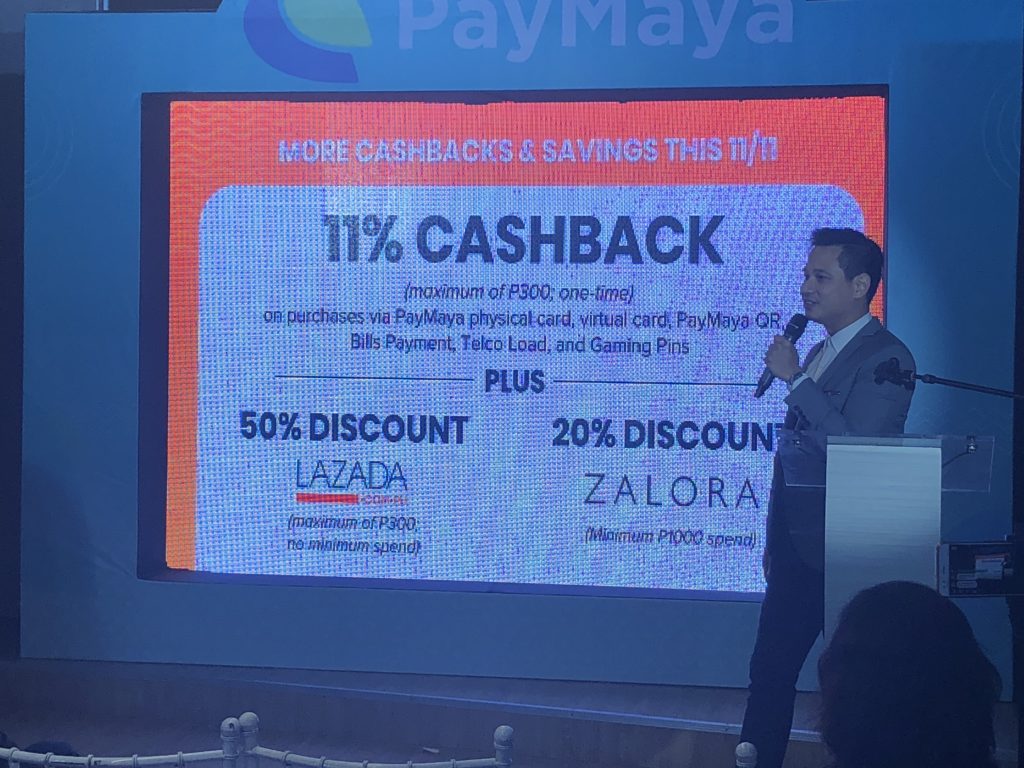 Shop online and in-store [1 raffle entry for every P250 spend]
Users must can also earn by shopping and paying for thei online and in-store purchases using his virtual Visa or Mastercard in the PayMaya app. They can also use the physical PayMaya-issued card. A minimum spend of P250 is required to earn one raffle entry.
Purchase digital goods in the PayMaya in-app shop or via PayMaya in Messenger[1 raffle entry per purchase]
Users must purchase telco/mobile prepaid load, gaming pins or cable TV prepaid credits found in the PayMaya in-app shop or PayMaya in Messenger. No minimum spend required. A user can earn one raffle entry per purchase of any digital goods.
Pay bills [5 raffle entries per biller]
Users also earn entries by paying for their utility and other bills in full and on time by the PayMaya app or PayMaya in Messenger. The Minimum bill payment amount that is required is P100. Users can earn five raffle entries per biller per day only – splitting of payment transactions is not allowed.
Pay with PayMaya QR [1 raffle entry for every P100 spend]
Users earn entries when using the scan-to-pay via PayMaya QR at any of our PayMaya QR-enabled merchants. The minimum qualifying amount is P100 is required to earn one raffle entry.
TIP: PayMaya account holder who completes four out of the six ways to earn raffle entries within the month will get an additional 100 entries in the raffle!
Users also ear by transacting and using the PayMaya app, PayMaya in Facebook Messenger or through PayMaya-powered physical cards to earn raffle entries.
"Our customers deserve more so we're giving each PayMaya account holder more than a million reasons–10 million reasons, in fact– to enjoy the holiday season. It's been another breakout year for PayMaya and the digital payments space as a whole, and we do expect even more Filipinos to hop on and embrace the benefits and convenience of going 'cashless' with PayMaya," said Paolo Azzola, COO and Managing Director at PayMaya Philippines.
Click Here to read the full story and the promo mechanics. Remember keep using the app for more chances of Winning.