DJI Release Enterprise Drone with Attachments
DJI Release Enterprise Drones with Attachments
The recent release of DJI's Mavic 2 Drone, DJI is taking one of its newest drones and targeting small business and government agencies that drone can be used in specific applications to enhance their operations. DJI just announced the Mavic 2 Enterprise — a modular version of the Mavic 2 Zoom the drone is configured to be able to handle search and rescue and inspection tasks. The drone is priced at US$ 1,999.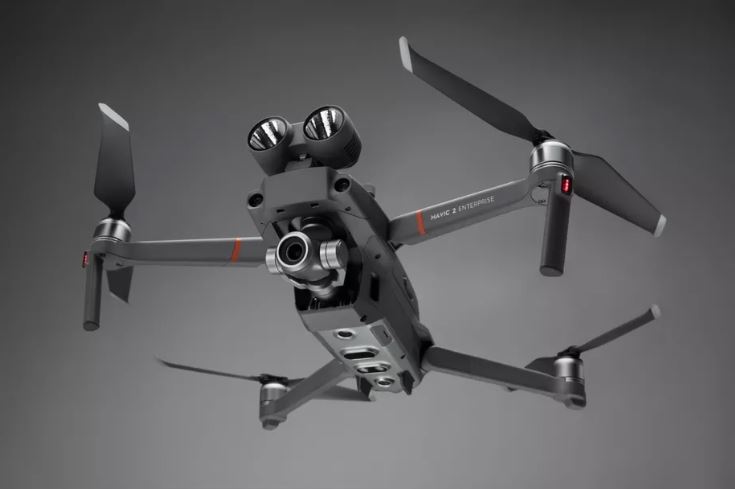 The New Mavic 2 Enterprise drone comes with three distinct attachment for different uses. A 2,400-lumen spotlight, a 100-decibel speaker, and a flashing strobe. The loudspeaker allows operators to send out 10 distinct recording when doing search and rescue operations, and the strobe is to add visibility and can be clearly seen from a distance of 7 km. DJI is stating that the new platform is "going beyond imaging" and is going into "configurable platform that can enhance aerial productivity" Click here for our feature of the
Mavic 2
There has also been a lot of enhancements made to the Mavic 2 Enterprise from the consumer version. The drone features a "self-heating" battery that DJI says will allow it to fly in colder weather. It has 24GB of onboard storage, versus 8GB on the Mavic 2 Zoom. DJI's also built in extra security by password-protecting the drone. When enabled, the feature forces users to punch in a code any time they activate the drone, connect the controller, or access the onboard storage.
DJI's new drone also leverages a lot of the technology which was developed for the Mavic 2 Zoom. It has the 31-minute flight time, it shoots 4K footage at up to 100 megabits per second, and, of course, it has a 2x optical zoom. The drone also has autonomous flight modes and obstacle avoidance, thanks to a suite of sensors and cameras embedded around the airframe. We will be asking if the Mavic 2 Enterprise drone system will be available in the Philippines. If it is, there will be a lot of new doors which can open to small businesses and government agencies to be able to take advantage of drone technology. For more Tech Lifestyle News and Features Visit us at
Techbeatph.com
and Visit our Youtube Channel
here
.
Share and Enjoy