ASUS ROG teams up with Activision for Call of Duty: Black Ops 4
ASUS ROG teams up with Activision for Call of Duty®: Black Ops 4
For a limited time, graphics cards come bundled with the PC version of Black Ops 4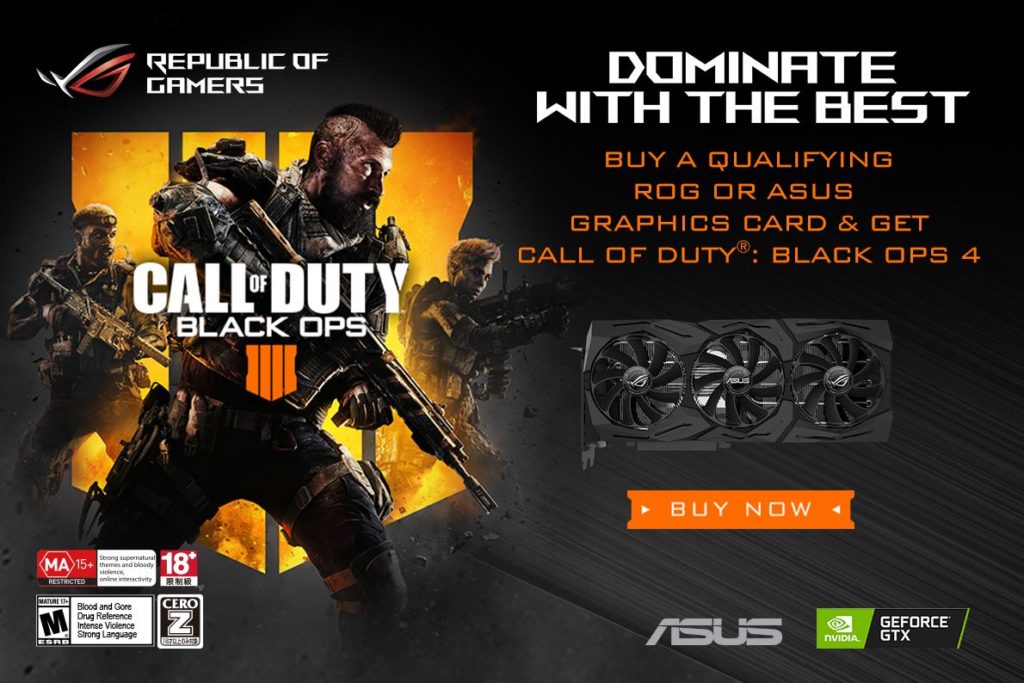 MANILA, Philippines, October 2, 2018 — Today, ASUS Republic of Gamers (ROG), announced a partnership with Activision, for the upcoming release of Call of Duty®: Black Ops 4 on PC. From September 10, 2018 to January 10, 2019, ROG will be the first digital PC game bundling provider of Call of Duty®: Back Ops 4. Consumers can gain access to the game by purchasing an eligible ROG product during the promotion period. With a strong dedication to PC gamers, the Call of Duty team and ROG have worked closely on a unique collaboration with their AURA Sync technology across multiple product lines. "We are beyond thrilled to be partnering with ASUS Republic of Gamers in an unprecedented way for Black Ops 4," said Ander Nickell, Director of Partnerships at Activision. "Our development teams are hard at work making this the best PC Call of Duty game yet. ASUS ROG shares that commitment to the community, so it was a natural fit to bring our brands together to deliver something special to fans." "ASUS Republic of Gamers and Activision have enjoyed great successes over many years, within their respective markets, and we are excited to bring the two together," said Vivian Lien, Head of Global Marketing for Gaming at Republic of Gamers, and Chief Marketing Officer at ASUS North America. "ROG consistently delivers great gaming experiences by working closely with partners and publishers, both on the technology side and on the business side. We've collaborated with the eSports teams we sponsor to gain unique insight to provide leading performance and game-ruling innovation. And, similarly, we worked closely with Activision to integrate our RGB-lighting technology, AURA Sync, into this latest version of Call of Duty, to further enhance gameplay. Now, we're pleased to deliver eligible ROG products bundled together with one of the most anticipated titles of the year, Call of Duty®: Black Ops 4 on PC."
Dominate the Battle with AURA Sync integration into Call of Duty: Black Ops 4 for an enhanced gaming experience
ROG worked with Activision to incorporate customized AURA Sync capabilities and effects within Call of Duty: Black Ops 4 for PC to AURA Sync capable devices. AURA Sync coordinates colors and effects with compatible RGB-lit products like desktops, headsets, keyboards, motherboards, notebooks, and mice, among others, making it easy for users to personalize their entire gaming set up to a consistent look and feel that reflects their gaming persona or the feel of the game being played. With the AURA Sync integration within Call of Duty: Black Ops 4, actions within the game trigger the RGB light effects to enhance gameplay, reflecting the intensity of the game through the user's PCs and components, creating a more immersive experience.
ROG and Call of Duty: Black Ops 4 Bundle
Consumers who will purchase eligible graphics card product/s from participating dealers* during the limited promotion period, beginning September 10th, will receive access to the Digital Standard Edition of the game. To claim an activation code, end-users will need to register an account on the redemption page. A proof of purchase and the serial number of the product should be uploaded on the redemption page which will be used to verify the purchase, once cleared, the user will be given an activation code through email within 20 working days. For additional details please visit: www.ROGxBO4.com The promotion period extends from purchases made from the 20th of August until the 31st of December 2018 or until supplies last. The redemption period will commence from the 10th of September 2018 until the 10th of January 2018. For more Tech Lifestyle News and Features Visit us at
Techbeatph.com
and Visit our Youtube Channel
here
.
Share and Enjoy