ZENFONE MAX PRO 4GB VARIANT
ZENFONE MAX PRO 4GB VARIANT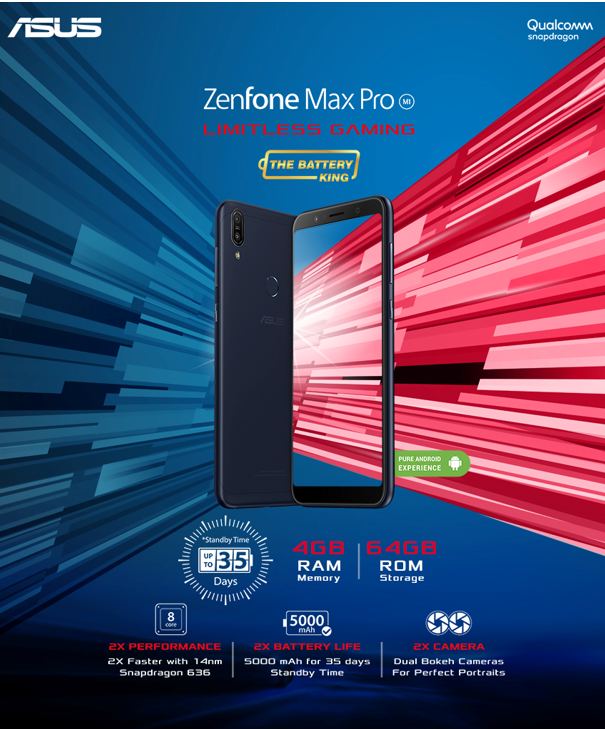 THE PRO JUST GOT BIGGER AS ASUS PHILIPPINES FINALLY UNLEASHES THE ZENFONE MAX PRO 4GB VARIANT With Filipinos clamoring for more, ASUS Philippines finally announced the arrival of the 4GB RAM + 64B ROM version of the most sought after ZenFone Max Pro!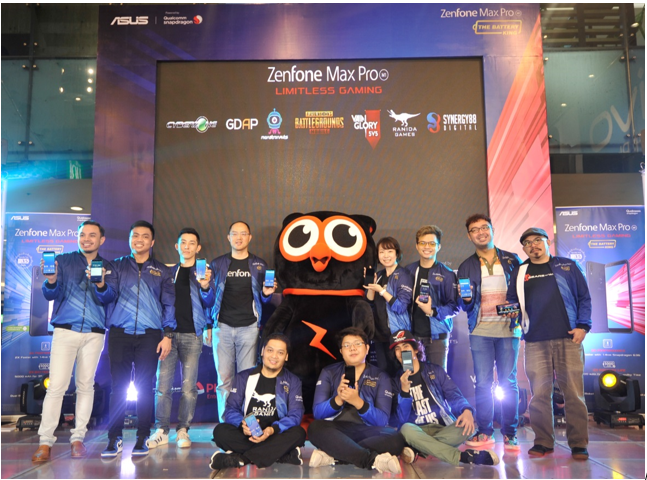 Top row (L-R): ASUS Product Marketer - Smartphones, Francis Garcia, ASUS Marketing Manager, Anvey Factora, ASUS Product Manager – Smartphones, Lenny Lin, ASUS Country Manager, George Su, ASUS official Mascot, Zenny, Super Evil Mega Corp. Marketing Manager, Akane Yoshizaki, Asurai Gaming, Monstronauts, Inc. Business Dev't Officer, Joshua Bautista, GDAP President, Alvin Juban Second row (L-R): Ranida Games Co-Founder, Walter Manalo, TriNhil, GLOCO Gaming QUEZON CITY, Philippines (June 30, 2018) – In a move that surprised a lot, but was already long-awaited by many, ASUS Philippines finally dropped the big news on the arrival of the 4GB RAM + 64GB ROM variant of the ZenFone Max Pro during its "Max Pro: Game Zone" event recently held in SM City North Edsa Cyberzone Annex. ZenFone Philippines' first-ever mobile gaming festival, in partnership with SM Cyberzone, was already met with loads of fanfare after joining forces with various international and local gaming developers, but the announcement of the arrival of this upgraded ZenFone Max Pro version was certainly the highlight of the event. The ZenFone Max Pro that was announced sports the long-awaited 4GB memory and 64GB storage, together with the powerful combination of a Qualcomm Snapdragon 636 processor, 5,000 mAh battery life, 18:9 FHD+ display, 16MP + 5MP dual rear camera – definitely every gamer's dream device to truly enjoy unbeatable performance and limitless gaming. The ZenFone Max Pro 4GB + 64GB variant will be available nationwide for pre-order starting June 30 until July 22, 2018, with an exclusive pre-order bundle of a JBL T450BT Headset and ZenFone Max Pro Clear Case all worth PHP 3,698.00. Drop by any ASUS or ZenFone Concept Store, Kiosk and accredited multi-brand store nationwide to start you pre-order today! ZENFONE MAX PRO: A FORCE TO BE RECKONED WITH Earlier this month, the ZenFone Max Pro was introduced with the MAX A-TEAM, a group of influential names in the world of Philippine gaming: Kaisaya, Asurai Gaming, TriNhil, and GLOCO Gaming. Now, from a team of four, the partnerships expanded full force as ASUS Philippines not only introduced the newest variant of the mentioned Battery King but also officially announced their support and partnership with games and developers from both the international and local scenes. This special movement was called MAX FORCE. "It is a ubiquitous notion that more potent and engaging games are truly going mobile, making the choice of handsets even more critical to the player. We at the Game Developers Association of the Philippines (GDAP) are keen to this market movement and are distinctly honored to be a chosen partner of ASUS for their maiden gaming phone, the ZenFone Max Pro." GDAP President, Alvin Juban, shared. "Let the pros know and let the games begin!" ASUS Philippines Country Manager, George Su, also stated: "In ASUS, we believe that the incredible does not stop simply by providing the technology for it. We feel that it is only right to go beyond our duty and support the elements that drive the passions of our ZenFans. We are very happy to take part in Philippine gaming not just by providing a powerful tool for immersive gameplay, but also through taking part in the community that players thrive in – whether these games are hardcore, casual, international, or local." Officially, the ZenFone Max Pro was announced as the mobile partner of the following: internationally acclaimed arena game, Vainglory, developer of locally renowned game, Philippine Slam!, Ranida Games, up-and-coming local crowd favorite developers, Monstronauts, Inc., as well as local creatives, Synergy 88! The ZenFone Max Pro is also set to become Playerunknown's Battlegrounds (PUBG) Mobile's official event partner in the coming months. ZENFONE MAX PRO, BUT MORE! From 3GB/32GB, the ZenFone Max Pro now comes in 4GB RAM and 64 GB of ROM! Together with this higher memory and storage capacity, is the Battery King's well-loved Snapdragon 636, 5,000 mAh battery, 18:9 FHD + display, and NXP Smart Amp. Now, users can enjoy enhanced and immersive gameplay with more and more! In addition to the amazing performance that ZenFone Max Pro can surely provide, its dual bokeh camera now also comes in 16MP + 5MP, allowing users to get professional-like photos with even higher resolution. ZenFone Max Pro still ships with pure Android™ 8.1 Oreo™, the latest version of the beautiful Android user interface that improves productivity, and simply lets users have more fun with their phone. MARKET AVAILABILITY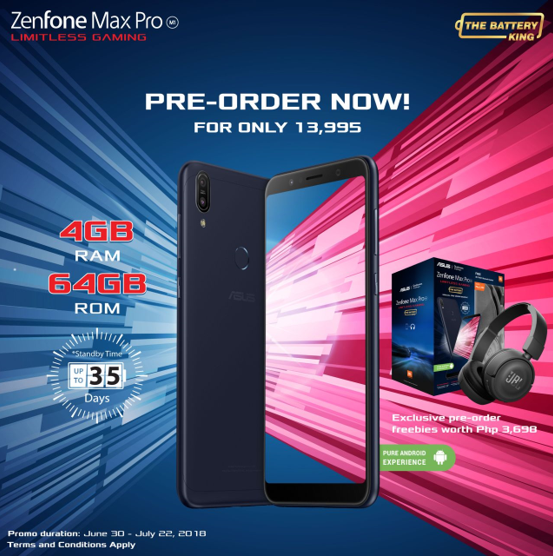 For just the price of PHP 13,995.00, buyers of this version of the ZenFone Max Pro will also take home a JBL (T450BT) Bluetooth Headset and ZenFone Max Pro Clear Case as exclusive pre-order gifts all worth PHP 3,698. Furthermore, Vainglory fans that will avail of the ZenFone Max pro will also exclusively get a new hero with bonus skin and 2 rare keys. Other in-game freebies will also be announced sometime within July. For more information on the ZenFone Max Pro, the ZenFone Max series, and other incredible products from ASUS, tune in to the ASUS Philippines Facebook Page and the ZenTalk Philippines Forum.
Share and Enjoy