Gaming Beast the new Predator Helios 500 Notebook
Gaming Beast the new Predator Helios 500 Notebook
Predator Unleashes a Gaming Beast with the new Predator Helios 500 Notebook
The Predator Helios 500 and Predator Helios 300 Special Edition feature cutting-edge thermal technologies and radical new designs
Editor's Summary
• The new Predator Helios 500 combines up to overclockable 8th Gen Intel® Core™ i9+ processors with overclockable NVIDIA® GeForce® GTX 1070 graphics for a gaming force to be reckoned with.
• Superior thermal architecture keeps the Predator Helios 500 running nice and cool during marathon gaming sessions.
• The Predator Helios 500 offers sophisticated flair with blue lighting and trim accents that pop on its obsidian-black chassis.
• The Predator Helios 300 Special Edition radiates class with its distinctive white chassis accented with elegant gold trim.
• The Predator Helios 300 Special Edition features 15.6-inch FHD IPS displays with an upgraded 144Hz refresh rate, 8th Gen Intel Core i7+ processor and overclockable NVIDIA GeForce GTX 1060 graphics.
Predator Gaming unveiled two new Predator Helios gaming notebooks today. They include the exceptionally powerful Predator Helios 500, featuring up to 8th Gen Intel® Core™ i9+ processors, and the Predator Helios 300 Special Edition that includes upgraded specs from its predecessor and a distinctive white chassis. Both feature VR-Ready performance, advanced thermal technologies, and blazing-fast connectivity.
"We've expanded our Predator Helios gaming notebook line in response to popular demand from gamers seeking extreme performance on the go," said Jerry Kao, President of IT Products Business, Predator Gaming. "The Predator Helios 500 and Helios 300 gaming notebooks feature Predator Gaming's proprietary thermal technologies and powerful components that, coupled with our award-winning software, deliver unparalleled gaming experiences."
"The 8th Gen Intel Core i9+ processor for gaming and creation laptops is the highest performance Intel has ever delivered for this class of devices; purpose-built for enthusiasts who demand premium gaming experiences whether at home or on the go," said Steve Long, Vice President and General Manager, Client Computing Group Sales and Marketing, Intel. "Intel and Predator Gaming's long relationship has produced amazing products over the years, and the new Predator Helios gaming notebooks are powerful examples of what's possible with this unprecedented level of performance."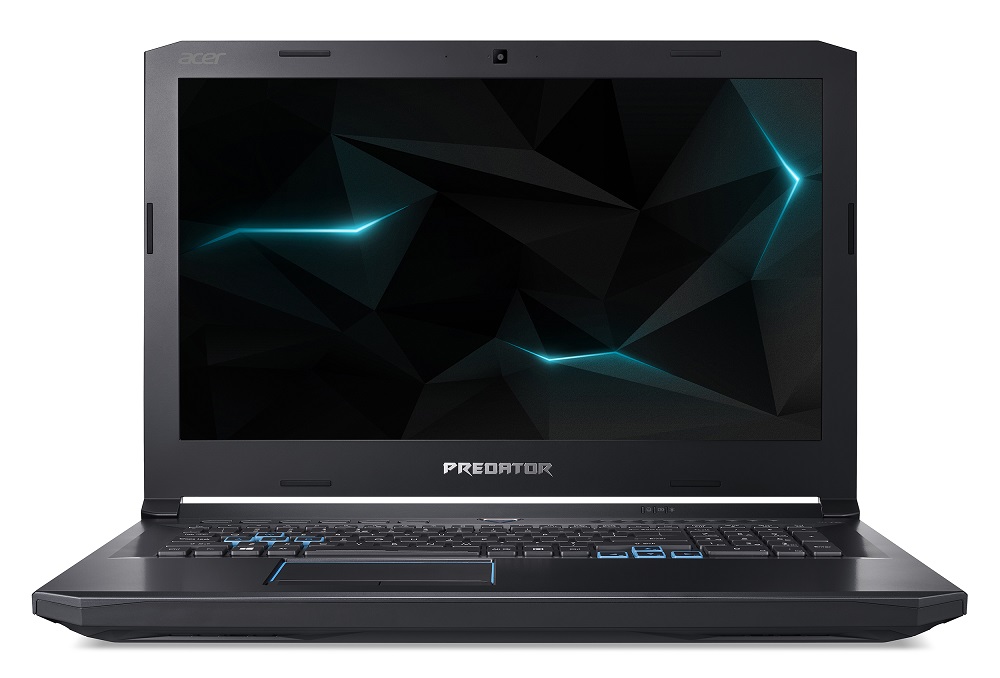 Predator Helios 500 is a gaming beast featuring overclocking, 4K 144 Hz panels
Designed for extreme gamers, the Predator Helios 500 is a gaming beast. It features up to overclockable 8th Gen Intel Core i9+ processors and overclockable GeForce® GTX 1070 graphics. Intel® Optane™ memory1 increases responsiveness and load times, while ultra-fast NVMePCIe SSDs, Killer DoubleShot Pro networking, and up to 64GB of memory keep the action going, making the Helios 500 the ideal gaming notebook for graphic-intensive AAA titles and live streaming.
Top-notch visuals are delivered on bright, vibrant 4K UHD or FHD IPS 17.3-inch displays with 144Hz refresh rates for blur- and tear-free gameplay. NVIDIA® G-SYNC® technology is supported on both the built-in display and external monitors, allowing for buttery-smooth imagery without tearing or stuttering. For those looking for maximum gaming immersion, dual Thunderbolt™ 3 ports, and display and HDMI 2.0 ports support up to three external monitors. Two speakers, a subwoofer, and TrueHarmony™ and Waves MAXXAudio® technology deliver incredible sound and hyper-realistic 3D audio using Waves Nx™.
The Helios 500 stays cool with two of Predator Gaming's proprietary AeroBlade™ 3D metal fans, and five heat pipes that distribute cool air to the machine's key components while simultaneously releasing hot air. Fan speed can be controlled and customized through the PredatorSense app.
A backlit RGB keyboard offers four lighting zones with support for up to 16.8 million colors. Anti-ghosting technology provides the ultimate control for executing complex commands and combos, which can be set up via five dedicated programmable keys.
The PredatorSense app can be used to control and monitor the notebook's vitals from one central interface, including overclocking, lighting, hotkeys, temperature, and fan control.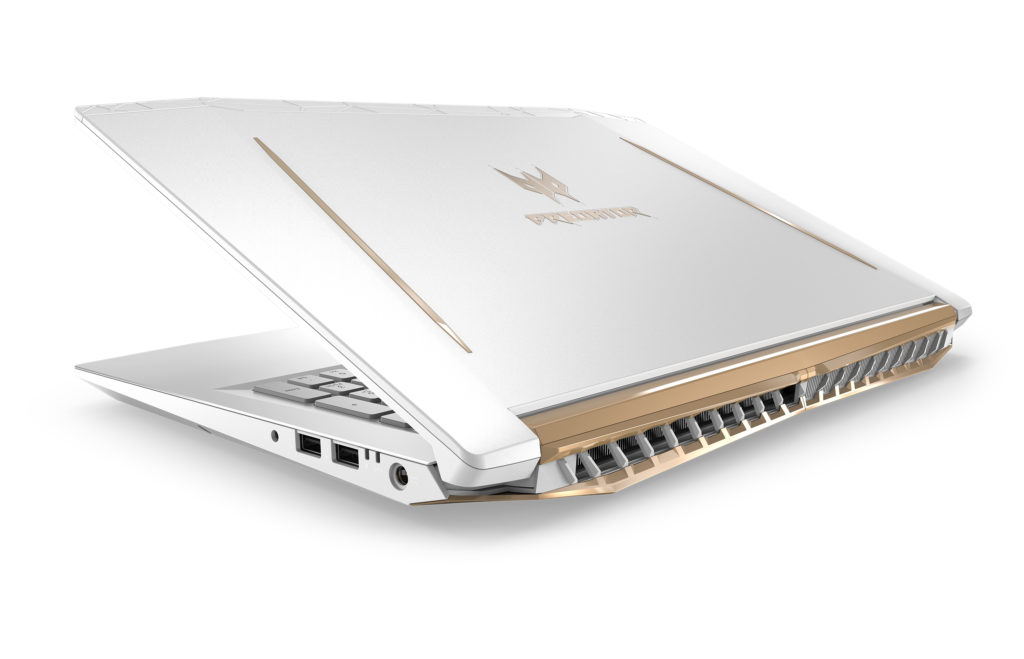 Predator Helios 300 Special Edition brings a sophisticated design twist to gaming notebooks
Predator Gaming's budget-friendly Helios 300 gaming line sees the addition of a Special Edition model featuring an all-white aluminum chassis accented with gold trim, an unusually chic design for gaming notebooks.
The Helios 300 Special Edition (PH315-51) allows for ultra-smooth gameplay via its 15.6-inch FHD IPS display with an upgraded 144Hz refresh rate. The rapid refresh rate shortens frame rendering time and lowers input lag to give gamers an excellent in-game experience. It's powered by up to an 8th Gen Intel Core i7+ processor, overclockable GeForce GTX 1060 graphics, up to a 512 GB PCIe Gen 3 NVMe solid state drive, and up to a 2 TB hard disk drive.
The Helios 300 Special Edition also comes equipped with up to 16 GB of DDR4 memory and is upgradable to 32GB. Intel Optane memory speeds up load times of games and applications, access to information and improves overall system responsiveness. In addition, Gigabit Ethernet provides fast wired connections, while Gigabit Wi-Fi is provided by the latest Intel Wireless-AC 9560 that delivers up to 1.73Gbps throughput when using 160 MHz channels (2×2 802.11ac, dual-band 2.4GHz, and 5GHz).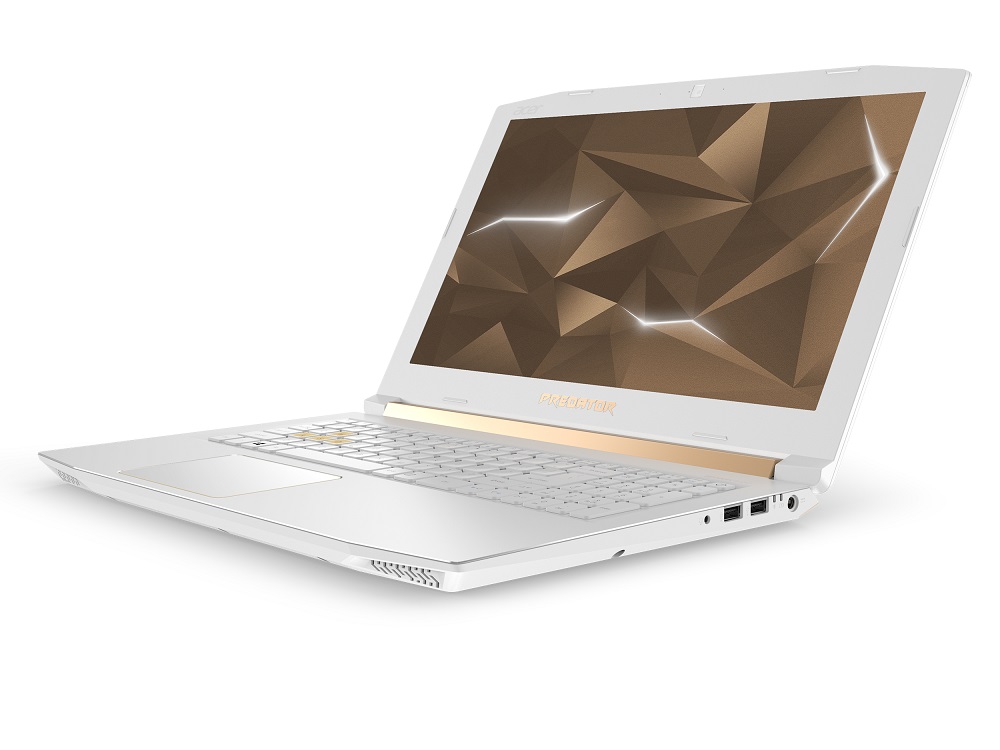 The Helios 300 Special Edition also includes two of Predator Gaming's ultrathin (0.1 mm) all-metal AeroBlade™ 3D fans designed with advanced aerodynamics and superior airflow to keep the system cool. They can be controlled with the PredatorSense app, which offers three usage modes:
1. Cool boots mode:
For heavy loading games, rendering, streaming, and extended video consumption
2. Normal mode:
For productivity tools like Microsoft Office
3. Silent mode:
For web browsing and online chatting
Price and Availability
Exact specifications, prices, and availability will vary by region. To learn more about availability, product specifications and price in specific markets, please contact your nearest Predator Gaming office.
For More Tech Lifestyle News and Feature Visit us at Techbeatph.com