World's First 3.1ch Dolby Atmos® Soundbar HT-Z9F and Sony's most affordable 2.1ch Dolby Atmos Soundbar HT-X9000F with Virtual Three-Dimensional Surround Sound Powered by Sony's Vertical Surround Engine
Experience a new level of impressive cinematic-audio environment with sound from every direction without ceiling reflection or extra speakers thanks to Sony's unique Vertical Surround Engine
Remember the days when the idea of owning your own Dolby Atmos technology at home used to be a far-fetched concept? This year, Sony Philippines Inc. announces the arrival of great connectivity, stunning design, and excellent sound quality with the world premiere of Dolby Atmos supported soundbars, the HT-Z9F and HT-X9000F, all designed for an enhanced, connected, and compelling listening experience for consumers. You can now experience an impressive cinematic-audio environment with a more convenient package right inside your home.


The premium HT-Z9F soundbar with Dolby Atmos/DTS:X™ developed through Sony's unique virtual technology brings a new level of impressive cinematic-audio environment to any home entertainment set up. The Vertical Surround Engine technology from Sony provides a breath-taking virtual three-dimensional surround sound experience, without the need for ceiling reflection or up-firing speakers.
Additionally, the HT-X9000F soundbar, Sony's most affordable Dolby Atmos soundbar, is offered in a different design concept that matches the distinctive design of Sony BRAVIA True 4K TVs. The 2.1ch bar brings cinematic surround sound features of Dolby Atmos/DTS:X and Vertical Surround Engine. The HT-X9000F embraces the sophistication of Sony BRAVIA TVs by enhancing entertainment and blending effortlessly with the comfort of your home with natural texture and slimmer bodies.
HT-Z9F – Proficient yet Compact Design
With Dolby Atmos and DTS:X support, the 3.1ch soundbar HT-Z9F is capable of totally immersing its audience with three-dimensional sound in its compact, yet proficient size. Measuring a sleek 100 cm × 6.4 cm × 9.9 cm (3,1 kg) for the bar speaker and a discreet 19 cm x 38.2 cm x 38.6 cm (8.1 kg) for the subwoofer, the HT-Z9F will fit nicely into any chosen home décor.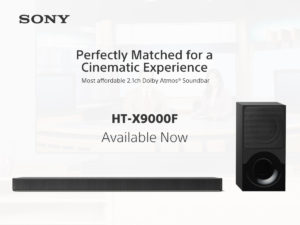 With Sony Vertical Surround Engine technology in the HT-Z9F soundbar, audiences will get a sense of helicopters whizzing above and car chase action around you. Combined with the S-Force PRO Front Surround technology that improves the existing surround sound now recreates the feeling of being surrounded by speakers for a true home theatre environment. Even without Dolby Atmos and DTS:X content, virtual three-dimensional sound is enjoyed thanks to"Vertical S." button on the remote that pushes the HT-Z9F to up mix 2ch stereo content up to 7.1.2ch.
The HT-Z9F and HT-X9000F supports 4K HDR and Dolby Vision™ so that the original picture quality is passed through the bar directly to the TV without any loss of quality, resulting in great colour clarity and brightness. The HT-Z9F supports high-resolution audio formats which brings your favourite music files into life through the pin sharp clarity of the DSEE HX™ (digital sound enhancement engine feature).
A Match Made in Heaven
Both soundbars are designed to match a selection of the new Sony BRAVIA® TVs' aesthetic for an elegant set-up. The soundbars' shape fits perfectly between the base of a Sony BRAVIA TV. Additionally, the HT-X9000F has the edges chamfered off at an angle to fit against the legs of a Sony TV stand, and specifically matches the design of the Sony X9000F Bravia series.
Ideal for minimalist interiors, the slim design blends seamlessly into any living space. A minimalistic look can be achieved with the two soundbars which gives the option to go cable-free via Bluetooth® connectivity . The Z9F also has Wi-Fi connectivity for access to music service from the Chromecast built-in . A refreshed and intuitive user interface makes it easier to set up and use with Sony TVs. With up to 2 HDMI input and 1 output connectivity, multiple devices can be connected to the soundbar. Both models also have USB connectivity in addition to Bluetooth® technology.
Sony's Vertical Surround Engine Technology
Sony's unique Vertical Surround Engine technology makes it possible to reproduce "vertical" sound without needing ceiling speakers nor Dolby Atmos Enabled Speakers. The 3.1 channel speaker of HT-Z9F means that it has no upward-firing speakers that create illusion of height using digital signal processing alone. It is no longer dependent on a room's environment.
This unique surround sound technology allows HT-Z9F and HT-X9000F to give the Atmos/DTS:X experience with a thin profile without using Dolby Atmos Enabled Speakers and rear speakers, letting you enjoy sound from all directions with 7.1.2 surround sound. Sony's unique vertical surround engine claims that they can replicate the wide soundstage Atmos provides.
The HT-Z9F and HT-X9000F will be available in the Philippines starting May 24, 2018. Price starts at SRP 42,299 for HT-Z9F and SRP 31,199 for HT-X9000F.
For more information, visit www.sony.com.ph, like facebook.com/SonyPhilippines, or follow twitter.com/SonyPHinc and Instagram.com/sonyPHInc.
About Sony Corporation
Sony Corporation is a leading manufacturer of audio, video, imaging, game, communications, key device and information technology products for the consumer and professional markets. With its music, pictures, computer entertainment and online businesses, Sony is uniquely positioned to be the leading electronics and entertainment company in the world. Sony recorded consolidated annual sales of approximately $76 billion for the fiscal year ended March 31, 2017. Sony Global Web Site: http://www.sony.net/<