Computrade Holds its Annual Technology Summit for 2018
Computrade Technology Philippines, Inc., (CTP) a member of IT Infrastructure Solutions company CTI Group, is hosting its Annual Technology Summit for 2018 at Dusit Thani Manila with the major themes of: Unveiling its latest solutions partners in the country and affirming its readiness to provide support for Blockchain technology.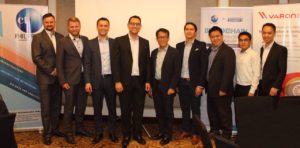 During the Summit, CTP announced a number of new partnerships established to help reinforce its current capabilities to provide effective cybersecurity in enterprise networks, implement intelligent integration of software systems, enable secure and efficient collaboration in digital space and make available of dependable on-demand cloud computing platform.
CTP and its new partners will also share its insights on Blockchain technology, which is radically changing the sharing of digital information across networks, including the Internet.

Expanded Portfolio and New Partnerships
In line with its mission to deliver innovative products and services to a demanding customer base, Computrade has entered into new partnerships with data protection and analytics innovator Varonis, leader in analytics SAS, and high-performance network management professionals Flowmon Networks.
CTP Managing Director Teddy Sumulong is confident that the latest partnerships will take Computrade to the next level as a total IT solutions company. "The new alliances we are forging at the Summit align perfectly with our corporate direction and leverage our offerings into a comprehensive suite of products and services for a whole spectrum of clients, from the private sector to government agencies.  We are really excited to partner with leading technology providers who will not only help enhance our present operations but also fill the gaps in our ability to respond on time to fast-paced developments in information technology.
CTP expressed optimism that its new partners will provide unique value as it moves aggressively in the areas of cloud computing technology, enterprise data security, network management and digital transformation.
Tomas Šárocký, Area Manager at Flowmon Networks, a long-standing innovator in the field of high performing network monitoring and security based on flow data said, "In Flowmon, we understand how computer networks serve as a nervous system of our customers' business services. Our solutions empower businesses to take control over their networks and secure them against cyber-threats that bypass traditional security borders. Together with Computrade, we will supply leading edge network monitoring and security solutions to local industry.  Our synergistic approach will also enable a range of enterprises to benefit from our expertise in enhancing network and applications performance so the IT managers can take decisive actions for their businesses."
SAS Country Manager for the Philippines Ryan Guadalquiver welcomes the new partnership with Computrade, "SAS has been at the forefront and a far leader in predictive analytics for decades, consistently delivering accurate data, and valuable insights enabling customers to make decisive and well guided decisions worldwide.
Traditionally, we have always engaged only the top tier markets from a direct approach. Partnering with Computrade Technologies enables us to reach out to that bigger part of the market providing better collaboration, innovation and value to customers."
Varonis is a global leader in data security and analytics. "We are pleased to partner with Computrade to help organizations in the Philippines gain full visibility and control of their data by knowing where their most critical data assets are, making sure that their data is monitored and secured, and intelligently detecting and responding to threats both on premises and in the cloud," said Antonio Soriano, Senior Technical Consultant, Varonis.

Blockchain Technology
Computrade's recent partnerships serve as foundation for the wide-scale adoption of Blockchain technology.
Blockchain technology is the backbone of a new type of Internet. It allows digital information to be distributed but not copied. Originally designed for the digital currency Bitcoin, the technology is now finding other potential uses.
Information held on a Blockchain exists as a shared — and continually reconciled — database. Using the network this way has obvious benefits. The Blockchain database isn't stored in any single location, such that the records it keeps are actually public and easily verifiable. There is no centralized version of the information, which a hacker may corrupt. Its data hosted by millions of computers simultaneously, and is accessible to anyone on the internet.
Computrade foresees the application of its expertise in data infrastructure, big data analytics and data security to play a significant role in the roll-out of Blockchain technology in the Philippines.
CTP's Teddy Sumulong said, "Blockchain technology is the wave of the future. For Computrade, it represents what is likely to be the next stage of digital transformation. We are preparing ourselves to provide the solutions that will ease its acceptance in the country and to fully secure the transactions facilitated by this innovative technology. We are excited at the possibility that we will be able to contribute our share in enabling Filipino enterprises and individuals as well to take full advantage of an emerging technology."


About Flowmon Networks
Flowmon Networks empowers businesses to manage and secure their computer networks confidently. Through Flowmon's high performance network monitoring technology and lean-forward behavior analytics, IT pros worldwide benefit from absolute network traffic visibility to enhance network and application performance and deal with modern cyber threats, as well.
Flowmon is leading the way of NetFlow/IPFIX network monitoring that is high performing, scalable and easy to use. The world's largest businesses, internet service providers, government entities or even small and midsize companies rely on Flowmon solutions to take control over their networks, maintain order and overcome uncertainty.
About SAS
SAS is the leader in analytics. Through innovative analytics, business intelligence and data management software and services, SAS helps customers at more than 86,000 sites make better decisions faster. Since 1976, SAS has been giving customers around the world THE POWER TO KNOW®.
SAS helps businesses, governments and academic institutions transform big data into value through advanced analytics, data visualization and exploration, customer intelligence, security intelligence/fraud detection, risk management and data management.
These technologies are key components of SAS industry solutions, which help our customers make better, faster decisions from their data, wherever and whenever they want.
About Varonis
Varonis is a pioneer in data security and analytics, fighting a different battle
than conventional cybersecurity companies. Varonis focuses on protecting enterprise data: sensitive files and emails; confidential customer, patient and employee data; financial records; strategic and product plans; and other intellectual property. The Varonis Data Security Platform detects insider threats and cyberattacks by analyzing data, account activity and user behavior; prevents and limits disaster by locking down sensitive and stale data; and efficiently sustains a secure state with automation. With a focus on data security, Varonis serves a variety of use cases, including governance, compliance, classification and threat analytics. Varonis started operations in 2005 and, as of December 31, 2017, had approximately 6,250 customers worldwide – comprised of industry leaders in many sectors including financial services, healthcare, public, industrial, insurance, energy and utilities, consumer and retail, education, media and entertainment and technology.