Get clearer selfies this 2018 with Vivo V7 24MP all screen phone now priced at Php12,990
Leading smartphone brand Vivo presents a special start-of-the-year offer to all its loyal users with a price slash-off on the Vivo V7 24MP all screen Phone. Anyone can now avail the Vivo V7 for only Php12,990.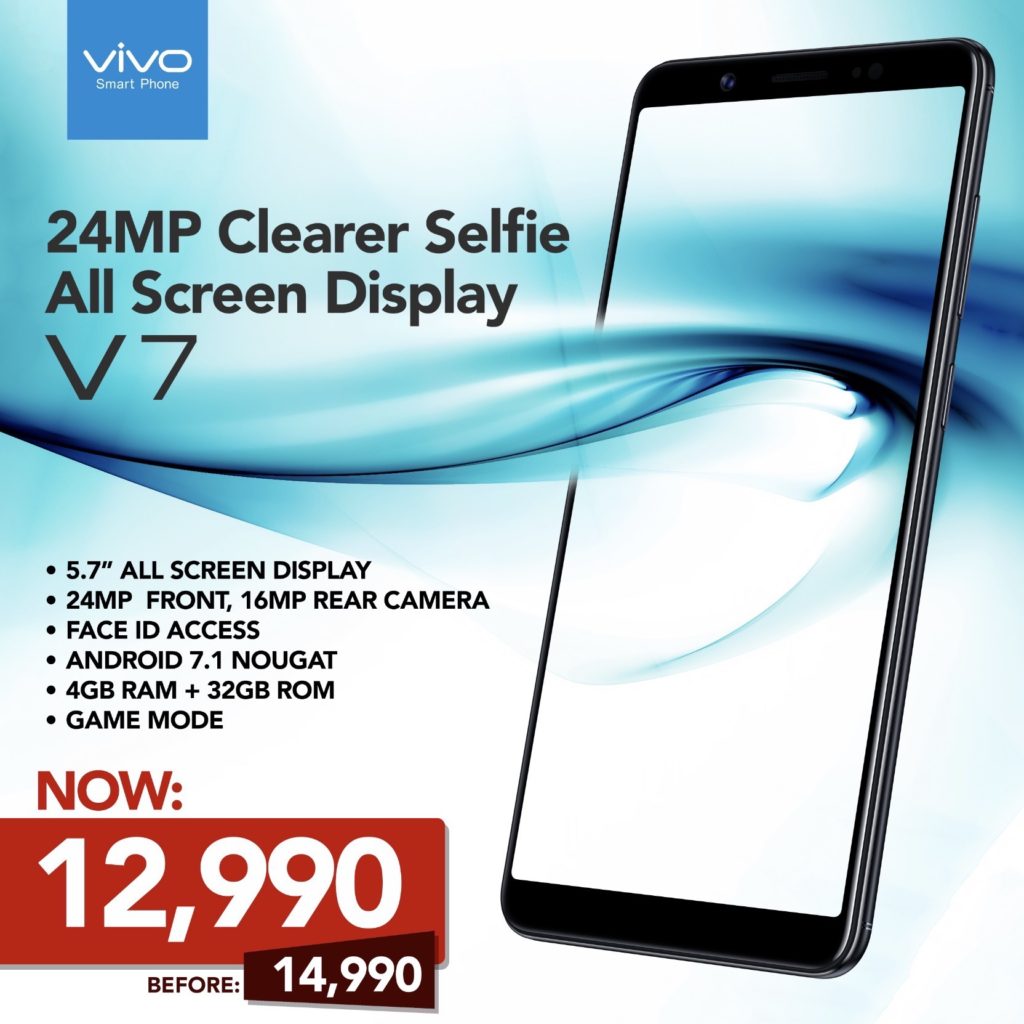 Vivo V7 proves that big things come in small packages. The V7, much like its predecessor, the equally dynamic V7+, reinforces Vivo's leadership in selfies with its 24MP front-facing camera, which produces above-quality selfies. By keeping true-to-life color and contrast and a clear background at all times, V7 allows users to express themselves practically anytime, anywhere at their whim. The V7's smart photography algorithms generate crystal-clear, natural-looking photos. To complement the V7's powerful camera feature, the Beauty 7.0 feature brightens up selfies and creates a more even complexion, even in dimly-lit environments. Portrait Mode in the V7 adds background blurring for sharper contrast and visual appeal to generate stylish selfies equivalent to those from DSLR cameras.
But that's not all. The V7 also rocks a 5.7" all-screen display with an 83.6% screen to body ratio that would normally house a 5.2-inch screen, offering 12.5% more visual display area compared to traditional 16:9 screens. This V7 feature enhances consumers' visual experience, a perfect element to satisfy this generation's very visual demographic.
To ensure a smooth and seamless user-experience, the V7 is also equipped with a 64-bit Qualcomm octa-core CPU and 4GB RAM. This model's Android 7.1 (Funtouch 3.2 OS) is also built with user-friendly features such as Smart Split 3.0, making the V7 even the best companion for a user's activity-packed schedule.  Apart from the fingerprint sensor, the V7 features Vivo's Face Access technology, providing an easy and convenient way to unlock one's phone. It quickly detects up more than 100 different facial identification points, more than enough for one to say that we truly now live in the future!
Vivo V7 comes in colors matte black and champagne gold.
About Vivo
Vivo was the fifth largest brands globally in the third quarter of 2017, capturing market share of 7.1%. Out of the top 5, Vivo observed the highest year-over-year growth of 32% in global shipment. In the Philippines, Vivo found its place among the Top 3 best phone brand which the Filipinos patronize.
For inquiries about Vivo, visit the Vivo website at www.vivo.com/ph or check out their Facebook (https://www.facebook.com/VivoPhil), Instagram (https://www.instagram.com/vivophil/), and Twitter (https://twitter.com/vivo_phil) accounts.