REEBOK AND VICTORIA BECKHAM UNITE FOR INNOVATIVE NEW PARTNERSHIP
Iconic designer and Reebok join forces to empower women around the world; introduce Reebok x Victoria Beckham collection
Global fitness and lifestyle brand Reebok today announces a pivotal partnership with fashion powerhouse Victoria Beckham. The iconic British designer will join Reebok's growing coalition of unapologetically accomplished women – including Ariana Grande, Gigi Hadid, Aly Raisman and Teyana Taylor, among others – to push new boundaries in the brand's long-time mission of empowering women to be the best version of themselves. This long-term partnership will be highlighted by the introduction of a bold new Reebok x Victoria Beckham collection.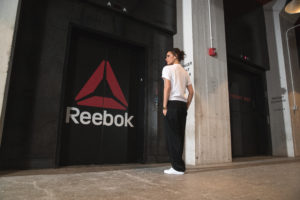 A fashion stalwart, Beckham is renowned for designs that inspire confidence, power and strength. Reebok too shares this commitment with its longstanding history of putting women first, leading the charge of the women's fitness movement in the 1980s and continuing to push boundaries for women since, with its bold partnerships and marketing campaigns to its innovative product designs.
The Reebok x Victoria Beckham collection will be introduced in late 2018 and will sit in the Reebok Innovation Collective – a brand initiative that focuses on developing footwear and apparel that delivers the next generation of performance and expression, from conceptual runway designs to tech-driven products that fill retail shelves. Past partnerships under this umbrella have put Reebok on the forefront of fashion and technology, with collaborators ranging from acclaimed design houses Cottweiler and Vetements to the David Clark Company, in its quest to create the ultimate, high-performance space boot.
"As a brand, we look to partner with not just influential women, but women who want to truly change the world," shared Reebok's Corinna Werkle, Senior Vice President of Women's Initiatives at Reebok. "There's no better embodiment of this than Victoria.  She is a true visionary who possesses a relentless desire to help women become the best version of themselves. This desire shines through in everything she touches, especially her designs, which continue to push industry standards season after season.  We cannot wait for the world to see what she will do with our collaboration."
Beckham said, "I am incredibly excited to embark on this partnership built on shared values. I have always championed instilling confidence in women and Reebok is a brand that has been at the forefront of this same message for decades. To have the opportunity to challenge the traditional notions of fitness wear within a fashion context is something I have always wanted to do. I have long incorporated sportswear into my wardrobe and daily life and I am thrilled to be coming together with Reebok on such a dynamic proposition."
For additional information and to subscribe for the latest news regarding the partnership and upcoming releases please visit Reebok.com/VictoriaBeckham and follow @Reebok, @VictoriaBeckham and #ReebokxVictoriaBeckham.
About Reebok
Reebok International Ltd., headquartered in Boston, MA, USA, is a leading worldwide designer, marketer and distributor of fitness and lifestyle footwear, apparel and equipment. An American-inspired global brand, Reebok is a pioneer in the sporting goods industry with a rich and storied fitness heritage. Reebok develops products, technologies and programming which enable movement and is committed to accompanying people on their journey to fulfill their potential. Reebok connects with the fitness consumer wherever they are and however they choose to stay fit – whether it's functional training, running, combat training, walking, dance, yoga or aerobics. Reebok Classics leverages the brand's fitness heritage and represents the roots of the brand in the sports lifestyle market. A subsidiary of adidas, Reebok is the exclusive outfitter of CrossFit and the CrossFit Games, the official title sponsor of the Reebok Spartan Race; the exclusive authentic global outfitter of UFC; the title sponsor of the Reebok Ragnar Relay series; and exclusive apparel provider for Les Mills.
For more information, visit Reebok at www.reebok.com, or, for the latest news at http://news.reebok.com/
Discover Reebok at the following locations: http://facebook.com/reebok; http://twitter.com/reebok; and http://youtube.com/reebok
About Victoria Beckham
Victoria Beckham is a London-based fashion brand, comprising multiple categories including accessories, footwear and eyewear and the sister line, Victoria Victoria Beckham. Shown during New York Fashion Week since its founding in 2008, the brand has received international critical acclaim and awards, including two British Fashion Awards for Brand of the Year (2011 and 2014) and Harper's Bazaar British Brand of the Year in 2017. The brand has two stand-alone flagship stores in London and Hong Kong, and over 400 stockists across the world.
In 2017, Victoria Beckham received an OBE for her services to the fashion industry.
Victoria Beckham Limited is part of Beckham Brand Holdings, owned equally by Victoria Beckham, David Beckham and Simon Fuller's XIX Entertainment.