Escape with MARVEL'S RUNAWAY the same day as US Telecast with HOOQ
Marvel's ragtag band of teenage superheroes battle angst, hormones, abuse and (quite literally) their parents, in HOOQ's latest same day telecast offering.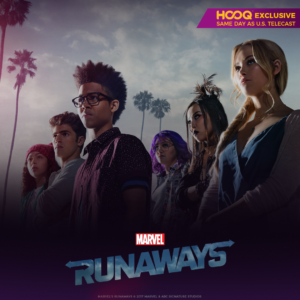 HOOQ – the largest Video on Demand service in South-East Asia – is proud to announce a new exclusive Marvel offering: the 1st 3 episodes of Marvel's Runaways will debut on Nov 21st with brand new episodes coming every week to HOOQ, same day as the US telecast.
Chief Content Officer of HOOQ, Jennifer Batty said, "We're very excited, Runaways ticks all the boxes that we are looking for in a comic book Entertainment series!  Everyone thinks their parents are evil when they are a teenager BUT what happens when you find out they really are evil!?! With showrunners like Josh Schwartz and Stephanie Savage, producers of The O.C. and Gossip Girl, also available on HOOQ, we can expect the series to break away from some of the conventions and tropes that muddle teenage dramas.  The 1st 3 episodes of Runaways drop on HOOQ within 12 hrs of the US on Nov 22nd, and a brand-new episode will follow each week, same day as the U.S. and fully localized for our viewers."
The series, based on the Marvel Comics superhero team of the same name, follows the story of six teenagers who unite against a common enemy: their parents, who reveal themselves to be super-villains in a sinister group called the Church of Gibborim.  Running away from their respective homes, the teenagers decide to work together to right the wrongs of their parents, and set on a journey to discover the secret of their origins in a fun and original spin on the superhero narrative. Helping them in this struggle are larger-than-life characters such as Gert, a superheroine with a telepathic connection to a genetically engineered dinosaur known as Old Lace.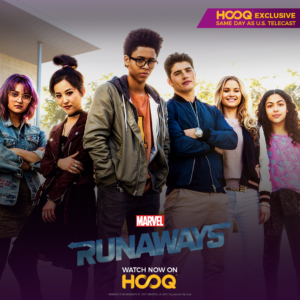 Runaways stars Rhenzy Feliz (Teen Wolf), Lyrica Okano (The Affair), Virginia Gardner (Project Almanac), Ariela Barer (Yo Gabba Gabba!), Gregg Sulkin (Sixty Six, Wizards of Waverly Place) and Allegra Acosta (100 Things To Do Before High School).
Runaways comes at the back of an exclusive landmark deal between HOOQ and The Walt Disney Company that gives HOOQ exclusive rights to three of Marvel's series: Marvel's Inhumans, Marvel's Runaways and Marvel's Cloak and Dagger.
HOW TO GET HOOQ
It's easy to get HOOQ'd. Customers can simply download the HOOQ app from Apple Store or Google Play, sign up or log in, to access HOOQ's extensive library of Hollywood and Asian hits. Find out more and sign up today for a complimentary trial at www.hooq.tv and pay for the subscription through credit card.
About HOOQ
Built in Asia for Asia, HOOQ is Asia's first premium video-on-demand service to launch across the region.  HOOQ is a start-up joint venture established in January 2015 by Singtel, Sony Pictures Television and Warner Bros.  HOOQ delivers over 10,000 Hollywood, regional and local movies and TV shows to customers anytime, anywhere by enabling them to stream and download on their Internet device or platform of choice.  HOOQ was also named Best Mobile App in the Media, Film, TV or Video category at the GSMA's Global Mobile (GLOMO) Awards 2016 in Barcelona.  HOOQ currently operates in the Philippines, Thailand, India, Indonesia and Singapore with a population footprint of over 1.7 billion people. For more information, visit www.hooq.tv.