Celebrity blogger and DJ Ashley Rivera is thrilled with her Vivo endorsement
Dishy celebrity Ashley Rivera travels to relax and is known to have once moved to Las Vegas in the United States apart from her tours in Europe and all around Asia. Apart from being a wanderlust, Ashley is a celebrated blogger and social media hot topic not to mention a famed DJ who spins at the hottest clubs and music festivals.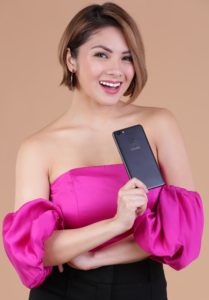 Ashley Rivera is quite a handful and it is no wonder that Vivo picked her to be the brand's ambassador. Ashley, believing in the Vivo brand, is excited to be its influencer.
Ashley is one of the freshest members of the Vivo Family who were welcomed at the launch of V7+, Vivo's latest top-of-the-line offering.
Being a DJ, music is number one for Ashley and as such she enjoys the the V7+'s fully-upgraded AK4376A Hi-Fidelity audio chip. This V7+ feature supports the latest sound technology and levels up mobile audio technology, enabling any music lover to enjoy rich and full rhythms. This audio chip also plays music which answers to the mood or scenario at hand.
Ashley also appreciates the V7+'s revolutionary 5.99" display. "Having a big phone is a problem because I have such small hands," she quips in the interview. "But with [the Vivo V7+], watching videos and movies [is enjoyable]." Vivo V7's 5.99" all-screen Display with an 84.4% screen to body ratio, providing a more exciting and enhanced game and visual experience. And for busy bees like Ashley who juggles all of her day's activities, the phone's Smart Split 3.0 feature allows her to check her messages, mails, among other things without interrupting the current running app—perfect for smartphone users on the go like her.
Ashley, who has over a hundred thousand followings on Instagram, vouches for the Vivo V7+'s 24MP clearer selfie, front facing camera with LED flash and smart photography algorithms which provide clear-cut, crisp, and natural-looking photos. A self-proclaimed selfie addict herself, Ashley's feed are packed with beautiful selfies—thank you to the V7+'s above par camera features.
Ashley, just like the rest of the Vivo Family circle of influencers, will be going around in Vivo's mall tours to entertain fans and promote the Vivo V7+, known as one of the first smartphones in the world to pack in a 24MP front facing camera. The four-month mall tour which commenced last September will run until the end of 2017 and will feature the hottest celebrity endorsers of the top smartphone brand.
For inquiries about Vivo, visit the Vivo website at www.vivo.com/ph  or check out their Facebook (https://www.facebook.com/VivoPhil), Instagram (https://www.instagram.com/vivophil)  and Twitter (https://twitter.com/vivo_phil)  accounts.