Vivo's V7+ boasts of a built in Bokeh effect which perfectly complements its 24MP clearer selfie front camera
For the selfie-lover, adding filters to photos to further enhance them is almost mandatory. One of the most popular of these filters to emerge in the recent years since the word "selfie" was coined and later practiced by hundreds of thousands who belong to the selfie-centric generation, is the "bokeh effect".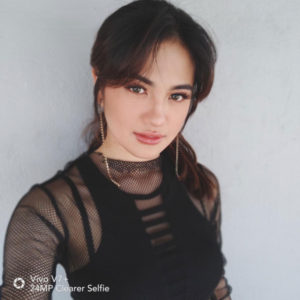 "Bokeh" comes from the Japanese word 'boke' which translates to "haze" or "blur". For a more "professional" definition, photography experts define bokeh as the effect of a soft out of focus background that you get when you are shooting a subject, using the widest aperture of a camera lens. Bokeh, in a nutshell, is the aesthetic quality of out of focus blur in photos.
Smartphone manufacturers never really produce cameras that have built in filters, prompting selfie-fanatics to download countless apps that carry a wide array of these effects.
That is why the latest in Vivo's line of top-of-the-line smartphones perfects the selfie game. The V7+, recently launched in the Philippines with Kathryn Bernardo, Daniel Padilla, and Julie Anne San Jose headlining the roster of the hottest celebrity endorsers, brings the art of selfie even a notch higher by integrating the bokeh effect into its 24MP selfie-centric camera—truly every selfie lover's dream come true.
Complementing the built in bokeh effect is V7+'s other thumbprint features that can make  anyone a pro at selfie taking. The 24MPclearer selfie, front facing camera—the world first— with LED flash and smart photography algorithms provides for a clear-cut, crisp, and natural-looking photos. This newest offering from Vivo also boasts of a revolutionary 5.99 all-screen Display with an 84.4% screen to body ratio, providing a more exciting and enhanced game and visual experience. V7+'s Special Face Beauty 7.0 feature brightens up photos and evens-out complexions so capturing a selfie-moment is not a problem in dimly-lit environment. Mimicking DSLR cameras, the V7+'s Portrait Mode blurs out backgrounds to highlight sharper selfie features.
The V7+ comes in Matte Black color and Crown Gold at only Php Php17,990 and is available at Lazada, Argomall, and all Vivo concept stores and kiosks.
For inquiries about Vivo, visit the Vivo website at www.vivo.com/ph or check out their Facebook (https://www.facebook.com/VivoPhil), Instagram (https://www.instagram.com/vivophil/), and Twitter (https://twitter.com/vivo_phil) accounts