Samsung launches the ultra slim, stylish, and full metal Galaxy A Series
Young consumers can express themselves in greater style through new Samsung Galaxy devices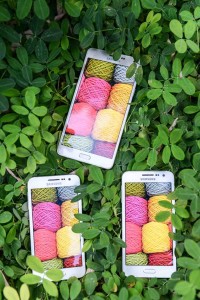 Manila, Philippines – 08 January 2015 –
Samsung Electronics Philippines Corporation (SEPCO) today unveiled the Galaxy A Series, the latest model line to join the brand's roster of smartphones. Available in three variants (Galaxy A7, Galaxy A5 and Galaxy A3), the A series features the first full metal unibody device of Samsung that comes in a variety of colors and sizes, with advanced features that brings the Samsung smartphone experience to a new level. The Galaxy A3 and A5 will be single sim LTE while A7 is the first dual sim LTE device of Samsung. "We at Samsung are very excited to be launching the new Galaxy A7, A5 and A3." said Digs Dimagiba, Business Unit Director of IT & Mobile Communications. "The Galaxy A7, A5 and A3 feature a refine and trendy full metal unibody and powerful features, offering the most stylish smartphone device to cater to the demands of our young and trend conscious consumers."
The Ultra Slim, Full Metal Design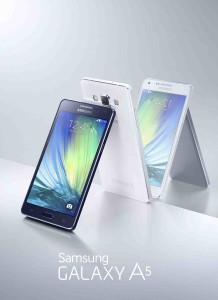 The Galaxy A Series features Samsung's slimmest smartphones to date. The Galaxy A7 stands at 6.3mm thin, while Galaxy A5 and Galaxy A3 comes at 6.7mm and 6.9mm, respectively. The three devices feature a refined full metal unibody design that will come in variety of colors to accommodate the personal style and preference of diverse users. For the Galaxy A3, there will be Black and White colors. Black, White, Gold, and Silver will be available for Galaxy A5 while Galaxy A7 will come in Black, White, and Gold.
5 MP Front Camera for Unmatched Selfies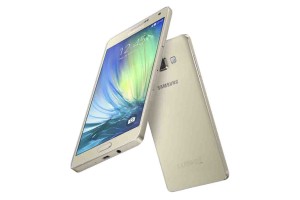 Sporting an advanced 5MP front-facing camera, taking vivid selfies is now easier than ever before. Innovative photo-taking features, such as Wide Selfie, Voice and Palm Gestures Activation, Animated GIF, Beauty Face Features (Face Retouch, Eye Enlarge, and Slim Face), and Rear-cam Selfie, let users capture attractive selfies in high resolution by automatically detecting and focusing on a person's face. Users are also able to quickly and easily share photos or videos on their favorite social media channels with the device's fast network speed of LTE Category 4 standard.
Vivid Display and Powerful Processor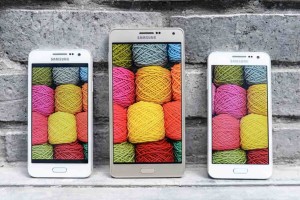 The Galaxy A series features a Super AMOLED display and Adaptive Display technology, giving consumers a more vivid viewing experience. It delivers clearer images with deep contrast and better viewing angles for more vivid, colorful content in virtually any environment, even under bright sunlight. For seamless multi-tasking and faster browsing experience, the Galaxy A7 feature Octa Core (1.5GHz Quad Core and 1.0 GHz Quad Core) processor while A5 and A3 feature a Quad Core 1.2 GHz processor. In addition, the Galaxy A Series sports popular features exclusive to Galaxy devices, such as Ultra-Power Saving Mode, Private Mode and Multiscreen, as well as adjustable audio which intelligently adapts and enhances sound output based on the user's surrounding environment. The Galaxy A5 at Php 19,990 and Galaxy A3 at Php 16,990 will be available in Samsung Experience Stores and authorized dealers beginning January 2015, while Galaxy A7 priced at Php 24,990 will be available on February 2015.
Samsung Galaxy A7 Products Specifications
| | |
| --- | --- |
|   | Galaxy A7 |
| SRP | Php 24,990 |
| Launch | February 15 |
| Design | Full Metal |
| Sim Type | Dual SIM active (Hybrid) Nano |
| Connectivity | Wi-Fi + LTE Ready |
| Display | 5.5" Super AMOLED Display |
| Processor | Octa Core (1.5GHz Quad Core + 1.0GHz Quad Core) |
| RAM | 2GB |
| Memory | 16GB |
| Camera | 13MP AF w/ LED Flash + 5MP (F) |
| Dimension | 150.9 x 75.9 x 6.33 mm |
| Battery | 2600mAh (Non removable) |
| OS | Android OS 4.4 KitKat |
| Colors | White, Black, and Gold |
| Others | Ultra Power Saving mode |
Samsung Galaxy A5 Products Specifications
| | |
| --- | --- |
|   | Galaxy A5 |
| SRP | Php 19,990 |
| Launch | January 15 |
| Design | Full Metal |
| Sim Type | Nano SIM |
| Connectivity | Wi-Fi + LTE Ready |
| Display | 5" Super AMOLED Display |
| Processor | Quad Core 1.2GHz |
| RAM | 2GB |
| Memory | 16GB |
| Camera | 13MP AF w/ LED Flash + 5MP (F) |
| Dimension | 139.3 x 69.7 x 6.7 mm |
| Battery | 2300mAh (Non removable) |
| OS | Android OS 4.4 KitKat |
| Colors | White, Black, Gold, and Silver |
| Others | Ultra Power Saving mode |
Samsung Galaxy A3 Products Specifications
| | |
| --- | --- |
|   | Galaxy A3 |
| SRP | Php 16,990 |
| Launch | January 15 |
| Design | Full Metal |
| Sim Type | Nano SIM |
| Connectivity | Wi-Fi + LTE Ready |
| Display | 4.5" Super AMOLED Display |
| Processor | Quad Core 1.2GHz |
| RAM | 1GB |
| Memory | 16GB |
| Camera | 8MP AF w/ LED Flash + 5MP (F) |
| Dimension | 130.1 x 65.5 x 6.9 mm |
| Battery | 1900mAh (Non removable) |
| OS | Android OS 4.4 KitKat |
| Colors | White and Black |
| Others | Ultra Power Saving mode |
Share and Enjoy