Dell reinforces commitment to deliver innovation at the workplace in Asia Pacific
Delivering performance as top priority with new XPS 13 and 15 Ultra HD While trends such as mobility and consumerization of IT continue to shape the way employees use technology for work, Dell recognizes that performance is the top priority for users when selecting a work device. Dell's deep-seated understanding of users' technology behaviors and preferences help the company focus on delivering practical innovation that can help employees today be more productive. Taking that mentality to new heights, Dell launched the new XPS 13, the smallest 13-inch laptop in the world with the power to get work done anywhere. The XPS 13 is designed to be the best performing notebook of its size, providing industry-leading battery life with over 15 hours of run time on a single charge. The laptop's UltraSharp Quad HD+ display boasts an incredible 5.7 million pixels, so movies and presentations will burst with eye-popping color and precise detail. Fifth-generation Intel processors boot the system from cold in seconds, and the remarkably light form factor clocks in at a mere 2.6 lbs. Connecting while on-the-go has never been so effortlessly stylish.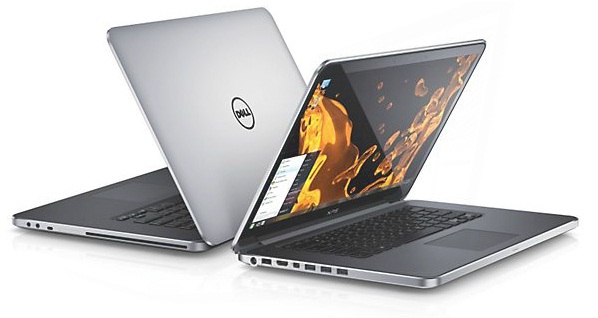 Dell is also introducing the new XPS 15, which continues to surpass expectations by delivering jaw-dropping resolution and vibrant color in a new UltraSharp 4K Ultra HD touch display. Boasting over 8 million pixels, the 4K2K screen option is one of the highest resolution panels available on a 15-inch laptop today. Rich, saturated color and stunning brightness allow users to see more content and enjoy finer details, perfect for watching movies, consuming web content, or editing photos and videos, coupled with the XPS 15's trademark powerhouse performance and ultrathin form factor. Accelerating productivity for the mobile workers According to a recent Harris International Tablet Survey conducted for Dell, more than one third of IT decision makers are apprehensive of the time required to set up, configure, manage and secure tablets when compared to laptops. While organizations' IT departments are hesitant to allow usage of mobile devices in the workplace, Dell's Global Evolving Workforce Study found that tablets and 2-in-1 devices are gaining popularity in the workplace, with 60 percent of workers claiming to use more than one device to be productive. As such, Dell is introducing its most secure 2-in-1 device, which combines a lightweight Ultrabook™ and a detachable 13-inch tablet in one powerful device, featuring Intel® Core™ M processors. The new Latitude 13 7000 Series 2-in-1 offers a large 13.3-inch display and a professional, ISO-certified backlit keyboard, bolstered by the convenience of Instant Go from sleep mode, a feature often reserved for smart phones and traditional tablets. When paired with the Dell Mobile Office, a suite of accessories specifically designed for this device—a carrying case, sleeve, power companion and universal dongle—the Latitude 13 7000 Series 2-in-1 detachable laptop offers ultra-mobile professionals a first-class productivity experience. To meet the rising demands of tablets in the Asia Pacific workforce, Dell is launching the Dell Venue 11 Pro 7000 Series for customers in the region. First unveiled at Dell World 2014, the Venue 11 Pro 7000 Series tablets are designed to accelerate productivity for mobile workers and provide secure access to content beyond the corporate firewall for easy IT management. The new Venue 11 Pro is 15 percent thinner, has an extended battery life and a travel keyboard for a full laptop experience and accompanying thin keyboard for ultra-portability. Dell is also introducing new additions to the Latitude family of commercial PCs to offer a variety of work styles and use cases, starting with the new Latitude 7000 series featuring Intel's Core M Broadwell processors. Available in a 12-inch or 14-inch screen size, this new thin, lightweight Ultrabook™ offers mobility at its finest, starting at just 19.4mm thin and 2.76lbs. The Latitude 7000 Series is loaded with industry-leading Dell Data Protection and Dell ControlVault™ including comprehensive encryption, advanced authentication, and malware prevention, making it the world's most secure Ultrabook™. With data from Dell's latest Evolving Workforce study highlighting the benefits of flexibility and ability to work anywhere on employees' overall health and well-being, Dell understands the need for a fully-featured mobile experience for the mobile workforce. Introducing the world's most secure business laptop, the Latitude 12 5000 Series has a thin and sleek design, starting at just 3.4 pounds and 22.7mm thin. It is built with enhanced materials for durability and enterprise-class support and services.
Bringing Pictures to Life with New Monitors Line-Up Reinforcing its leadership position in the PC monitor market, Dell has unveiled its new-generation monitors which includes the world's first type of 5K monitor UP2715K, the industry's first type of 34-inch curved-screen monitor U3415W. The groundbreaking Dell UltraSharp 27 Monitor is the latest flagship product of the UltraSharp series known for its uncompromising performance and visual experience. This monitor is designed mainly for the color-based and high-resolution imaging industries and game and software developers. UP2715K uses a 27-inch 16:9 ultra-HD 5K screen panel and its screen resolution reaches 5120 x 2880 (higher than 14 million pixels) or seven times better than ordinary full-HD monitors. Ultra-high pixels bring incomparable fine-quality pictures, enabling the user to obtain the experience of amplification of the real world in the screen. The Dell UltraSharp 34" Monitor features an ultra-wide 21:9 screen with the cinematic clarity and sharpness of WQHD 3440x1440 resolution so gamers will see everything being thrown their way and developers have the ultimate canvas for enhanced productivity and creativity. The curved display and wide field of view work together to give gamers a competitive edge, requiring less eye movement when compared to a flat panel display and enabling players to take advantage of their peripheral vision when the competition heats up. The U3415W monitor offers all of the features that users demand, including a fully adjustable stand, HDMI 2.0, MHL, DisplayPort and Mini DisplayPort connectivity, dual integrated 9 watt speakers, 60Hz performance and, when it's set up in multi-monitor configuration, a virtually borderless cockpit view across multiple screens thanks to its ultra-thin bezels.
Delivering a new workspace experience Dell is redefining the workspace through bleeding-edge products and concepts that push traditional paradigms of how people interact with technology. Acknowledging end-users' needs to be protected while they work and collaborate, Dell brings its latest security-enhanced All-in-One devices to its customers in Asia Pacific. Designed for organizations focused on maintaining secure data ecosystems, Dell OptiPlex 9030 and OptiPlex 3030 feature Intel Fourth Generation Core processors and come fully-loaded with a wide variety of Dell security tools. Both the 9030 and 3030 are Trusted Platform Module5 1.2 certified. They are pre-loaded with Dell Data Protection and Security, Dell Data Protection and Encryption, Dell Data Protection and Protected Workspace and Dell Secure Works. Intel Identity Protection, Anti-Theft and Execution Technology are all pre-loaded onto the 9030 and 3030. The OptiPlex 9030 is the most secure commercial all-in-one desktop of its class, and features a 23-inch desktop and fourth generation Intel i5-i7 Quad Core Processors for high performance. The 9030 is the company's thinnest all-in-one on the market, and comes packed with a full HD webcam and Microsoft Lync Certification. With ProSupport functionality, Dell has promised to provide 24-hour support for its customers anywhere and anytime they need assistance. The OptiPlex 3030 utilizes many of the same features as the 9030 but is suited for both the classroom and the workplace. The 3030 sports an all-in-one chassis with fourth generation Intel Core processors and an HD touchscreen, in addition to being able to run either Windows 8.1 or Ubuntu. Several security features including a lockable port cover, lock slot support and Dell's Protected Workspace solutions make the 3030 a better fit for multi-user environments than the 9030. As performance remains to be the most important aspect employees seek in a work device and desktop PCs, according to results from Dell's Evolving Workforce Study, Dell has launched its latest OptiPlex 9020 and 3020 Micro PCs. With a chassis design of only 1.2 liters, 67% smaller than Dell's smallest desktop form factor, and with five different mounting options, the new OptiPlex 9020 and 3020 Micro PCs provide the power employees expect in a desktop that answers the needs of smaller – or more specialized – working spaces. The most secure and manageable desktop on the market, OptiPlex 9020 Micro is ideal for environments where space is limited and security is a priority, while the OptiPlex 3020 Micro provides essential business class performance in a compact unit.
Share and Enjoy
Manila, Jan. 13, 2015 – Dell today reinforced its commitment to empower the evolving workforce in Asia Pacific with the introduction of its latest range of client solutions products. Driven by insights from its recent Global Evolving Workforce Study, Dell is committed to meet the changing needs of business end-users in the region. Dell's new range of products comprises the latest XPS 13 Ultrabook and XPS 15 laptop, Latitude 7000 series 2-in-1 and Venue 11 Pro tablets, OptiPlex range of desktop solutions and the latest Dell UltraSharp 5k Display Monitor. "Asia Pacific remains a key focus and growth driver for Dell's client solution business and we recognize the value of delivering new innovations that are tailored to the needs of our customers in the region. We are confident that our new range of products can help our customers be more efficient while they embrace changes in the evolving workforce," said James Johnston, Executive Director and General Manager, Client Solutions, Dell APJ. Dell's total client solutions business maintains its No. 2 position in APJ with 11 percent market share, according to IDC's WW Quarterly PC Tracker, Q3 2014.